Yield: 2 dozen
Prep Time: 20 min + chill time
Cook Time: 10 min
Chewy Chocolate Gingerbread Cookies
I made this one to send on a camping trip with the guys. They absolutely loved it! It's chocolatey yet you can also taste the ginger flavor. Really unique.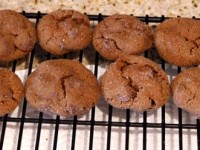 Ingredients:
1 1/2 cups + 1 Tablespoons all-purpose flour
1 tablespoon unsweetened Dutch-process cocoa powder
1 1/4 teaspoons ground ginger
1 teaspoon ground cinnamon
1/4 teaspoon ground cloves
1/4 teaspoon ground nutmeg
1/2 cup (1 stick) unsalted butter, softened
1 tablespoon grated peeled fresh ginger
1/2 cup packed dark brown sugar
1/4 cup molasses
1 teaspoon baking soda dissolved in 1 1/2 teaspoons boiling water
7 ounces best-quality semi-sweet chocolate, cut into 1/4-inch pieces
1/4 cup granulated white sugar
Directions:
1. Sift flour, cocoa powder, ground ginger, cinnamon, cloves and nutmeg into a medium bowl; set aside.
2. Put butter and grated ginger into the bowl of an electric mixer fitted with the paddle attachment. Mix on medium speed until lightened, about 4 minutes. Add brown sugar; mix until combined. Add molasses; mix until combined.
3. Mix in flour mixture in 2 batches, alternating with the baking soda mixture. Mix in chocolate. Transfer dough to a piece of plastic wrap. Pat dough to about 1-inch thick; wrap in plastic. Refrigerate until firm, about 2 hours (or overnight).
4. Preheat oven to 325°F. Line 2 baking sheets with parchment paper. Roll dough into 1 1/2-inch balls; space 2 inches apart on baking sheets. Refrigerate 20 minutes.
5. Roll balls in granulated sugar. Bake until surfaces crack slightly, 10-12 minutes. Let cool on sheets 5 minutes. Transfer to wire rack, and let cool completely.
Source: RecipeGirl.com (via Martha Stewart Living)