Yield: 3 to 4 dozen cookies
Prep Time: 15 min
Cook Time: 10 min
Grandma's Oatmeal Cookies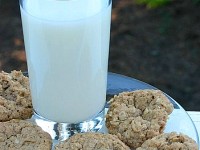 Ingredients:
1 cup shortening
1 cup packed light brown sugar
1 cup granulated white sugar
2 large eggs, well beaten
1 tablespoon vanilla extract
1 1/2 cups all-purpose flour
1 teaspoon salt
1 teaspoon baking soda
1 tablespoon ground cinnamon
3/4 cup chopped walnuts or raisins (optional- *see tips)
3 cups old fashioned oatmeal (do not use quick-cooking oats)
Directions:
1. Preheat oven to 350 degrees F.
2. In a large bowl, use an electric mixer to cream together the shortening and sugars. Add the eggs and vanilla and beat well. Set aside.
3. Sift together the flour, salt, baking soda and cinnamon. Add the dry ingredients to the wet and mix well. Add the nuts and/or raisins, if desired. Stir in oats last.
4. Spoon out by rounded teaspoonfuls onto greased cookie sheets. Bake for 10 minutes. Remove to a wire rack and cool completely.