Peanut Butter Swirl Brownies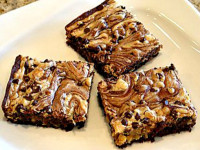 Ingredients:
1/2 cup (1 stick) butter
1 cup granulated white sugar
2 large eggs
1 teaspoon vanilla extract
1 cup all-purpose flour
1/2 teaspoon salt
2 ounces unsweetened chocolate, melted and cooled
1/3 cup chunky-style peanut butter
1/4 cup miniature semi-sweet chocolate pieces
Directions:
1. Preheat the oven to 350 degrees F. Spray a 9x9-inch pan with nonstick spray.
2. In a medium saucepan, heat the butter until melted. Remove from heat. Stir in the sugar, eggs and vanilla. Beat slightly by hand just until combined. Stir in the flour and salt. Remove 3/4 cup of the batter; set aside.
3. Stir the melted chocolate into the remaining batter in the saucepan. Spread the chocolate batter into the prepared pan. Set aside.
4. Stir the peanut butter into the reserved 3/4 cup batter; spoon atop the chocolate batter. Sprinkle with the chocolate pieces. Swirl the batter with a knife.
5. Bake 20-25 minutes, or until the brownies appear set on the surface. Do not over bake. Cool in the pan on a wire rack. Cut into squares to serve.