Yield: 3 dozen good-sized cookies
Prep Time: 25 min
Cook Time: 10 min
Wild and Crazy Oatmeal- Chip Cookies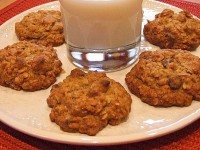 Ingredients:
1 1/2 cups (3 sticks) butter, at room temperature
1 cup packed light brown sugar
1/2 cup granulated white sugar
2 large eggs
1 1/2 teaspoons vanilla extract
2 cups all-purpose flour
1/2 teaspoon salt
1 teaspoon baking soda
1/2 teaspoon ground cinnamon
1/2 teaspoon ground nutmeg
4 1/2 cups rolled oats (not quick-cooking oats)
2 cups chips (semisweet, peanut butter, white chocolate- your preference)
Directions:
1. Preheat the oven to 375°F. Line baking sheets with parchment paper (or grease cookie sheets).
2. Place the butter in a large mixing bowl. Beat the butter with an electric mixer until fluffy (about 1 minute). Then add the sugars and beat for another minute. Add the eggs and beat for 2 more minutes.
3. Set the mixer aside and stir in the vanilla with a spoon or rubber spatula.
4. In a medium bowl, whisk together the flour, baking soda, and salt. Add to the batter and stir until you can no longer see white. Stir in the oats until well combined. Stir in the chocolate chips.
5. Drop by big rounded Tablespoonfuls onto prepared cookie sheets. Bake 10 to 12 minutes or until cookies are browned on the bottom.
6. Cool cookies on wire rack or on a plate for at least 10 minutes before eating.