Margarita Cake
Here's a delicious Mexican-style cake that doesn't start with a cake mix! It is a nice, light cake with a touch of margarita flavor on top. Don't skip the whipped cream and the cute lime slice garnish.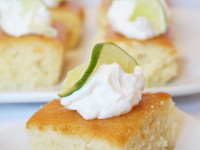 Ingredients:
CAKE:
1 3/4 cups granulated white sugar
1/2 cup butter, softened
1/2 teaspoon baking soda
1/4 teaspoon salt
3 large eggs
1 Tablespoon grated lemon zest
1 Tablespoon lemon juice, freshly squeezed
2 1/2 cups all-purpose flour
1 cup plain or lemon-flavored yogurt
LIME GLAZE AND ASSEMBLY:
1/2 cup superfine granulated sugar
2 Tablespoons lime juice, freshly squeezed
1 Tablespoon water
1 Tablespoon tequila
whipped cream and lime slices, for garnish (optional)
Directions:
1. Preheat oven to 350°F. Grease and flour a 9x13-inch cake pan.
2. Prepare cake: Combine sugar, butter, baking soda and salt in a mixing bowl and beat until blended. add the eggs 1 at a time, beating well and scraping the bowl after each addition. Mix in the lemon zest and lemon juice. Add the flour and yogurt alternately, beating well after each addition.
3. Spoon the batter into prepared pan. Bake for 25 to 30 minutes or until a wooden pick inserted in the center comes out clean. Cool in the pan on a wire rack for 15 minutes.
4. Prepare glaze: Combine sugar, lime juice and water in a saucepan and mix well. Cook until the sugar dissolves, stirring frequently. Stir in the tequila.
5. Assembly: Invert the warm cake onto a serving platter and brush with the glaze until it is absorbed. Let stand until cool. Slice and garnish each serving with a twisted lime slice and a dollop of whipped cream.