Blueberry Cobbler
Incredibly easy and delicious...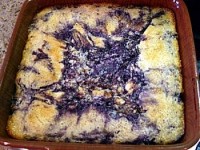 Ingredients:
2 cups fresh blueberries
1 1/4 cups granulated white sugar, divided
1/2 cup (1 stick) butter
1 cup self-rising flour
1 cup milk
1 teaspoon vanilla extract
Directions:
1. Preheat oven to 350 degrees F.
2. Place berries in medium sized saucepan and slightly cover them with water. Bring to a rolling boil. Reduce heat and boil gently for 10 minutes; add 1/4 cup sugar. Continue to boil for 5 more minutes. Remove from heat and set aside.
3. Place butter in 8x8-inch pan and let it melt in the oven.
4. Meanwhile, mix together flour, remaining sugar, milk and vanilla. Pour batter into hot dish, over melted butter. Spoon berries and juice over batter and lightly stir.
5. Bake for about 20 minutes, or until golden brown. Let cool. Serve warm or cold.