Layered Berry Trifle
A simple trifle recipe with layered berries, cake and a sweetened whipped cream...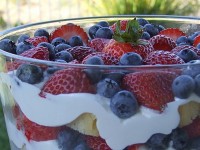 Ingredients:
SYRUP:
1/4 cup granulated sugar
1/4 cup fresh lemon juice
1/4 cup water
LAYERS:
12 ounces pound cake or butter loaf (store bought ok)
8 ounces cream cheese, at room temperature
1/3 cup granulated sugar
1 cup heavy whipping cream
3 cups fresh blueberries
3 cups fresh strawberries
Directions:
1. Prepare lemon syrup: In a small saucepan, bring sugar, lemon juice and water to a boil over medium heat. Stir to dissolve sugar completely. Let cool.
2. Slice cake into 3/4-inch slices. Then brush over both sides of each cake slice. Quarter each slice.
3. Beat cream cheese with sugar on high speed until light and fluffy. Reduce speed to medium and slowly add cream. Continue beating until mixture resembles soft whipped cream.
4. Arrange half of the cake pieces in the bottom of a glass serving bowl or dish (2 qt. size is sufficient). Spoon half the cream-cheese mixture over the cake in dollops; spread to the sides of the dish. Scatter half of the blueberries and strawberries on top. Repeat layering with cake, cream cheese and berries. Pile additional strawberries on top.
5. Cover and refrigerate until chilled (about an hour). You may also refrigerate overnight.