Feta- Topped Broiled Chicken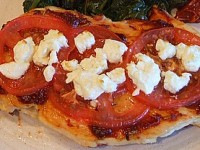 Ingredients:
RUB:
2 Tablespoons tomato paste
1 teaspoon red wine vinegar
1/2 teaspoon dried rosemary
1/2 teaspoon dried oregano
1/2 teaspoon paprika
1/2 teaspoon salt
1/4 teaspoon freshly ground black pepper
CHICKEN:
4 skinless boneless chicken breast halves (about 1 pound total)
1 large plum tomato, halved and thinly sliced
1/2 cup crumbled feta cheese (2 ounces)
Directions:
1. In a small bowl, stir together the tomato paste, vinegar, rosemary, oregano, paprika, salt and pepper. Rub the mixture onto the chicken breasts and set aside.
2. Preheat the broiler. Broil the chicken 6 inches from the heat, turning once- 6 to 8 minutes per side.
3. Top the chicken with tomato slices and broil for 1 to 2 minutes. Top with feta and broil until feta browns slightly .
4. Serve immediately.
Nutritional Information per serving:
Serving size: 1 breast
Calories per serving: 191
Fat per serving: 5.6g
Saturated Fat per serving: 3.25g
Sugar per serving: 2.8g
Fiber per serving: 1.2g
Protein per serving: 29.7g
Cholesterol per serving: 82.5mg
Carbohydrates per serving: 3.4g
WW POINTS per serving:
Points Plus Program: 4 Old Points Program: 4