Orange- Cranberry Glazed Pork Tenderloin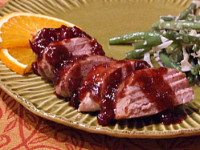 Ingredients:
One 16-ounce can whole- berry cranberry sauce
1 teaspoon grated orange zest
2/3 cup freshly squeezed orange juice
2 teaspoons balsamic vinegar
1/2 teaspoon ground black pepper
1/4 teaspoon ground allspice
1/8 teaspoon salt
1/8 teaspoon ground cinnamon
1/8 teaspoon ground cloves
1 1/2 pounds pork tenderloin, trimmed
1 1/2 tablespoons olive oil
orange slices and fresh thyme sprigs for garnish, if desired
Directions:
1. Bring first 9 ingredients to a boil over medium heat. Reduce heat, and simmer, stirring occasionally, 20 minutes. Remove half of mixture, and set aside.
2. Preheat oven to 425°F. Lightly grease a shallow roasting pan.
3. Brown pork in hot oil in a nonstick skillet over medium-high heat 3 minutes on each side or until golden brown. Place pork in prepared pan.
4. Bake for 20 - 25 minutes or until a meat thermometer inserted into the thickest portion registers 155°F., basting occasionally with half of cranberry mixture. Remove from oven; cover pork with aluminum foil, and let stand 5 minutes or until thermometer registers 160°F. Slice pork, and serve with reserved cranberry mixture.