Apple Harvest Blondies
My husband couldn't get enough of these. He asked me to 'please take them away!' The bits of cream cheese are gooood!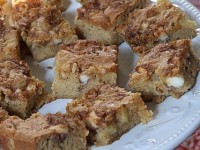 Ingredients:
2/3 cup unsalted butter
2 1/4 cups packed brown sugar (divided)
3 large eggs
2 cups all-purpose flour
1 teaspoon baking powder
1 teaspoon pure vanilla extract
2 medium apples, peeled and chopped
3 ounces cream cheese, frozen for 1 hour
2 ounces finely chopped pecans or walnuts
1 teaspoon ground cinnamon
Directions:
1. Preheat oven to 350°F. Lightly grease 13x9-inch baking dish.
2. Melt butter in large microwave-safe bowl (just until melted). Remove from microwave and stir in 2 cups of brown sugar. Mix well, then add eggs, flour, baking powder and vanilla. Mix just until combined. Fold in apples.
3. Spread batter into prepared dish. Chop cream cheese into small bits and mix with nuts, cinnamon and remaining 1/4 cup of brown sugar. Sprinkle evenly over batter.
4. Sprinkle over batter and bake 35 to 40 minutes.
Source: RecipeGirl.com (via CLBB "heavy hedonist")