Delicious soup recipe for using up turkey leftovers: Turkey Frame Soup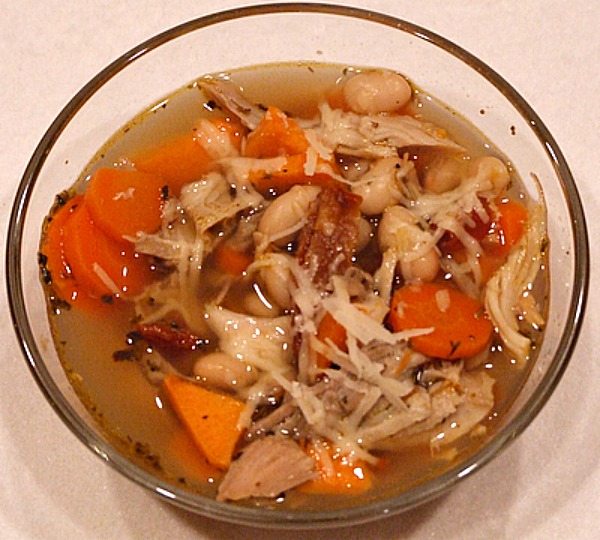 Yield: 6 servings
Prep Time: 25 min
Cook Time: 1 hour 45 min
Turkey Frame Soup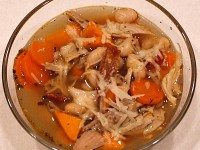 Ingredients:
1 meaty turkey frame
4 cups water
1 large onion, quartered
1 clove garlic, crushed
1/2 teaspoon salt
chopped cooked turkey
1/4 cup sun-dried tomatoes, drained; cut into thin strips
1 1/2 teaspoons dried Italian seasoning
1/4 teaspoon ground black pepper
3 cups sliced or cubed vegetables (carrots, parsnips, turnips)
1 1/2 cups whole wheat pasta (rotini or penne)
15 ounce can Great Northern beans or white kidney beans, rinsed and drained
grated Parmesan cheese
Directions:
1. Break turkey frame or cut in half with kitchen shears. Place in large pot. Add water, broth, onion, garlic, and salt. Bring to boiling; reduce heat. Cover and simmer 1 1/2 hours.
2. Remove turkey frame. Cool; cut meat off bones; coarsely chop meat. Add enough turkey to equal 2 cups. Set aside. Discard bones. Strain broth; skim off fat.
3. Return broth to pot. Stir in tomatoes, Italian seasoning, and pepper. Stir in vegetables. Return to boiling; reduce heat. Cover; simmer for 5 minutes. Add pasta. Simmer, uncovered, for 8 to 10 minutes or until pasta is tender and still firm and vegetables are tender. Stir in turkey and beans; heat through. Serve with grated Parmesan cheese.
Leave a Comment