For an Easy Appetizer, Go Greek!
You've probably experienced the following scenario…
*going to a friend's house for dinner & ask friend, "What can I bring?"
*friend says, "An appetizer would be nice!"
*you think to yourself- great… I have a busy day. what the heck can I whip up quickly that will still impress?
This was my dilemma recently. I posed this question to my Twitter friends, and I received a prompt response from a guy I affectionately call Mr. Greek (Peter from Kalofagas). He suggested simple Greek skewers. That sounded easy enough to me. I put together something I'm calling: Easy Greek Appetizer Skewers.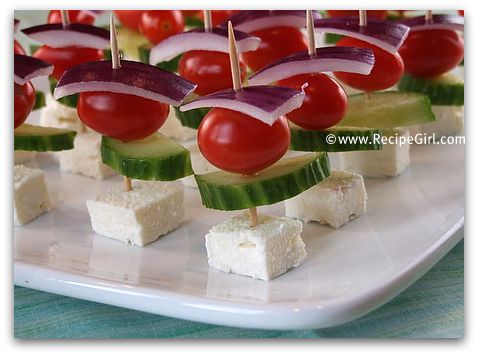 I simply used toothpicks to skewer a small piece of red onion, pear tomato, 1/2 slice cucumber and a small square of reduced-fat feta.  I figured the reduced-fat version wouldn't make a bit of difference in this appetizer, and I could be free to eat it myself without feeling like I was consuming too much fat from the hunks of cheese.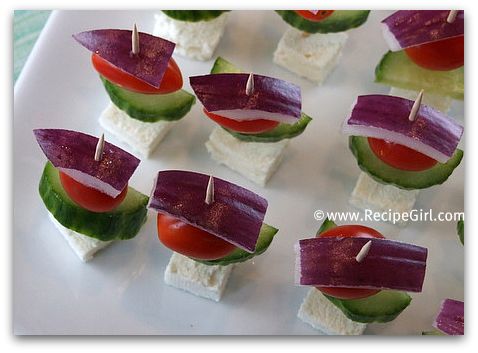 Two key things to know in making this easy appetizer: 
1.  Placing the onion on top is important for a few reasons- It's pretty, it's nice and firmly on there so the tomato won't slip off, and when people eat this appetizer they'll be eating it from the feta end… so if they don't care for the onion, they'll simple put the feta, cucumber and tomato in their mouth and leave the onion on the toothpick.
2.  The cube of feta should go on the bottom.  It acts as a nice 'base' for the appetizer so it can be placed on the platter as shown.  And if you try to skewer the feta all the way through, you may break it apart since it's a crumbly cheese by nature.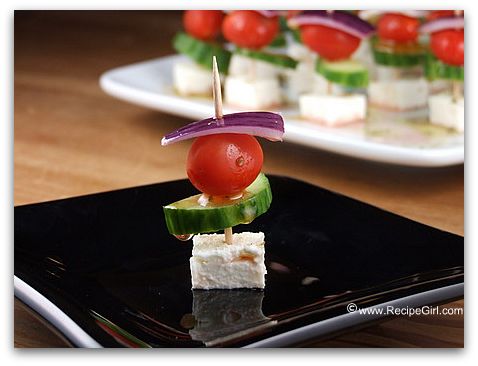 Make all of your skewers ahead of time (several hours ahead is just fine… wrap gently with plastic wrap and refrigerate).  Just before serving, drizzle a little bit of red wine vinaigrette over the skewers (red wine vinegar, olive oil, salt & pepper).  Done!  See how simple that was?  Thanks Peter 🙂
Next time, I might wish to add a kalamata olive to my skewers to make a complete Greek salad sampler!
Though you don't really need a recipe for this one, if you'd like to print out instructions, the recipe can be found HERE.
P.S.  I thought this might be an appropriate post for today since I'm hosting our Gourmet Club's dinner party tonight.  The theme is GREEK!  Details, recipes & pictures coming soon…
30 Responses to "For an Easy Appetizer, Go Greek!"
Leave a Comment