Adopt a Blogger is a little program that Kristen (DineandDish) has put together a few times now.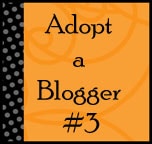 The idea is to pair an experienced blogger with another who is a bit new to blogging… to provide inspiration &advice, to answer questions and just to be there for help, if needed.  My adoptee is Beryl, a Southern Californian who has a blog called:  Cinemon Girl.  Beryl started her blog as a way to push herself to cook and bake more.  Well, she's off to a great start… she's already taking part in Tuesday's with Dorie AND she's a Daring Baker!  That's definitely jumping feet first into the world of blogging.  Please visit Beryl's blog and give her a warm welcome

Since I'm in the position of doling out advice, I figured I'd post my little tidbits for all to see.  You may agree with me, or you may not.  These are my opinions with regards to blogging…
5 Things (I Think) Every New Blogger Should Consider…
1.  How does my blog look? 
Have you created a nice design for your blog?  Is it unique?  Does it match your personality?  Blogger and WordPress, etc. provide free blog templates.  Those are fine and all, but eventually you may want to think about switching things up a bit and making your blog a bit more fun to look at.  If you Google around for blog templates, you'll find quite the variety.  Here's an example of a site that offers templates (and design).  On the flip side, you don't want to overdo it with design either.  Blogs that are too busy are not always the most fun to visit.  And please avoid adding music… there's nothing worse than peacefully browsing blogs on a quiet morning and then happening upon one that blasts their favorite song.
2.  Am I posting good photographs of food?
The number one draw for me when I visit a food blog is the food photographs.  If the pictures are crisp and clear and droolworthy… that's the number one thing that will bring me back to that blog in the future.    You don't have to have thousands of dollars in camera equipment (I don't), but if you follow some basic guidelines… you'll learn more about what works well and what doesn't. 
Here are a few food blogger posts on food photography that have been helpful to me:
Food Photog. Tips 1
Food Photog. Tips 2
Food Photog. Tips 3
3.  Do I Want to Create a Niche for my Blog?
Are you a baker?  Gluten Free?  Vegetarian?  Cookie blogger?  Restaurant Reviewer?  Sometimes it's nice to create a theme for your blog if you can figure out one that suits you.  It might just begin to happen naturally.  Or you might just choose to blog about anything and everything.  You'll find that there are certain things that your readers enjoy reading about more than others.  Watch your comments!
4.  Am I going to accept freebies in exchange for advertising, and/or am I going to do Giveaways on my blog?
This is kind of a touchy subject in the world of blogging.  You'll have retailers contact you to see if you might like to receive their product in exchange for a review on your blog.  Keep in mind that they're looking for free advertising.    You'll see a ton of bloggers that do reviews on products pretty regularly on their blogs.  You need to think about whether or not you want to do this on your blog.  I personally think that there is too much of it going on.  It's a bit boring going to blog after blog after blog that are all reviewing the same product. 
5.   How Can I promote my Blog and Make Friends in the Blogging World?
*Visit blogs that you enjoy and comment when you have something to say. 
*Join The Foodie BlogRoll. 
*Join Twitter and follow other food bloggers.
*Register for Food Blog Search.
*Submit photos to Tastespotting and FoodGawker.
*Add a blogroll of your favorite blogs to your site.