Cookbook Giveaway: Cooking with the Seasons at Rancho La Puerta
I'm delighted to announce that the folks at Rancho La Puerta Spa contacted me after seeing my recipe posts from their cookbook and offered to give away a cookbook to one of my RecipeGirl readers!
This giveaway is now closed, and the lucky winner (via Random.org) is commenter #36…
Anali from the blog: Anali's First Amendment.  Congratulations!  Please email me your address, and I'll get this cookbook in the mail to you!



I really can't say enough about this cookbook. A relative of ours had picked it up after a visit to the Spa, and I loved it so much that I went home and ordered it on Amazon! I've made the Chocolate Banana Bread and the Mushroom & Goat Cheese Quiche, but I have my eye on several more… including Butternut Squash Gnocchi, Orange Saffron Pine-Nut Bread, Lasagna Azteca with Spinach & Ancho Chili Salsa, Grilled Figs with Creamy Honeyed Ricotta & Almonds, Sangria La Puerta, Guava Creme Brulee, Roasted Banana-Rum Sorbet, Squash-Apple Soup with Thai Red Curry, and Chocolate Chip-Cranberry Cookies.
And now, you have a chance to win a free copy. This giveaway is open to ALL readers (US and International). All you have to do is comment below… if you do not have a direct link to a blog or website where I can contact you, then please leave your email address within your comment. You may enter ONCE any time before 11:59 Pacific Time on Monday, May 18th. One random winner (via Random.org) will be announced on Tuesday, May 19th.
Here is some more information about the cookbook:
Historic spa and fitness resort honored by James Beard Foundation for new cookbook "Cooking With The Seasons at Rancho La Puerta,"
by Deborah Szekely and Deborah Schneider with Jesús González
Tecate, Baja California, Mexico — Deemed "the Oscars of the food world," by Time magazine, The James Beard Foundation Awards are the country's most coveted honor for chefs; food and beverage professionals; broadcast media, journalists, and authors working on food; and restaurant architects and designers. Nominees for 2009 include the new cookbook from Rancho La Puerta.
Released in Fall, 2008, "Cooking With The Seasons at Rancho La Puerta" highlights methods and recipes using fresh, local, seasonal ingredients—an approach that lies at the heart of the guest experience at this spa and fitness resort. Here guests eat meals cooked with vegetables and fruits fresh from the spa's own 5-acre organic farm. In addition, they have the option of taking cooking classes at La Cocina Que Canta (The Kitchen That Sings), the spa's cooking school, which is set at the very edge of the farm's fields.
The book's 120 recipes are organized as a series of complete—and luscious—seasonal menus. As spring rouses the earth, cooks awaken their taste buds with Jicama Slaw with Pink Grapefruit. When summer arrives, the senses dance with Poached Wild Salmon with Avocado-Tarragon Aioli. Fall's brilliant colors are echoed by Carrot and Ginger Soup with Pears. And, in winter, the new year arrives with fanfare, thanks to Mayan Chocolate Sorbet. Throughout, sidebar tips give valuable advice on everything from choosing the most healthful grains and flours, to grinding spices, to preparing fruit vinegars, to preserving summer's goodness with dried herbs and flowers.
Author Deborah Szekely invented the destination fitness resort and spa concept when she opened Rancho La Puerta in 1940. She opened The Golden Door in 1958, and it has been consistently rated the top spa in the United States for many years. Rancho La Puerta remains family owned and operated. Szekely was the first chef at both spas, and her recipes and techniques are still used today. She lives in San Diego.
Co-author Deborah M. Schneider is a chef and food writer with more than 25 years of culinary experience. She is the author of "¡Baja! Cooking on the Edge," chosen by Kirkus as one of the best cookbooks of 2006. Schneider lives in San Diego.
Here's a sneak peek at a couple more recipes that are in the book:
Mixed Seafood Steamed in Parchment with Shallots & White Wine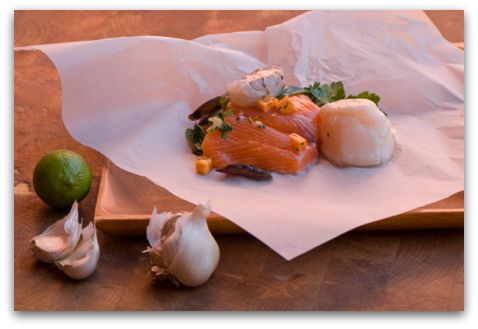 Roasted Pear & Arugula Salad w/ Pomegranate- Chipotle Vinaigrette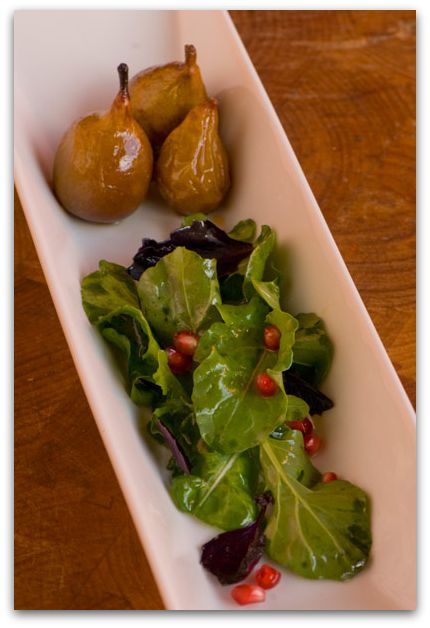 Good Luck All! This is one cookbook that you'd love to have in your collection 🙂
You can also purchase the cookbook HERE.
185 Responses to "Cookbook Giveaway: Cooking with the Seasons at Rancho La Puerta"
Leave a Comment