Blueberries are abundant on the Northeast coast of the US. We can find them in our markets pretty easily here in San Diego, but nothing beats the blueberries that you come across in New England. They're BIG and j.u.i.c.y. little buggers, and they're cheap as can be. The market where I shopped this summer had them priced at 3 pints/$5.00. The local Farmer's Market had them priced a little higher, but deservedly-so since they were freshly picked and perfect-looking. I utilized blueberries in numerous recipes this summer and will be sharing them now and then until they've run their seasonal course.
One of my favorites of the summer: Baked Brie with Blueberry Sauce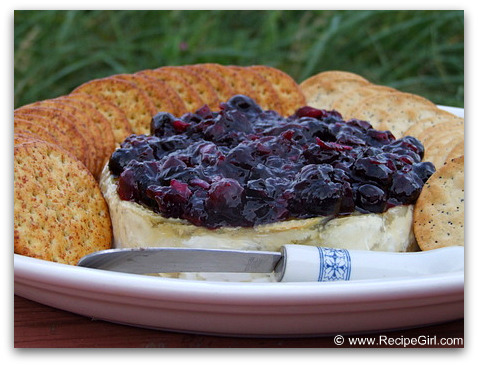 I worked in catering for many years while going to college, and my favorite appetizer that we served up was a gigantic round melted brie in a chafing dish with add-ins like almonds and cranberries. I prep this brie the same as I did with the giant ones… making a cut along the top edge of the brie before baking. Once the brie is warm and melty, the top is very easy to cut under and slip off.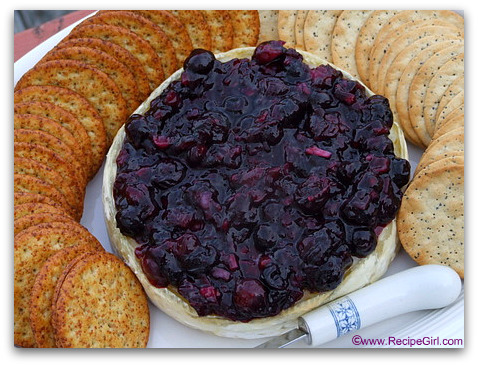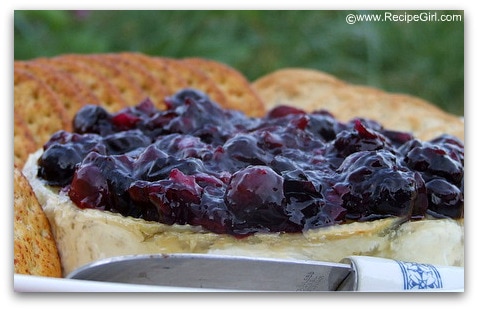 Fresh blueberries are simmered with brown sugar, shallots, cider vinegar, ginger, a touch of cinnamon & cornstarch to thicken. The blueberry mixture is then spooned on top of the warmed brie.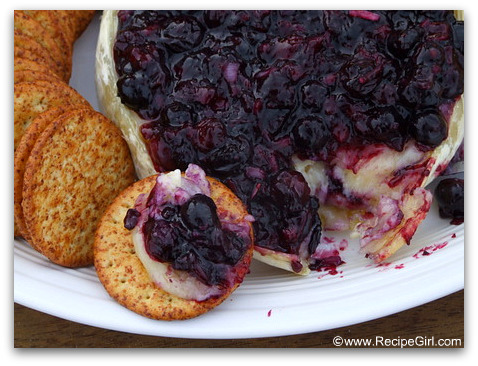 Served up with crackers or baguette slices, this blueberry brie makes a terrific, summery appetizer. Every bit of this amazing dish was gobbled up… brie scraped down to the rind and plate practically licked clean of any trace of blueberry. Dee-lish

This recipe can be found HERE.
——————————————
Other delicious-sounding baked brie recipes on the blogs:
Big Red Kitchen: Mini Baked Brie Cups
Half-Baked: Baked Brie w/ Pomegranate & Apple
Simply Recipes: Baked Brie with Jam
White on Rice Couple: Baked Brie Dip w/ Sundried Tomatoes & Thyme
YumSugar: Baked Brie w/ Mushrooms