* this giveaway is now closed.  The randomly selected winner (via random.org) is #82 Nicole from www.dulanotes.com!  Enjoy the movie!  Nicole commented…
"Your site is great because if I want to try something new or have to bring a crowd-pleasing recipe to a gathering, I can count on your recipes."
Wow, thanks Nicole!  I can't tell you how exciting it was to read all of my reader's comments… it's so nice to know what features of RecipeGirl.com are appealing & where improvements might be needed.  I've listened and will take all of your comments into account as I make revisions to the site!
Today, December 8th, marks the debut of the DVD and Blu-ray release of the much-loved, talked about movie in the world of food: JULIE & JULIA. Let's celebrate!
You can view the trailer for the movie HERE.
Sony pictures has offered to give a brand-new DVD to one of my readers. Keep it for yourself, or gift it to a food lover in your life for the holidays!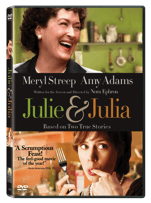 To enter the giveaway, just leave a comment below telling me one thing that you enjoy about the RecipeGirl site.   And while you're at it, if there's anything you'd like to see on the site… please let me know.  RecipeGirl.com will be getting a bit of a facelift soon, and I'm happy to try and incorporate ideas from my readers to make the site better.  Comment (once) any time between now and midnight on Thursday, Dec. 10th. A random winner will be selected and posted here on Friday the 11th. I'll contact the winner via email, so please make sure that you have an email address contained within your comment. This giveaway is open to all readers, worldwide.
Good Luck!