The Pioneer Woman Cooks Cookbook: Ten Copies to Give Away!
This contest is now closed.  Congrats to the ten winners listed below- all chosen randomly via www.random.org!
#51 Molly "I love Pioneer Woman cooks. But, if I can't find a recipe I am specifically looking for, I usually go to allrecipes.com. I like reading the reviews."
#66 Fran www.FrantasticFood.com "My 1st resource is my Google Reader feed for my fave food bloggers and then FoodGawker for visual inspiration."
#114 Bunny http://henleythegreatdane.blogspot.com "I love Pioneer Woman's recipes – she's one of my first "go to" sites."
#168 Taunzia "Love the tasty kitchen!"
#204 Kristi "You have a great site! Will come back and spend lots of time here!"
#238 Laci "love sweetopia, bake at 350, bakerella, and for sure recipegirl"
#281 Grant "Mouthfulsfood.com, a message board with a great community of people is my internet go to place for recipes, tips, and general conversation."
#333 Kerstin www.CakeBatterandBowl.com "I really like allrecipes.com!"
#370 Tina www.MommysKitchen.net "I use southernplate and all the blogs in my bloggy roll and google reader. Not to mention the pioneer woman cooks and Simple Recipes and my Girl Paula Deen"
#426 Kathy www.PaniniHappy.com "I buy most of my cooking tools – and everything else for that matter – at amazon. For recipes, I always check Simply Recipes, Epicurious and AllRecipes first."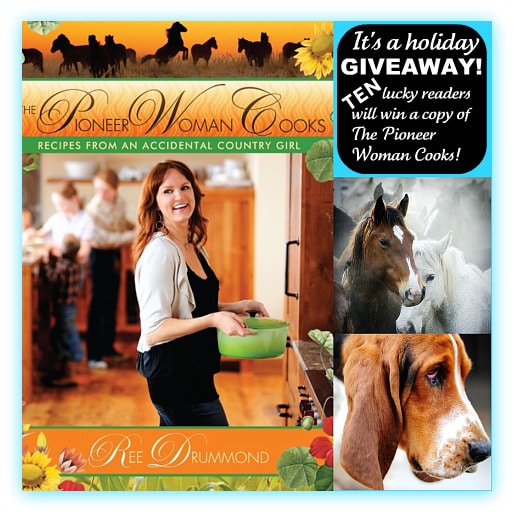 See that puppy (Charlie, is his name) and those gorgeous horses? Those are just a few of the animals on the working cattle ranch that Ree captures on a regular basis through the lens of her camera. I reviewed The Pioneer Woman Cooks by Ree Drummond a while back when I made her Beans and Cornbread. I gushed about how much I love her cookbook, for the simplicity of her recipes, for her snarky humor, for her amazing photography, for the endearing characters that are her family, and most of all for the writing. Ree's cookbook reads like a novel that's tough to put down. It's worth having in your collection, even if you're not much of a cook. I find myself continuing to pull it out and look at it some more, sure that I missed something the first time around.
Here are two keeper recipes I've recently made using The Pioneer Woman Cooks cookbook: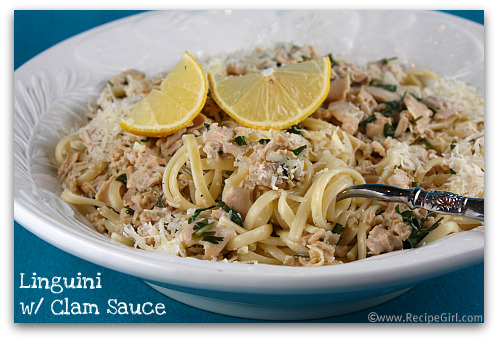 My family loved the Linguini with Clam Sauce.  I lightened Ree's recipe up slightly (and added lots of Parmesan too).   This recipe can be found HERE.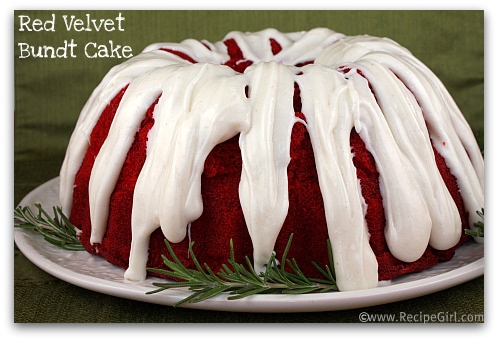 I turned PW's Red Velvet Cake into a bundt, and drizzled it with a cinnamon-cream cheese glaze.  The teachers at my son's school got this for a treat at a recent holiday luncheon.  Good feedback from the teachers (they said it was yummy!)  This recipe can be found HERE.
Ree has generously offered TEN of her cookbooks to give away to RecipeGirl readers! Here are the details…
There are three ways to enter, and you can enter three times (enter a separate comment for each of the following methods).1. 1st Entry: Leave a comment telling me your favorite online source for food-related items (or recipes). I've recently discovered two that are fabulous: Bake it Pretty and The Cupcake Tower (both of which I've already placed orders from), and I'm also loving Ree's Tasty Kitchen site too.
2. 2nd Entry: Subscribe to RecipeGirl via email or Yahoo, Google, etc. (see column on right)- if you're already a subscriber, just let me know in your comment.
3. 3rd Entry:  Follow RecipeGirl on Twitter (@RecipeGirl- see column on right to link to Twitter)- if you're already following me on Twitter, just let me know in your comment.This giveaway is open only to those with a mailing address within the USA.  Comments will be closed at 10pm Pacific time on Sunday, December 13th.  Winners will be chosen randomly and posted here on Monday, December 14th.  Please make sure your email address is contained within your comment so that you can be easily contacted.   Good luck!
487 Responses to "The Pioneer Woman Cooks Cookbook: Ten Copies to Give Away!"