The Ten in '10 Healthy Challenge officially begins in just one week: January 2nd, 2010. Are you ready to begin your 10 week commitment to making healthy changes in your life? Find challenge details here. It's not too late to join in!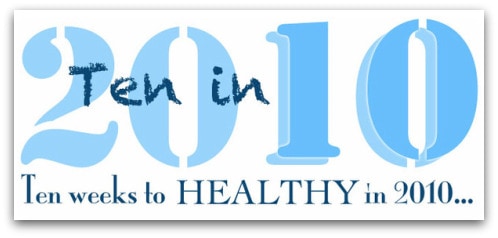 I've been putting a lot of thought into what specific goals I should shoot for, and so should you. Setting realistic, reachable, short-term goals for the 10 week challenge is important.  You don't want to set a big-time goal for yourself that is almost impossible to achieve in just ten weeks… ten weeks is a good chunk of time to get started on your healthy journey, but if you set the bar too high, you'll just be setting yourself up for failure.  I intend to set my short term goals and then think ahead to set a few longer-term goals too. There are over 100 people signed up for Ten in '10, and here's a round up of the various goals that have been shared by our participants so far (you'll find that there's quite a range):
health related goals:
*lower cholesterol/blood pressure
*control glucose levels
*drink more water
*cook from healthy cookbooks
*improve sleep habits
*eat fruits/veg/whole grains/fiber/wheat free/vegetarian/vegan
*eat regular meals
*give up refined sugar/processed foods/white flour/white rice
*cut out vending machine food
*make better food choices
*prepare healthier family dinners
*improve overall health
*limit saturated fats- eat more healthy fats
*manage stress- slow down pace
*limit chocolate intake
weight related goals:
*lose 5, 10, 15, 20, 30 lbs.
*gain weight in a healthy manner
*limit sweets/make fewer desserts
*cut down on snacking/late night snacking
*begin/continue Weight Watcher's, South Beach, Mayo Clinic Diet
*fit into jeans again
*cut down on eating comfort food
*eat low fat diet
*control portion sizes
*lose inches
fitness related goals:
*begin incorporating regular exercise
*Combine cardio & strength training
*exercise certain number of days/wk.
*step up exercise
*Couch to 5K Program
*Prepare for 5K, 10K, 1/2 marathon, marathon, century bike ride
*walk daily
*gain greater flexibility/ stronger physique
*try out yoga/pilates
*tone up
*be more active
*gain lean muscle
*build up stamina
Here are a few recommendations as you think about getting started on your healthy journey…
1.  Join the Ten in '10 Team that we've put together on SparkPeople.  It's a good site for tracking calories and workouts & interacting with the other participants.  Join here (it's free): http://www.sparkpeople.com/myspark/groups_individual.asp?gid=38209&gcode=3USP1YE3BF
2.  Take a peek at the participant list to see who has similar goals to your own.  Reach out to those people on Twitter and their websites if you're looking for support and encouragement.  Many will be writing about their experiences on their blogs and I'm guessing that many will choose  to share some healthier recipes too.  I'll be writing about my experience with this challenge on Saturdays, and will incorporate some healthy recipes into my blog posts as well.
3.  If you're planning a weight loss journey on Weight Watchers, be sure to check out Gina's Weight Watcher Recipes for creative recipes with points, and Kalyn's Kitchen (for low carb- specifically geared toward South Beach Diet).
4.  Here on RecipeGirl.com, I have recipe categories for Low Fat, Low Carb and Weight Watchers.
5.  Several participants have decided to do the Couch to 5K program.  Here's more info. about that.
Please email me if you have stories, recommendations or things for me to share with readers.  People get motivated by hearing about other successes, and if you've got a motivating story or if you've found an exercise dvd that is changing your life, or if you simply found a product in the market that you think the whole group can benefit from, let me know!  I can't guarantee that I'll choose to write about everything that gets emailed to me, but if I think it's something that our participants will benefit from… I'll include it in one of my Saturday posts.  I'm getting flooded w/ retailers & others attempting to get me to pimp their products, so please don't be offended if I don't include your idea!
Best of luck in your planning, and let me know if have any questions.  It's important to note that I'm not an expert in the areas of health, weight or fitness.  I'm just rallying the troops here and hoping that participants will motivate each other to make a positive, healthy change in their lives.  Email me any time at therecipegirl {at} gmail, even if you just need someone to give you a little pep talk