Chicken with Cider and Bacon Sauce: A Healthy Choice
I'm cooking lighter in 2010.  That's not to say that I won't post evil baked goods and decadent dinners… I'll still do that of course, but I'm also mindful of the fact that my thighs are rubbing together and my non-existent love handles seem to be making an appearance again.  It's time to eat a little healthier and cut back a bit.  I picked up what looks to be a good cookbook at Costco the other day-  Cooking Light:  Way to Cook– the Complete Visual Guide to Everyday Cooking.  It has pictures- LOTS of them (850 to be exact- for 200 recipes).  And it has process pictures, which are tough to find nowadays.  The cookbook goes through ways to do things… way to saute, way to grill meats, way to make yeast breads, way to braise, way to cook healthy, etc.  I'm really diggin' this one.
The first recipe I tried from this cookbook was Chicken with Cider and Bacon Sauce.  Since they include process pics, I'll include them too.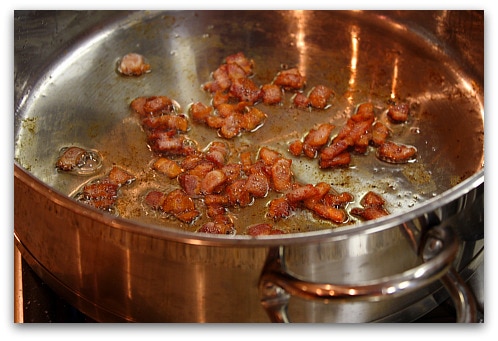 Chop up two slices of bacon and sizzle away until it's nice and crisp. Use the real stuff (2 slices of regular- not turkey-bacon aren't going to kill you, are they?) You'll need the bacon grease to do the next part. While your bacon is cooking, pound out chicken breast halves to 1/2-inch thickness (for two reasons… ONE: the chicken cooks more evenly and will stay nice and moist, and TWO: It will make your serving of chicken look really big and therefore you will be more satisfied 🙂 )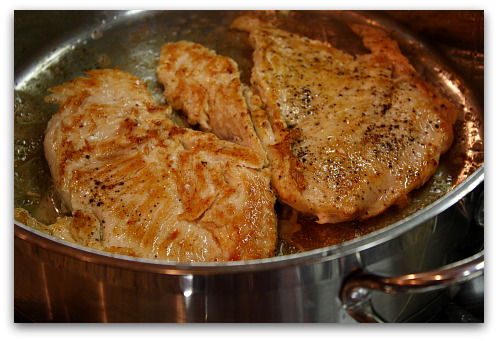 Remove the bacon from the pan & fry up that chicken in the small amount of bacon grease that accumulated.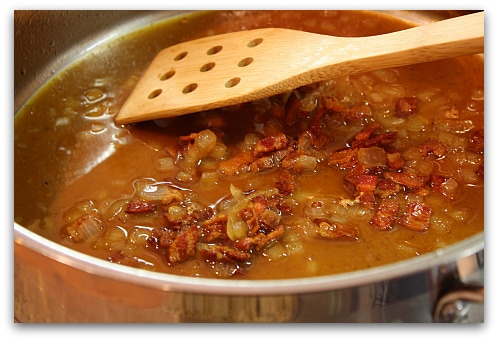 Remove the chicken and tuck it into some foil to keep it warm. Add onion, apple cider and chicken broth to the pan and boil until it reduces a bit. Add the bacon and the sauce is done.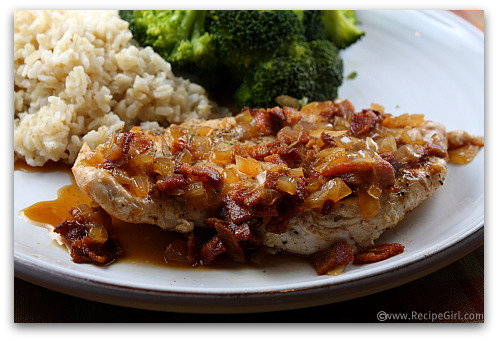 Serve it over the chicken and you've got yourself a yummy, quick, healthy chicken dinner. Rice is a good choice to tuck underneath the chicken and absorb some of those sauce juices too. This recipe will be a repeat in our house- my boys gave it all thumbs up. I liked it too 🙂
The complete recipe, along with nutritional information & Weight Watcher points, can be found HERE.
35 Responses to "Chicken with Cider and Bacon Sauce: A Healthy Choice"
Leave a Comment