It was so inspiring this week for me to pop around on the blogs and see so many people writing about the Ten in '10 Healthy Challenge.  The Passionate Pair said it best when they described the challenge as "gaining a foundation for long-lasting habits." I hope that's how we're all looking at this challenge. At the bottom of this post, you'll see links to other blogs that you can visit to read about other people's experiences.  The excitement and energy is contagious! An even larger source of inspiration and support has been on Twitter.  In addition to the usual folks I chat with, it was fun to bring up the #10in10 hashtag. If you do a search using the hashtag #10in10 on Twitter, you'll see so many people tweeting about their day… their workouts, their food choices, their oopsies, their questions, links to healthy recipes, and more.  It's what I like best about Twitter right now.  I have a "List" within my Twitter home page where I've added all of the Participants.  You're welcome to follow that list if you'd like to see what everyone is up to.
*My experience with the challenge this week*
Successes:
*I achieved my goal of exercising 6 of the 7 days.
*I feel really good about the food choices I made this week (avoided all of the "bad" food & watched portions & snacking).
*I didn't drink a drop of wine, though that will change next week…
*I lost 5.5 lbs!
What I've Learned….
*Walking at a 5-6% incline on the treadmill at a good speed is almost as tough as running and provides for a nice workout.
*Even if I only have about 30 minutes, I can still get in a good workout.
*I shouldn't go shopping until I've lost weight.  It'll be more fun and it's pretty much a waste of money since new clothes likely won't fit me when I'm at my goal weight.
*Tracking food & fitness on SparkPeople.com isn't for me.  I find it too confusing & it takes forever to find what you need to enter (if you find it).  I don't need to track calories, so I just write my intake in a food journal and keep a calendar where I write my fitness each day.
*I discovered Sparkpeople's recipe feature- where you can enter ingredients for a recipe & it will compute calories per serving.
*Weighing in at the end of the week (rather than my usual, obsessive every day) is just fine.  It was exciting to see my grand total for the week.
What I still need to work on…
*drinking water!  I'm trying, and I've been better but I really need to step up the water intake.
*I need to learn to relax and go to bed at a decent time & sleep in.  I'm not getting enough sleep.
Other stuff….
*I watched two fabulous, informational shows this week about eating healthy.  The first was on Food Network.  Alton Brown explains how eating from 4 basic food groups helped him lose 50 lbs without going on a diet.  You can see when that show is re-airing here.  Dr. Oz has also had some really great diet-related shows lately.  I really learn a lot watching his show.  Look for show topics here, and perhaps they'll re-air some of those shows.
*A new season of The Biggest Loser began last week. Watch it! It's so inspiring to watch these people transform themselves from outrageously unhealthy to fit & trim.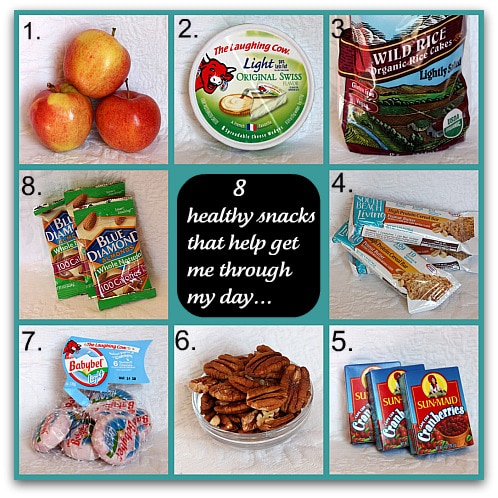 (NOTE:  none of the brands mentioned have paid me to write about them.  I'm just sharing things that work for me.)
1.  Apples- GALA apples to be exact.  They're sweet and yummy & I can't get enough of them.  Sometimes I cut up an apple and use a dab of peanut butter to dunk it in before I head to the gym.
2.  Laughing Cow Light Cheese- At only 35 calories, this stuff is good spread onto whole grain crackers or rice cakes.  (It's also wonderful melted into pasta, by the way).
3.  Brown Rice Cakes:  If you're gonna buy rice cakes, they might as well be brown rice cakes.  By themselves, ICK, but with the Laughing Cow Light Cheese on one of them, it makes a good snack.  1 rice cake = 70 calories
4.  South Beach Living High Protein Cereal Bars:  These aren't bad for a quickie snack & they have 140 calories, 5g fat & 3g fiber
5.  Dried Cranberries:  These are 100 calorie boxes, which are good if you need conveniently portioned packaging.  Nice treat to keep in your purse or computer bag for spur-of-the-moment snack emergencies.
6.  Pecans:  I keep mine in the freezer (for some reason they taste like more of a treat when they're frozen).  A small handful is about an ounce = 196 calories
7.  Babybel Light Cheese:  These little rounds are 50 calories.  If you slice them up and put them on a plate with some whole grain crackers, you'll feel like you're eating more than you really are.
8.  Almonds:  It's safe to say that I love almonds too.  Again, these are in convenient 100 calorie packets (you can certainly portion off your own & it will be much cheaper), but I like these to throw in my purse.  1 ounce = 164 calories
Additional notes:
*I have so many lowfat, low carb and weight watchers recipes in my recipe collection. Take a peek to see if you can find some new treasures to try.
*Be sure to check out my other blog (www.CulinaryCovers.com) for additional recipes.  The theme of that blog is "reviewing the recipes from the covers of cookbooks & magazines,",and often times I highlight Cooking Light, Weight Watchers and low fat cookbooks.
On to week two with loads of enthusiasm & energy!! Good luck all!