I've been a bit remiss in visiting blogs of the Ten in '10 Participants this week but I hope you'll understand… I've been in Mexico attending a food blogger's conference/vacation.  It's tough to find time for the computer when you're in a hot & humid climate where all you want to do is lounge around in a beach cabana, sip tropical drinks and take an occasional dip in the ocean.  My Ten in '10 goals weighed heavily on my mind the entire week and, considering the situation, I think I did pretty well.
*My experience with the challenge this week*
Successes:
*I made good food choices w/ no desserts and no mindless snacking.
*I was able to avoid a lot of really heavy, carb & fat laden Mexican food.
*I succeeded in working out 6/7 days, even while in a tropical paradise.
*I slept 7 to 8 hours every night.
What I've Learned….
*Weighing yourself in kilograms is entirely more satisfying than weighing yourself in pounds 


*You can go on vacation and still make healthy choices.
*You feel better in a bathing suit if you have been working out, even if you still don't look all that good in it

What I still need to work on…
*will need to detox next week & get re-focused on the healthy plan
*drink more H2O!
Other stuff….
*I have no idea what my weight truly was on my regular weigh in day this week since I was on a strange scale in a strange place.  I'll get back to my regular weigh in next week.  I'm pretty sure I stayed about the same… which I'm entirely happy with since I was not in a regular routine this week and pretty much drank wine every night (okay, I DID drink wine every night).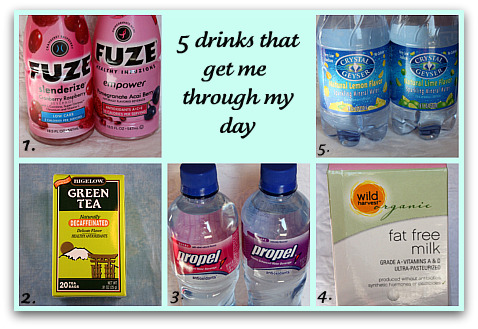 (NOTE:  none of the brands mentioned have paid me to write about them.  I'm just sharing things that work for me.)
1. FUZE- super low calorie & low sugar, lots of added vitamins. I love this stuff.
2. GREEN TEA (or any tea): When I get the munchies during the day, I make myself a double tall cup of tea. I add a splash of milk and either a packet of Splenda or a spoonful of sugar. Entirely satisfying.
3. PROPEL: If you work out, this is a good alternative to regular water. It's flavored water that feels like a treat (grape is my favorite).
4. MILK: It's filling. I usually always have a small cup of milk with breakfast and/or dinner.
5. CRYSTAL GEYSER: This flavored bubbly water is good to have with a slice of lime or lemon. It feels like you're having a cocktail if you serve it up in a fancy glass.