Snickerdoodle Blondies (Snickerdoodle Heaven?)
I like to think that there will be a special calorie-free place in heaven reserved for Snickerdoodle lovers like me. There will be beaches made of cinnamon-sugar sand and surfboards made of Snickerdoodle Cookies. On a nearby magical mountain, I'll ski down frozen layers of Snickerdoodle Ice Cream, maneuvering the mogul-like scoops with ease as I stop for a nibble every now and then. I'll live in a seaside castle made of Snickerdoodle Cake and sleep in a bed made of tender Snickerdoodle Marshmallows. My computer will sit upon a desk made of Superdoodles, just in case I get a hankering for extra cinnamon in my land filled with sweetness. And the steps to the castle will be made of Snickerdoodle Blondies.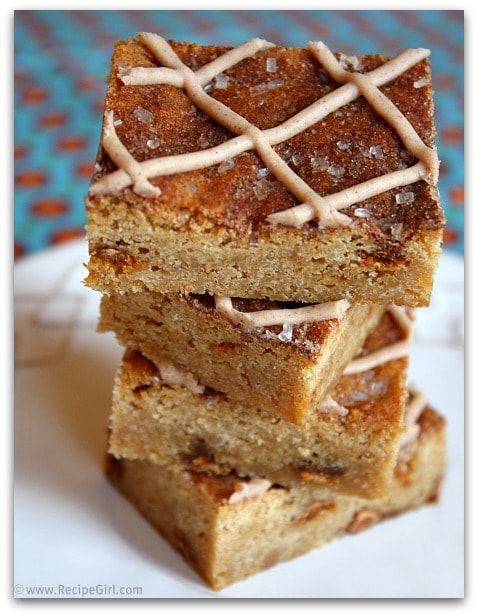 They're sturdy enough for steps, really. Cinnamon chips tucked inside help anchor the crumbs together.  See how nicely they stack?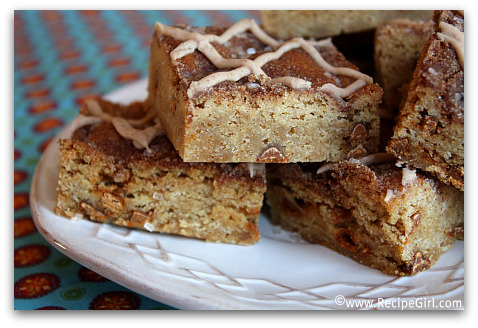 It'll be a shocker if I ever actually make it inside my castle since I'll be greeted the deliciousness of these blondies every time I approach my home.  Upon taking a bite, my taste buds will first be delighted with a light cinnamon-tainted glaze before my teeth break through the sugary crunch of the upper crust and into the tender Snickerdoodley interior.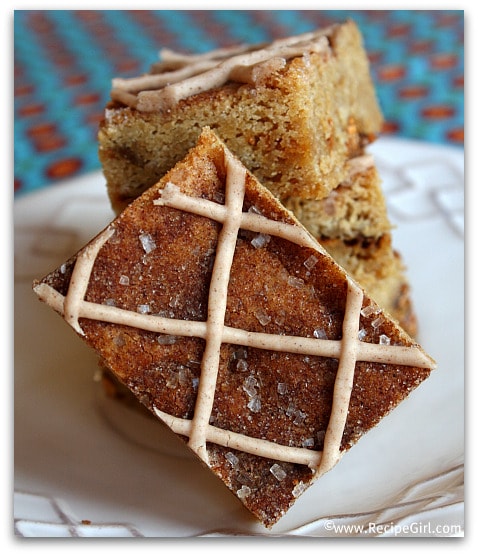 I realize that my vision is quite a stretch, but I'm quite sure that foodies everywhere are hoping for some kind of Gourmet Heaven in their afterlife.  I have my Mom to thank for my Snickerdoodle love.  She made them often as I was growing up, and they've always remained my favorite.  I'd take Snickerdoodles over Chocolate Chip any 'ol day.  And those Snickerdoodle Marshmallows mentioned above?  I have yet to develop that recipe

The recipe for Snickerdoodle Blondies can be found here:  Snickerdoodle Blondies
(thanks to My Baking Addiction for the idea…)
For other Snickerdoodle Recipes mentioned above, just click on the recipe titles.
36 Responses to "Snickerdoodle Blondies (Snickerdoodle Heaven?)"
Leave a Comment