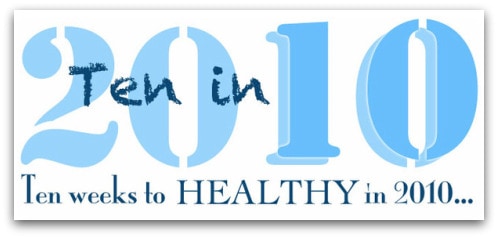 Three weeks into the Ten in '10 Healthy Challenge and I'm still getting requests for people to join along. We're up to 336 participants from 41 states & 15 countries! It seems that a lot of folks are hoping for a little support in their healthy journey, and that's what this challenge is all about. Ten weeks isn't going to magically change anyone's lives forever, but my hope is that these ten weeks will give you a jump-start on making lifelong positive, healthy changes. There are always stumbling blocks (read mine below) but you can always pick up and continue where you left off- your health is worth it.
I love food. I love shopping for it, I love creating recipes for it, I love preparing it, I love to photograph it and I love to eat it.  I guess that's why I maintain a website with over 2,500 recipes and growing!  I think it's especially tough for those of us in the food biz to manage our intake.  I try to tell myself that I can cook normally and watch my portions.  Sometimes that works just fine, and sometimes not.  If I exercise enough then it usually all seems to balance out.  I haven't had it easy the past couple of weeks… I managed to lose a couple of pounds while in Mexico for a week (mostly because I exercised every day and then got sick at the end of the trip), and then this past week I came down with a bad cold/cough, etc…. and the last thing I feel like eating when I'm sick is healthy stuff.
*My experience with the challenge this week*
Successes:
*I was sick, so although I ate more "comfort food" than usual, I didn't eat much of it.
*I found myself wandering into the pantry when I was bored, but then I realized I wasn't hungry so I left


*I stayed away from desserts (except for a few healthy cookies- see below…)
*I drank a lot of tea.
*I slept a lot, and I even took naps this week.
*A few nice folks nominated me for a Shorty Award for #10in10 & #health- wow! http://bit.ly/shorty
What I've Learned….
*Salad isn't on your mind at all when you have a sore throat.
*The very thought of exercise goes completely out the window when you have a bad cold.
*I'm completely open to adding two weeks onto the end of my challenge, since these last two weeks got me off track a bit.
What I still need to work on…
*getting better so I can get back to exercising again!
Other stuff….
*I'm happy that my weight has stayed down.  I've lost a total of 7 pounds in the last three weeks.  I'm pretty bummed about the interruption in my exercise, but I do hope to resume my routine soon.
*I made a great, new chocolate chip cookie recipe!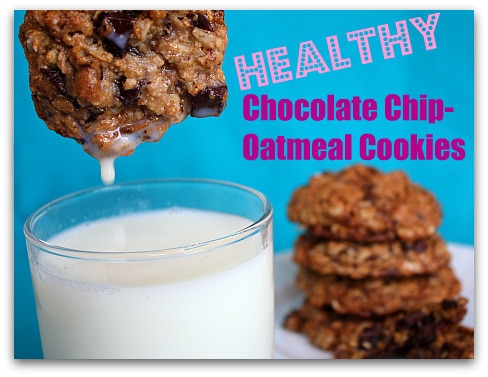 These cookies contain a secret ingredient: Dates! WAIT… let me explain. I HATE DATES. Really, I do. My grandmother used to make date-filled cookies that I barely choked down so I didn't hurt her feelings. In these cookies though, they are very finely chopped and just add an element of sweetness. In the finished cookie, I really can't tell that the dates are in there at all (and my 8 year old easily gulped down three without questioning any weird flavor… really, there is none!)  A chopped chocolate bar (instead of chocolate chips) ensures that little shards of melted chocolate are spread out into all areas of the cookie.
The best part: Each cookie is only 99 calories (and 2.5 Weight Watcher points). Immediately after baking these, I put each cookie into its own individual zip baggie and threw them all in the freezer. I'm less likely to munch on them when they're tucked away in the freezer, it's easy to take just one out when I'm ready for a treat, and they're ready to throw in my little one's lunchbox too.
The recipe for the cookies can be found here: Healthy Chocolate Chip- Oatmeal Cookies