Citrus-Infused Guacamole w/ Baked Cumin-Dusted Tortilla Chips
I live in the land of year-round, ripe and affordable avocados (Southern California). I don't think I ever even had avocados as a kid, but in my house now they're pretty much daily eats. We slice them up in the morning and top our omelettes with them. At lunch, they make an appearance in salad. And if we're in Mexican-mode for dinner, we'll have them in the evening too. Avocados are best though when you mash them up and make a big bowl of fresh guacamole. I usually just make my basic guacamole recipe, but my recent trip to Mexico had me thinking about different ways to prepare it. My new creation: Citrus-Infused Guacamole with Baked Cumin-Dusted Tortilla Chips.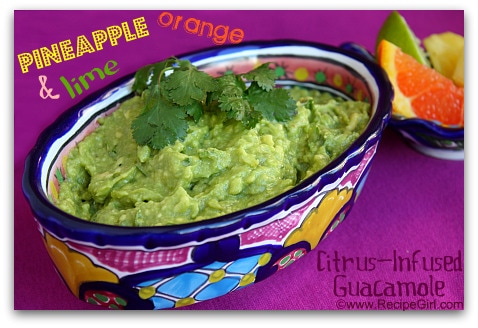 A really simple guacamole to make, I mashed up some avocados and added fresh lime and orange juices. I know that pineapple isn't technically considered a "citrus" fruit, but I threw some pineapple juice in there too. A little hot sauce, cilantro and sea salt and this guacamole was ready to serve.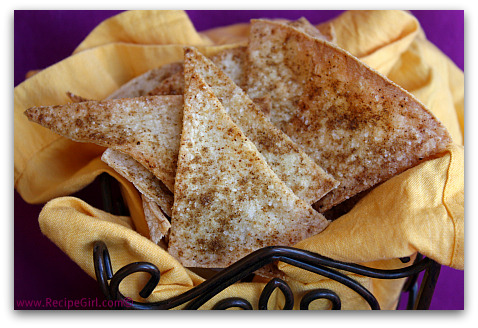 To serve alongside the guac, I baked some tortilla chips: I sprayed white corn tortillas with nonstick spray and gave them a sprinkle of cumin, cayenne & sea salt. A quick slicing with the pizza cutter and they were thrown into a hot oven until crispy.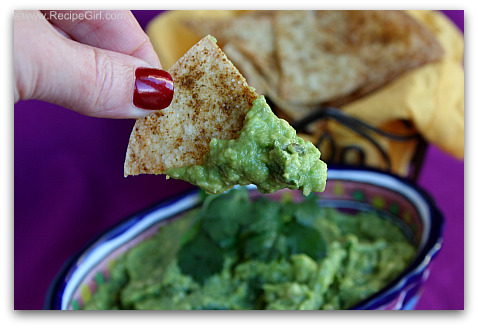 When you make guacamole, it's all about preparing it to taste. If you want more of a certain flavor, just add more. The freshly baked chips were wonderful dipped into the guacamole. I also had a bunch of fresh pineapple, and I found myself dunking fresh pineapple in there too- a great, new discovery!  Next time, I'll serve up skewered pineapple chunks along with the tortilla chips. This guacamole turns out to have a slight hint of citrus and spice (again… you can make it more citrusy or more spicy if you desire).   It's a delicious, healthy option to munch on if you find yourself watching the big game on Feb. 7th.
Detailed instructions for this recipe can be found here: Citrus Guacamole
——————————————————————————————–
You might also like:
Mango Guacamole from RecipeGirl
Cilantro Lovers Guacamole from Kalyn's Kitchen
Smoky Chipotle Guacamole from Fat Free Vegan Kitchen
Roasted Garlic, Poblano & Red Pepper Guacamole from Ezra Pound Cake
19 Responses to "Citrus-Infused Guacamole w/ Baked Cumin-Dusted Tortilla Chips"
Leave a Comment