My brother has always had quite a fond attachment to Fritos.  As a kid he chose Fritos over any other type of chip-like snack, popping them into his chili and tucking them underneath the tuna in his tunafish sandwiches.  I never understood the appeal of Fritos, really.  A handful of them leaves you with a most unpleasant greasy-sheen on your fingers, and then there's that corny aftertaste that leaves you wondering how the heck you're going to get that flavor out of your mouth.  They are, however, essential for this super easy, perfect-for-Game-Day Taco Soup recipe that I adapted from Paula Deen.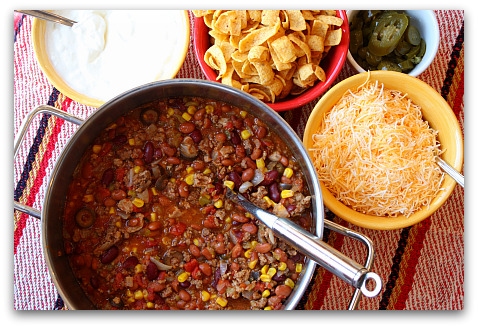 This is such an easy, no-brainer recipe that it's tough to really even call it a recipe. Lots of cans get opened and dumped into a big pot for simmering. The extent of the cooking is browning the ground beef, turkey and onions. Why is this perfect for Game Day? It makes a large pot, and with the added fixins', it feeds a ton of hungry football-watching crazies.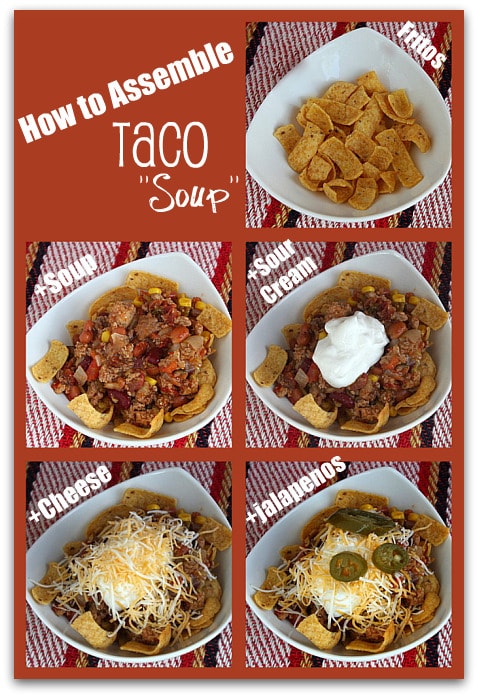 See how easy? Just set up a Taco Soup Bar and let your guests have at it. The "Soup" is really more the consistency of chili and the topping ideas are endless… chopped bell peppers, onions, guacamole, chopped lettuce…  the Fritos (or any sort of corn chips) are not optional- they simply make this recipe what it is!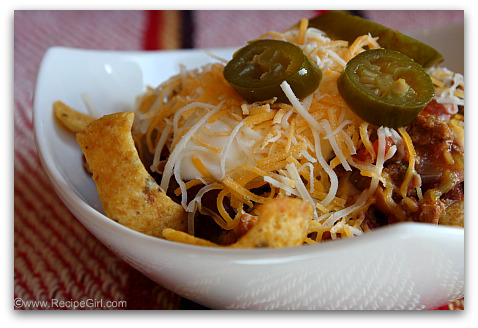 There you go- wonderful grub for a football game

I spent some time with my brother on vacation last summer where we were saddled with the task of making sandwiches for the family to take to the beach. I set about making several Ham & Swiss sandwiches and some pb&j for the kids. My brother was focused on what he wanted: tunafish. I snuck a peek and realized that he hadn't changed a bit. He neatly stacked a layer of Fritos onto his tuna before he laid down that top slice of bread. I've tried this creation of his, and I do have to admit… Fritos are quite a nice addition

The recipe for Taco Soup can be found here: Taco Soup.
28 Responses to "Game Day Grub: Taco Soup"
Leave a Comment