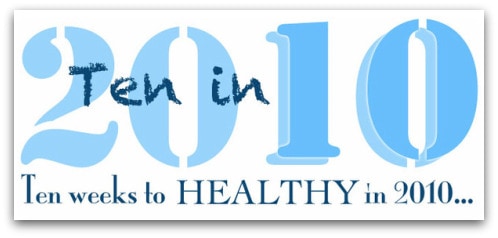 I've just finished up the first four weeks of the Ten in '10 Healthy Challenge and I'm moving on to week 5. The challenge technically ends on March 13th. For me, the challenge will extend to March 27th (vacation & sick week caused a 2 week delay), though I fully intend to stay on my healthy journey indefinitely (but rather strictly until June).
I'm still pumped-up about the challenge and I'm loving seeing everyone's posts and tweets about making healthy changes.  It sure feels great when you make positive, healthy changes in your life, doesn't it?
*My experience with the challenge this week*
Successes:
*Baking a few decadent treats this week and not nibbling beyond taste-tests. I even had a couple of open bags of chocolate chips and didn't eat any of them at all- not-a-one.
*My weight stayed the same this week, which I was totally happy with.  I'm still down a total of 7 pounds from the start date.  I'd like to see a loss next week though.
What I've Learned….
*When I begin the day with a good workout, I feel great & positive all day long.
*If I've screwed up for a day (or a week), tomorrow is a new day… and it's usually one where I'm even more energized and motivated than before.
What I still need to work on…
*Resisting wine at 5pm every day. It's a hard habit to break!
*Get back into the routine of everyday workouts.
*Not letting stressful mornings get me down & blow off workout & healthy eating habits.
*Drinking water!!  If anyone has tips for how to improve this problem, please let me know.  I just don't think about drinking much water during the day (unless it's during and after a workout).
Other stuff….
I have songs to recommend for those of you who like to use an i-pod when you exercise (I could never, ever feel motivated enough to exercise if I didn't have bouncy, boppy music pounding in my ear for an hour). Last year, I published a blog post called "Top 100 Exercise Songs For Your iPod," so check out that post if you're interested.
I tried three wonderful, low fat recipes last week that I'd like to share with you: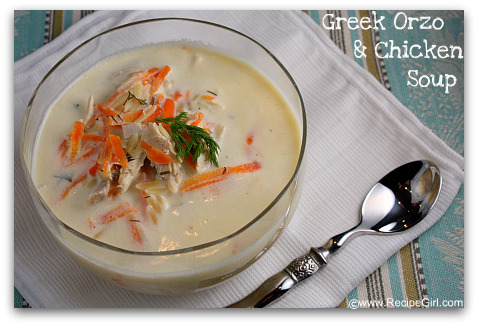 Greek Orzo & Lemon- Chicken Soup- It was filling enough for dinner, especially when accompanied by a whole grain roll.  My kiddo liked it too but wanted less of the dill flavor.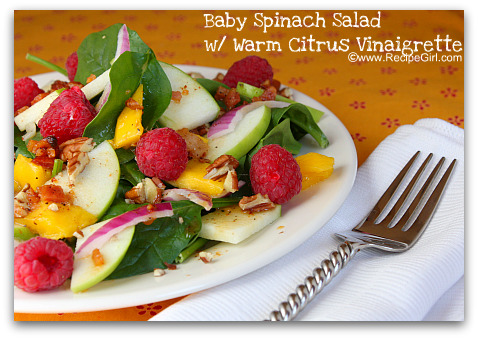 Baby Spinach Salad with Warm Citrus-Bacon Vinaigrette- the recipe only serves two, so it was perfect to make and then have for lunch over two days time.  The mango and apple are wonderful in this salad & since raspberries aren't in season you can always leave those out.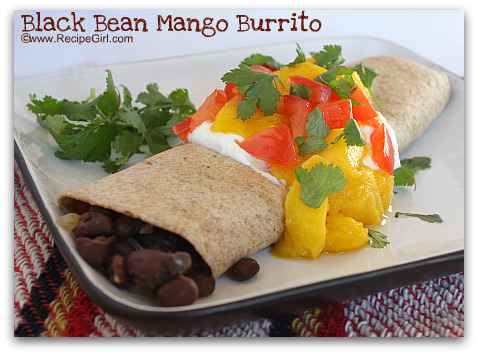 Black Bean- Mango Burritos:  I enjoyed these for lunch, and my son enjoyed them for dinner.  He initially thought that putting mango and black beans together was a strange idea, but he came around and ended up loving the combination.