I've Got a Deep, Dark (Chocolate) Secret to Share
I have a deep, dark secret.  I don't really like chocolate. I've mentioned it in passing before, but I never get any understanding or compassion.  Instead I get… "What?"  "What's wrong with you?"  "How can you not like chocolate?"  "It's the best ever!"  …things like that.  It seems there aren't a whole lot of folks out there who really don't care for chocolate.   And they don't really understand us "vanilla people" either.
Now don't get me wrong… I'll eat chocolate.  Especially if it's attached to some kind of caramelly confection, or even better- TOFFEE!  But put a chocolate bar in front of me and I'll rarely be tempted to eat it.   Understanding the wild cravings of the majority of the world, I bake up chocolate-themed things pretty often.  The drool factor is big with chocolate, and it's deeply satisfying when your intended eaters literally salivate with joy when you place a chocolatey treat in from of them.  This recipe is a good one for those who find joy in chocolate:  Deep, Dark Brownies.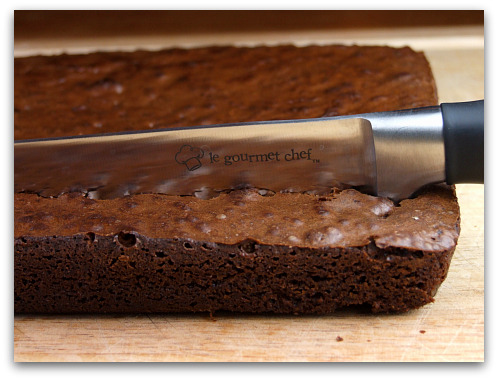 A combination of espresso powder, cocoa powder & melted chocolate within the brownie, plus extra chocolate chips thrown in too just before baking make them extra decadent and worthy of consumption for the above-average chocolate fanatic.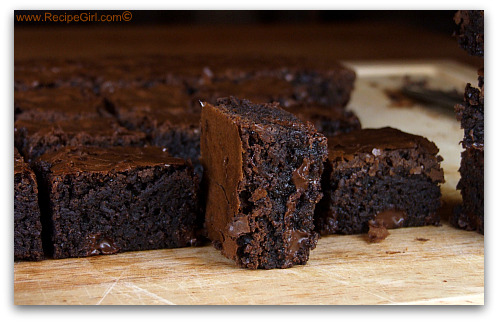 I prefer to bake brownies in a pan lined with parchment paper so that I can literally lift the whole thing out after cooling and remove it to a cutting board.  I'm a sucker for making sure I get clean cuts.  And as much as people might like the edges, I cut all of those off first.  I like the way the brownies look when they have nice, clean sides all the way around.  I'm strange like that. My family thanks me for saving the edgy scraps for them.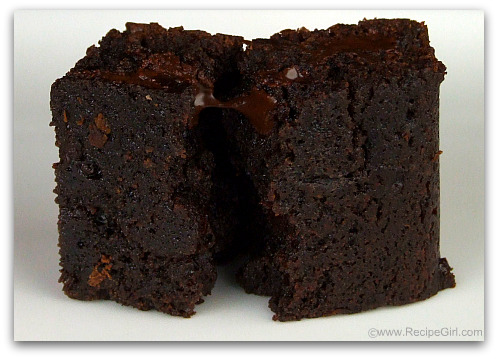 As much as I don't like chocolate, I did love these brownies.  Knowing that sampling would send me on a caffeine high good enough for an entire day, I ate a whole bunch of those edgy scraps to sample the goods.  They were extremely moist- not cakey at all, and I have to say that they'd be terrific with a big scoop of vanilla ice cream (gotta balance things out, ya know?)
The recipe for these brownies (from the guys at Baked) can be found here:  Deep, Dark Brownies
45 Responses to "I've Got a Deep, Dark (Chocolate) Secret to Share"
Leave a Comment