There's More Than One Way to Roast a Chicken
After reading Ruhlman's post "America: Too Stupid to Cook" I decided that it was ridiculous that I wasn't roasting my own chicken.  The convenience of buying a chicken already roasted by the market had become habit.  But that was lazy and (stupid) and there was really no reason why I wasn't taking on this task at home.  Anxious to try it (embarrassingly, for the very first time) I bought a chicken, pulled out the gizzards, etc, rinsed it and patted it dry.  I rubbed my chicken with olive oil & fresh thyme/rosemary, stuffed it with lemon halves and onions, gave it a good sprinkle of salt and pepper and shoved it in a hot (450 degree F.) oven for 1 hour.  The whole thing took about 10 minutes to prepare and then I got to drink wine and visit with my family while my kitchen filled with the most delicious scent of roasted chicken.  The chicken came out so much better than those grocery store roasted chickens, I had some leftover meat to use for another recipe, and I used the carcass to make the most amazing chicken stock (for soup).  Why doesn't everyone do this?  The convenience-factor that our society pushes upon us is trumping the small amount of effort it takes to make it yourself. Will I ever buy an already roasted chicken again? Of course, but if I've got an hour to play with I will most definitely do my own.
For my second roasted chicken, I wanted to try some new methods… my recipe is called Slashed Chicken with Bacon-Herb Butter, based on this recipe and recommended by Kim.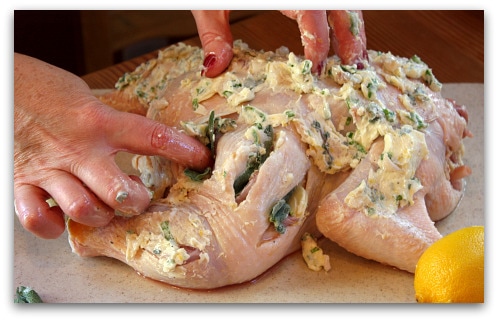 Slashes are cut into the chicken on the top and the bottom, and then a fresh herb-bacon butter is literally rubbed onto the chicken and into the slashes. Sage leaves and sliced garlic are pushed in there too. I halved a lemon and popped it into the cavity of the chicken. Meanwhile, your oven is getting nice and hot with a Dutch oven in there heating up too.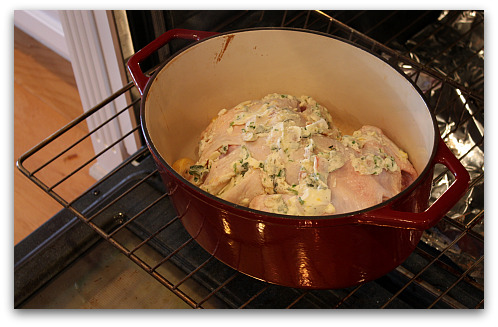 Acting on a Twitter tip from Sarah, I roasted the chicken breast-side down, which is supposed to keep the white meat more moist.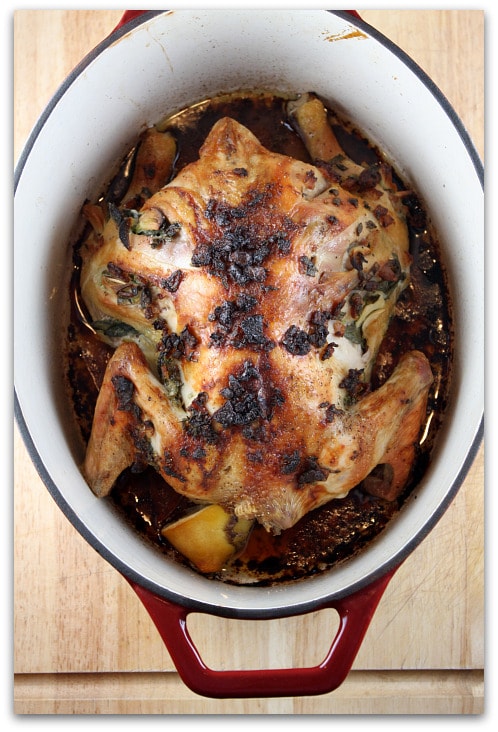 I roasted my 5 pound chicken at 450 degrees F. for an hour, uncovered. At that point I popped an instant-read thermometer into the thickest part of the thigh. At 165 degrees I pulled it out and let it rest with a tent of foil wrapped around it (the temperature continued to rise another 5 degrees or so). It turned out perfect. The meat was very tender and the flavors… the sage, the garlic, the bacon… were well permeated into the meat. This is not the kind of chicken you get when you purchase one of those bulk-roasted chickens at the market, that's for sure. It's much, much better.
This recipe can be found here: Slashed Chicken with Bacon-Herb Butter
Apparently there are more than a few ideas for roasting a chicken! Here are a boatload suggestions for how to make the perfect roast chicken, from my foodie friends on Twitter:
*Rub the outside with coconut oil, salt & pepper and stuff the cavity with rosemary, apple, celery and onion.
*Coat with dijon mustard and put sliced onion underneath the bird. Afterward, use the onion & dijon drippings to make gravy.
*Instead of throwing away the flaps of fat, cut them and insert them between the breasts & skin. This helps keep the breasts juicy.
*Brine the whole chicken in milk & lemon zest.
*Cut out the backbone, flatten & cover with a paste of fresh thyme, lemon zest, garlic, olive oil, salt & pepper.
*Rub pesto underneath the skin.
*Cover the bird with tons of orange zest & put orange halves inside the cavity too.
*Rub a paste of bacon fat, butter and garlic under the skin.
*Make a compound butter with homegrown herbs and rub under the skin. Stuff the cavity with onion, garlic, gizzards, olive oil and seasonings.
*Roast the chicken in a giant le Creuset (pot) with a tight cover of foil underneath the lid.
*Cover the chicken with bacon- it will turn out moist and flavorful.
*Rub lemon and kosher salt on the outside. Try anchovies too!
*Use high quality fresh chicken & rub with lemon juice and fresh herbs (tarragon or thyme & garlic).
*Roast the chicken on top of apples, onion, garlic & rosemary. Salt and pepper the chicken and then pour 1/2 cup of apple cider into the roasting pan. When chicken is roasted, slice it up & serve it with the apple-pan-stew.
*Use the Zuni Cafe recipe.
*The Ad Hoc at Home cookbook by chef Thomas Keller recommends taking the chicken out of the refrigerator 1 1/2 to 2 hours ahead of time to bring the chicken to room temperature. This apparently allows the meat to cook more evenly.
*Two people recommended this: after rinsing, pat chicken dry and let sit, uncovered, in the refrigerator for about 1 hour before roasting. The skin gets extra crispy using this method.
31 Responses to "There's More Than One Way to Roast a Chicken"
Leave a Comment