Pasta Party Giveaway: Imperia Pasta Machine + Emile Henry Lasagna Dish
This giveaway is now closed!


The winner is reader Karen Reinecke, who commented that her favorite pasta is Farfalle with asparagus, toasted walnuts and marscapone. Congratulations Karen, and have fun with your pasta party!!



Have you ever made your own homemade pasta? I just did this recently with a large group of friends in my Gourmet Dinner Group. The hosts made the pasta dough ahead of time, a few of us brought our pasta machines, and we all got to work making tagliatelle and ravioli. It's a really fun process and would be great to create with your family too.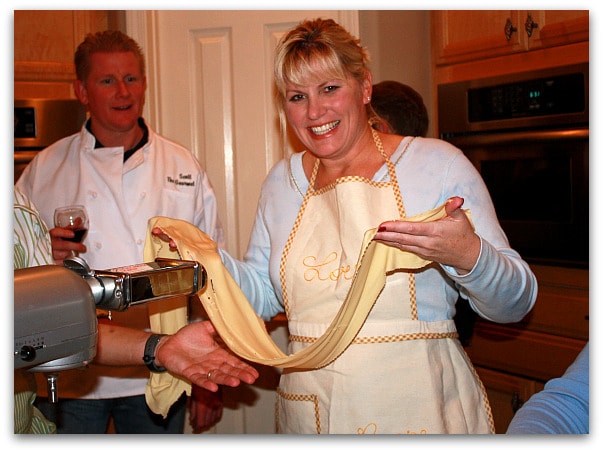 To celebrate the launch of the third episode of their "Into the Heart of Italy" series, Bertolli has offered to give one of my RecipeGirl readers a pasta party prize package. The $125 prize package includes:
(1) Imperia Pasta Machine (color red not guaranteed)
(2) Emile Henry 12.5 Quart Lasagna Baker (color red not guaranteed)
(3) A coupon for a free Bertolli Frozen Meal for two that will transport you to Italy in just 10 minutes
All entries for the giveaway must be located in the US.
How do you enter? You have a few options, and you can enter up to three times. Leave a separate comment for each entry.
(1) Leave a comment below telling us what your favorite pasta dish is.
(2) Follow @RecipeGirl on Twitter (if you already do, leave a comment below telling me so) and tweet this message "Hope I win the @Bertolli Pasta Party Giveaway on http://tinyurl.com/yydnjrr @RecipeGirl"
(3) Become a fan of RecipeGirl on Facebook (if you're already a fan, leave a comment below telling me so)
This giveaway will conclude at 10pm Pacific Time on Wednesday, April 14th. The winner will be chosen randomly via Random.org & will be contacted via email (make sure you include a valid email address within your comment).
The third episode of Into the Heart of Italy premiered today: The Secrets of the Pollaio. In this webisode, Chef Rocco DiSpirito, Marisa Tomei and Dan Cortese track down Italy's "Egg Man" and learn to cook a traditional rustic dinner.
Disclosure Notice: The generous folks at Bertolli sent me the same prize package described above. I look forward to making homemade lasagna with my own family!
348 Responses to "Pasta Party Giveaway: Imperia Pasta Machine + Emile Henry Lasagna Dish"