Paula Deen, Savannah, Philadelphia Cream Cheese & RecipeGirl!
I'm excited to announce that I'll be heading to Savannah, Georgia next week to help judge the Real Women of Philadelphia Live Cook-Off alongside Ms. Paula Deen! Paula has teamed up with Philadelphia Cream Cheese to bring you the "Real Women of Philadelphia," a journey to find four fantastic female home cooks who will each win $25,000 and work with the community to create a cookbook featuring all of our favorite recipes made with a little Philly.  Over 5,000 home cooks submitted videos of recipes they created using Philadelphia Cream Cheese, and now there are 16 finalists… four of these lucky ladies will be crowned the new Hosts of the Real Women of Philadelphia!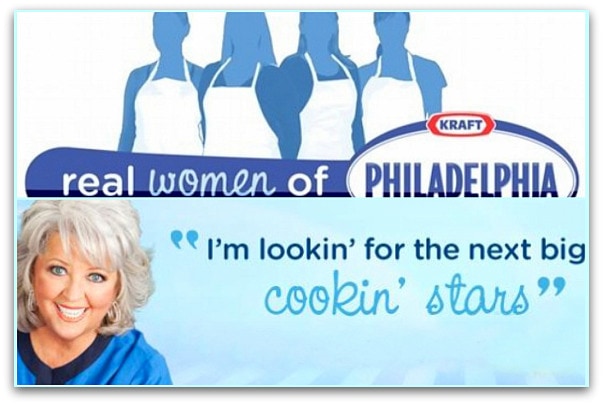 The videos on the Real Women of Philadelphia site were so much fun to watch.  In an 8-week time period women were asked to submit recipes using Philly Cream Cheese in 4 categories:  appetizers, side dishes, main dishes and desserts.  Those who were brave enough to star in their own videos were creative with their ideas for recipes, and the personalities displayed in their videos were priceless.  The recipe videos ranged from romantic (think anniversary dinner) to a take-off on Mary Poppins (this gal had guts to dress up & act out a part!) to a grilled dessert idea (loved the personality of this contributor, and her upside down cake looks to-die-for) to Bear Claw Bread Pudding (what???  Wow!!) and this lovely lady (who lives across the street from an apple orchard and shared a special apple crisp recipe with us).  It's very clear that the women who participated in this fabulous event have formed a real sense of community on the Real Women of Philadelphia site- cheering and encouraging each other on throughout the whole 8-week submission process.
On the RWoP website, you can view any of the videos that have been submitted, and the 16 finalist's videos are highlighted as well.  Paula Deen herself does a little blogging with personal updates, and she highlights some of the contributors on a regular basis.  There is a community forum on the site too where you can join in the discussion about recipes and Philly Cream Cheese and life, etc.  The women here are so friendly and fabulous that they have welcomed all with open arms.  It's truly a sisterhood of women.
On Wednesday, June 30th at 8pm EST, this Cook-Off event will be airing live on the RWoP website and also here on the RecipeGirl blog.
In anticipation and honor of meeting Paula Deen, I certainly couldn't share about this wonderful event without also sharing a Paula Deen recipe that is made with Philadelphia Cream Cheese too! For Father's Day this year, I was in charge of dessert. I baked up Paula's recipe for Cream Cheese Pound Cake with some fabulous seasonal berries and whipped cream.  This was just about the most perfect pound cake I've ever baked.  It was so moist and tender, and the flavor was perfect- not too sweet and just a hint of almond.  I might add that this would be a good one for 4th of July too!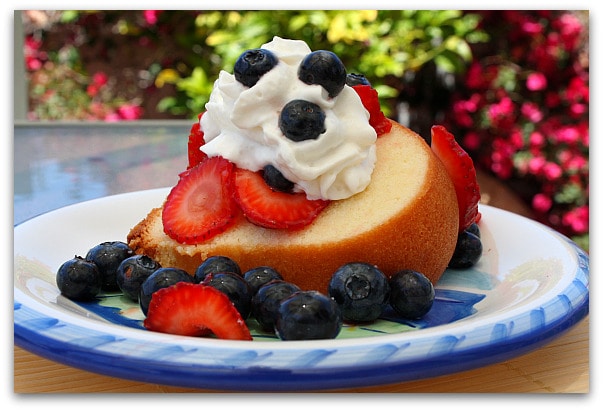 This recipe can be found here:  Paula Deen's Cream Cheese Pound Cake.
From June 28 through June 30th, I'll be sharing my Paula Deen/Philly/Savannah adventure with you!  This Southern California Girl has never been to Savannah… or anywhere at all in the South before, so I'm mighty excited to explore the city & the Southern food, get to know the infamous Paula Deen, taste and judge all of the finalist's recipes and help to celebrate four winners!  I'll be shooting video of my experience, interviewing contestants (and Ms. Deen) and taking a zillion photographs of it all.  You'll get the full re-cap here.   But be sure to tune in on June 30th at 8pm EST on my blog to see live stream Real Women of Philadelphia Cook Off with Paula Deen

  The RWoP website will be streaming it live too.
Off to Savannah!  Please let me know in the comments below if there are things I absolutely should not miss while I'm in Savannah… restaurants, specialty foods, shops, tours, etc.  Would you believe that I've never even had grits before??
Disclosure:  I'm working with Kraft to help promote the Real Women of Philadelphia Cook-Off.  I'll be sharing my honest observations, opinions and insights on what I experience at the cook-off in Savannah, GA.
32 Responses to "Paula Deen, Savannah, Philadelphia Cream Cheese & RecipeGirl!"
Leave a Comment