THIS GIVEAWAY IS NOW CLOSED… THE RANDOMLY CHOSEN WINNER via www.Random.org is commenter #116 JANIS.  Congratulations!!  THANKS FOR ENTERING EVERYONE!  WISH I COULD HAVE GIVEN AWAY 956 GRILLS

  I hope to do another great giveaway sometime soon, so be sure to enter next time!
Most people have that someone in their family that is the grill-master, usually the Dad,  who prides himself on his manly grill, his perfectly-cooked burgers and steaks that have a charred exterior but are tender and juicy inside.  My family doesn't have that.  I prep and marinate and hand over the goods-to-be-grilled to my husband, but he's much more interested in visiting with the guests (so the meat is overdone) or he pulls it off too soon and we're contending with raw interior.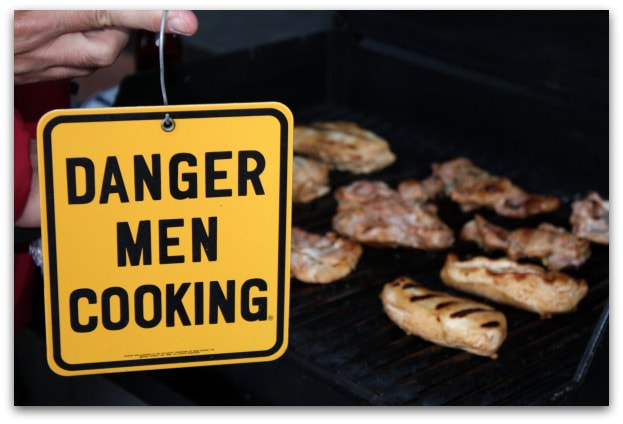 My husband is a great guy… but he is not a grill-master, and he'll be getting a gift card real soon for a grilling class at our local bbq superstore.  I need a grill-master in our house.  I'm also gonna make him watch these barbecue videos!
Enter our beach bbq.  It's cute.  It does the trick with a ton of charcoal and lighter fluid, but it's definitely not ideal.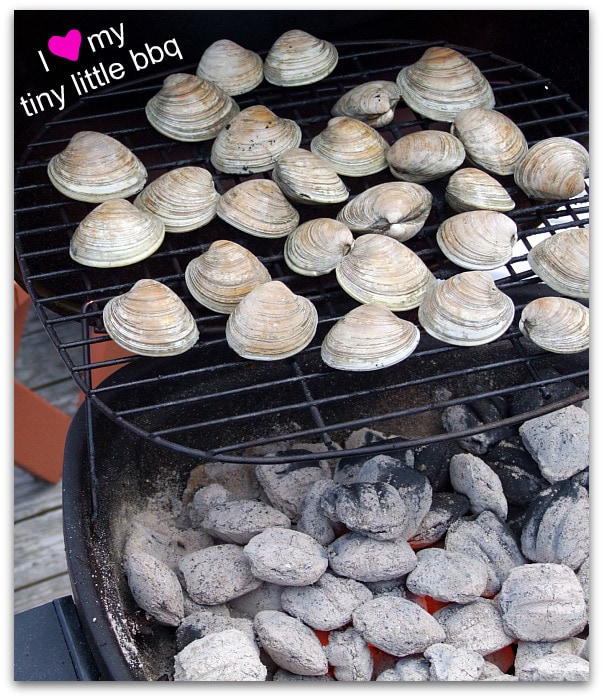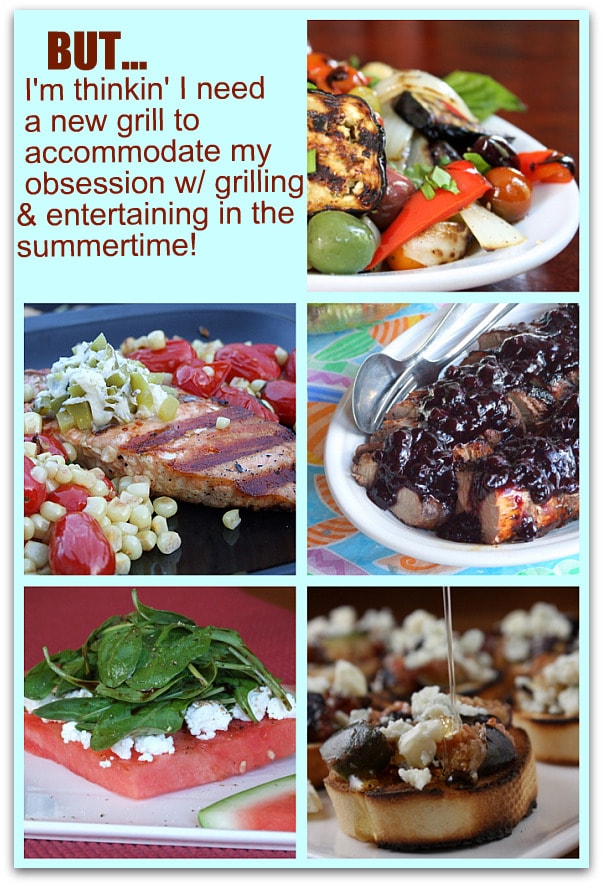 Pictured top to bottom:  Grilled Vegetable Salad, Grilled Salmon w/ Dill Pickle Butter, Grilled Pork Tenderloin w/ Blueberry- Barbecue Sauce, Grilled Watermelon Salad and Grilled Fig Bruschetta.
What would be ideal?  … a big, entertaining type.  One that you could cook a ton of things on and not feel overwhelmed by the number of guests waiting on-line for a burger to be pulled off the grill and thrown onto their plate.  One where you can cook buns and burgers at the same time and they're not competing for space.  One where drinks are chilled and easily accessible.  One where salads can sit.  One where I can store things!  I need this!>

Lucky you, because Sam's Club has agreed to give this 2-N-1 Modular Gas Grill to one RecipeGirl reader!  It could be you

The grill comes with a rotisserie and sear burner, as well as a split lid for separate cooking
The party cart comes with a small refrigerator, dual walled ice bin with lid, cutting board and trash can
The grill also has granite tops for food/drink preparation
The grill has the ability to be converted to Natural Gas with conversion kit sold on www.Samsclub.com
What else?
Electronic ignition
3 "I" burners – each 11,000/33,000 BTU Main Grill
Total cooking area (main grill) 499 square inches
1 "U" Burner – 18,000 BTU Small Grill
Total cooking area (small grill) 255 square inches
Infrared side burner – 12,000 BTU
Double wall hood, exterior and side panels
Side hood
Firebox smoker box
Control panel with zinc alloy control knobs
Temperature gauge
1 light in each fire box with water proof switch
Fridge
8 HD castors with 4 locking
PE cutting board
Griddle
Dual walled ice bin
3 "S" hooks
Grill Dimensions: 58" x 24" x 47"
Party Cart Dimensions: 38" x 24" x 34"
Sounds pretty cool, doesn't it?
Here's how you can enter to win this grill:
You may submit four entries, leaving FOUR SEPARATE COMMENTS in the comment field below- using these criteria…Please note that if you leave more than 4 comments in the comment field below, you will not be eligible to win the grill!  4 comments total- and that's it!
1.  Leave a comment telling me about what you enjoy cooking on the grill.  Or if you have something out-of-the-ordinary that you like to grill, please tell me… I love to hear what kinds of creative things people are doing.
2.  Subscribe to The Recipe Girl blog (see right column) & then leave me a comment telling me you're a new subscriber.  If you're already a subscriber, just leave a comment below telling me that you're currently a subscriber.
3.  Become a fan of RecipeGirl on Facebook, then leave a comment below telling me that you're a fan on FB.  If you're already a fan, just let me know in the comments below.
4.  Follow RecipeGirl on Twitter, then leave a comment below telling me that you're a new follower.  If you're already a follower, please RT the giveaway with this "Win a $1299 grill from @SamsClub on @RecipeGirl's blog http://su.pr/31sQX1 "- then leave a comment letting me know you've RT'd.
This giveaway is now closed.  The winner was announced at the beginning of this post.  Thanks to all for entering!
For more information about grilling, summer entertaining ideas &  barbecue videos, please visit the Sam's Club website.  
Disclosure:  This post is being sponsored by the folks at Sam's Club.