In the USA we have a little holiday coming up this weekend:  Labor Day.  Since this holiday is meant to celebrate the end of summer and experience a day of rest, many Americans organize barbecues and parties- taking advantage of the chance to get together with friends and family and share food.  I follow the masses, and celebrate this holiday weekend in the same way.  Masterbuilt and I have joined forces to give away one of their fabulous stainless steel electric smokers to one lucky RecipeGirl reader.  Wouldn't this be fun to use for a holiday celebration? Here's what it looks like: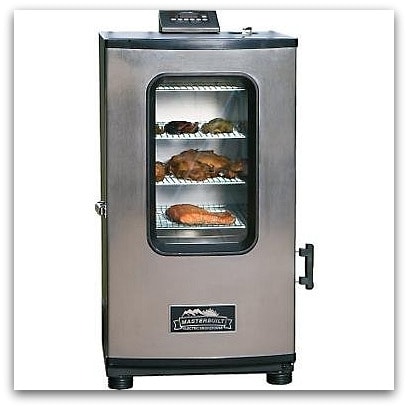 Highlights:
* 40″ tall, stainless steel
* Viewing window and internal light
* Push-button digital time temperature & time control panel
* Thermostat controlled temperature
* Chrome-coated smoking racks
* Convenient side wood-chip loader
* Removable drip pan and rear-mounted grease pan
What can you smoke with this?  Well, just about anything.  You can smoke the usual things like ribs and chicken and turkey and salmon.  But Masterbuilt has also developed recipes and instructional videos for smoking things like leg of lamb, pork butt, potatoes, corn on the cob, macaroni & cheese (yum!), etc.  I have one of these arriving at my house soon.  I'm pretty darn excited to try it out.  And I'm certain that there will be smoked turkey on the dinner table this Thanksgiving. Here's a recipe how-to video using the smoker- it's a little smaller and it's black instead of stainless, but it will give you an idea of how it all works. You might just get a kick out of CEO John McLemore's strong southern drawl too. He has written a cookbook called "Dadgum that's Good," (coming out this fall). I might have to buy that one, just because of the title

This recipe is open to the USA only. If you'd like a chance to enter to win this fabulous smoker, Just leave a comment below telling me what you'd like to like to try smoking in this smoker! Please just leave one comment… UNLESS you are an existing or newly subscribed reader of RecipeGirl either via email, Google Reader or using one of the subscribing methods listed in the right hand column at the top- then you are eligible to leave a 2nd comment- just tell me in the comment that you're a RecipeGirl subscriber. I'll pick a winner randomly via random.org on Friday, Sept. 3rd (sometime in the late evening), and I will post the winner here on the morning of Sat., Sept. 4th. Good luck to all

This giveaway is now closed! Thanks to all for entering! The randomly selected winner is commenter #441 "Patty," who says she'd like to smoke goose, duck & turkey. Congratulations & have fun w/ your new smoker! I will email you this morning to get your shipping information


Disclaimer: I was not paid to work with Masterbuilt on this giveaway opportunity, but they did (generously) send me a smoker to try out for myself.