Giveaway: $300 worth of Imported Cheeses from Sam's Club!
Back in May, I traveled to Italy with Sam's Club cheese buyers to help them select some new, imported cheeses for their clubs.  Well, now Sam's Club expects to offer these newly selected, imported cheeses in more than 150 clubs late this fall.  The additional products will include both regular and special seasonal items to complement Sam's Club domestic cheese offering, which includes sliced deli cheese as well as hard and soft cheeses.  So to celebrate their new offerings, I'm helping Sam's give away a sample package of 21 of their new cheeses- imported varieties & a few domestic- about a $300 value!
These are the cheeses that will be sent to you if you win this giveaway:
Pleasant Ridge Reserve
Maytag Blue
Ilchester Blue Stilton
Ilchester Wensleydale with Autumn Fruits
Ilchester Lemon Stilton
Kerrygold Red Leicester
Kerrygold Blarney Castle
Kerrygold Salted Butter
Mario Batali Iberico
Kolios Greek Feta
Alpenhaus Raclette
Auricchio Stravecchio Provolone
Monti Trentini Asiago Vecchio
Vincent Gouda
Rembrandt Gouda
Da Vinci
Parrano
President Comte
President Goat Logs
Fromager D'Affinois
Applewood Smoked Cheddar Wedges
Sam's is working hard to be the "go-to" place for quality cheeses.  Their cheese buyers actually traveled all over Europe and toured cheese factories on a mission to select the best new cheeses.  You'll find many of these cheeses in Gourmet Cheese shops but they're sold for astronomical prices there.  Sam's Club is all about making these cheeses accessible to its members at affordable prices.
I was able to taste quite a few of these cheeses, most of which I'd never had before.
Both the Auricchio Stravecchio Provolone and the Monti Trentini Asiago Vecchio are cheeses that I had the opportunity to taste in the factories of Italy.  The Asiago is perfect for grilled cheese sandwiches, and the Provolone is a more mild version than any I've tasted before.  I'm crazy about both of them.
I loved the Kolios Greek Feta– it hardly compares to the already-crumbled kind of feta- I chopped it into chunks and made Greek Omelettes.  So good.
I also thought the Mario Batali Iberico (from Spain) was excellent.  It's a nice choice for a cheese tray, and I shredded it for tacos too.
The Maytag Blue and the Ilchester Blue Stilton are both fabulous for crumbling into salads.
My absolute favorite was the Fromager D'Affinois.  I ADORED this cheese.  It's a French double-cream, soft cheese- similar to Brie.  I served this at a party with crackers and raspberry jalapeno jam and it was to…die…for!  See how creamy it is?… oh, yummy.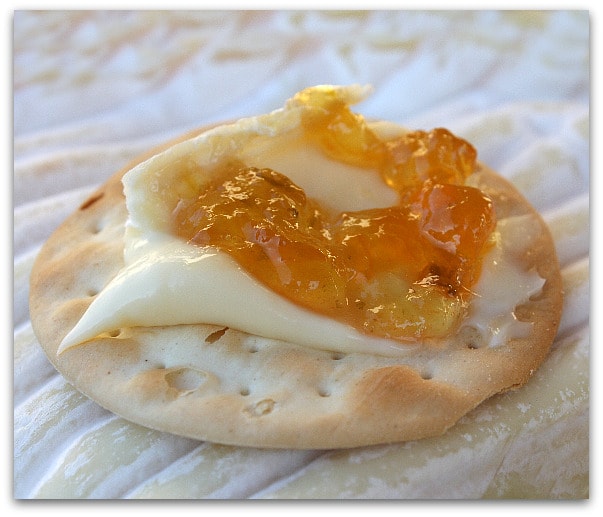 Giveaway Details- You must have a USA mailing address to enter this giveaway. You may leave up to

three comments

below as entries for this giveaway.
1.  1st entry: Leave a comment below (one comment per person, please) telling me what cheeses you're excited to try… and what you would do w/ such a treasure trove of cheese!
2.  2nd entry: If you're a RecipeGirl subscriber, you may leave a 2nd comment- telling me that you're a subscriber.  If you're not a subscriber, you may subscribe using one of the methods in the upper right-hand column.
3.  3rd entry: Follow www.Twitter.com/RecipeGirl on Twitter, tweet about this giveaway and let me know you've tweeted.
This giveaway ends on Sunday evening, Sept. 12th- the winner will be selected randomly via www.random.org I'll contact the winner on Monday morning, who will have 72 hours to return my email and claim this prize.  The cheeses will be shipped overnight to the winner.
This giveaway is now closed! The winner (chosen randomly via random.org) is commenter & subscriber #269: Ann Miller-Tobin, who said, "I would def want to try the applewood smoked cheddar to make some bacon tomato cheese panini sandwiches for sure. Also the feta for salads. If I won all those cheeses it would be a huge reason to break open the wine cellar have friends over and taste…taste…taste!" Well, Ann… you'll get a chance to have that wine & cheese party! Congratulations 🙂 I'll be contacting you via email to get your mailing address. Thanks to all for entering!

If you're interested in knowing more about cheese availability in a Sam's Club near you, ask your club manager about what brands they're carrying and when they expect these new cheeses to arrive in their club.

If you'd like to read about my Italian cheese tours, you can visit them here:
Tour of a Gorgonzola Cheese Factory
Tour of an Asiago Cheese Factory
Tour of a Provolone Cheese Factory
Tour of a Parmigiano Reggiano Cheese Factory (coming in Oct…)
Disclosure notice: I'm currently under contract with Sam's Club to write about cheese, entertaining, and recipes.  Honest opinions and observations are always shared.
509 Responses to "Giveaway: $300 worth of Imported Cheeses from Sam's Club!"