Cranberry Cornbread
Here's my video recipe for Cranberry Cornbread, as well as a little update on the Real Women of Philadelphia community cookbook recipe contest. Just click the photo box below to view the very short video. Scroll down to print the recipe below the video.
Disclosure: This post is being sponsored by Kraft and the Real Women of Philadelphia Recipe Contest.
Yield: 9 pieces
Prep Time: 15 min
Cook Time: 35 min
Cranberry Cornbread
This lightly sweetened cornbread is a fabulous pairing to turkey chili. I like to use whole grain cornmeal to add some texture and crunch to the bread. Sub halved fresh cranberries if you prefer a sour addition.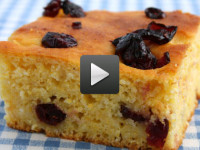 Ingredients:
4 ounces cream cheese, softened
1/4 cup canola or vegetable oil
1/4 cup granulated white sugar
1 large egg
1 1/2 cups all-purpose flour
1 cup cornmeal (whole grain or regular)
2 teaspoons baking powder
1/2 teaspoon salt
1 1/2 cups low fat buttermilk
1 cup dried cranberries, divided
Directions:
1. Preheat oven to 375 degrees F. Spray 9x9-inch baking pan with nonstick spray.
2. In a large mixing bowl, use an electric mixer to combine cream cheese, oil, sugar and egg. Beat until well combined and smooth.
3. In a separate bowl, whisk together flour, cornmeal, baking powder and salt. Add to wet mixture alternately with buttermilk, beginning and ending with flour mixture. Don't over-mix- just mix until combined. Stir in 3/4 cup dried cranberries.
4. Scrape batter into prepared pan. Sprinkle remaining cranberries on top. Bake for 30 to 40 minutes, until lightly browned and cooked through (test center w/ toothpick inserted and coming out clean).
5. Serve warm w/ butter and honey, if desired. Also good with a scoop of turkey chili.