$200 Amazon.com Holiday Giveaway + My Favorite Cookbooks of 2010
Because I love my blog… and my readers… and books…and toys… I thought this would be the sort of holiday gift that would be appropriate this year. I'm giving away a $50.00 Amazon.com gift card to four lucky RecipeGirl readers as my holiday gift to you. These are from me- purchased by me- since Amazon doesn't know who I am and isn't in the business of giving away gift cards themselves. I just wanted to do something nice for my readers (give back!) at such a fun time of year.  🙂  Details for how to enter my holiday giveaway are at the end of this post (this giveaway is now closed- details on winners are at the end of this post.
My top picks for cookbooks released in 2010 include a little bit of everything.  These would make great gifts for the foodies in your lives this holiday season (or for yourself, of course!)…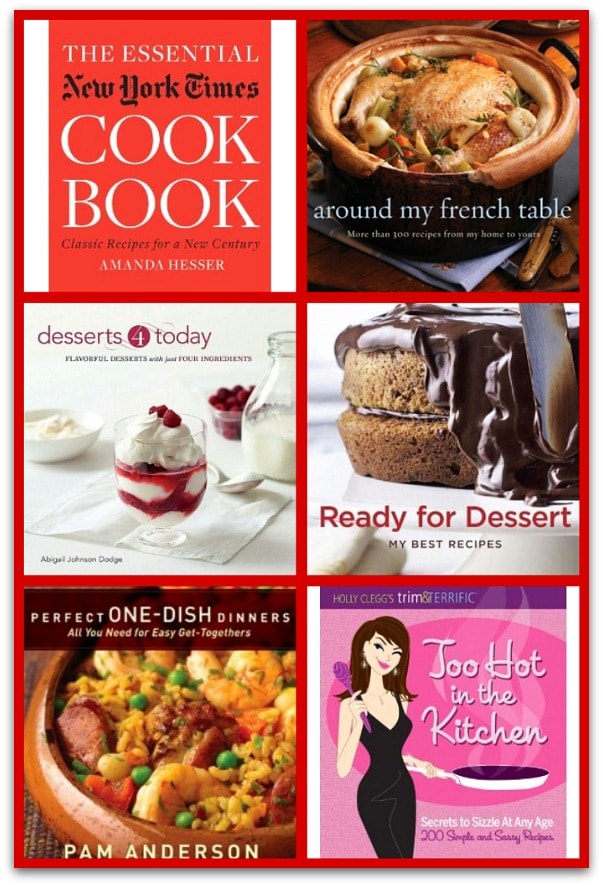 The Essential New York Times Cookbook:  Classic Recipes for a New Century: Author Amanda Hesser has put together an amazing collection of recipes (1,400 of them) – it's a compilation of the most noteworthy recipes published by the paper since it started covering food in the 1850's. Truly interesting and inspiring, it really is the must-read, must-have cookbook of the year.
Around My French Table: More Than 300 Recipes From My Home to Yours: I've looked forward to the release of Dorie Greenspan's newest cookbook since I fell in love with her last one.  Her style and choice of recipes is really appealing to the home cook, and her beautiful cookbook is full of delicious food that you want to eat.
Desserts 4 Today:  Flavorful Desserts with Just 4 Ingredients: I've been following Author Abby Dodge's dessert recipes in food magazines for a number of years.  She clearly knows how to bake and she does it with ease.  Her newest cookbook appeals on so many different levels… she has taken dessert and made it so simple that it's almost impossible to say that it's just easier to buy it at the store.  Abby's 4 ingredient Nutella Brownies have taken the internet by storm, and that's only one of the delicious recipes in this book.
Ready for Dessert:  My Best Recipes: If you've ever spent any time with David Lebovitz, you've likely fallen in love with his dry sense of humor and engaging wit.  He's an extremely talented pastry chef and ice cream connoisseur, but his recipes are accessible to bakers of all levels.  I love reading his recipe headnotes.  This is a beautifully orchestrated book.
Perfect One-Dish Dinners:  All You Need for Easy Get-Togethers: Pam Anderson does it again with another "perfect" cookbook.  This one is terrific for families who want the ease of cooking a one-dish meal.  Appetizers, side dishes and desserts are also included in the "theme" of each meal.  Pam's cookbook makes me want to cook for my family.
Too Hot in the Kitchen- Secrets to Sizzle at Any Age: Holly Clegg wrote this cookbook especially for women- it's a fun, whimsical and entertaining approach to healthier recipes designed for busy women.  With chapters such as, "Lovin' No Oven" (cold recipes), Quickies (fast recipes), Effortless Entertaining (easy make-ahead recipes for a crowd), and Diva Dermatology (masks made with everyday ingredients), I just love how Holly has made this cookbook fun and useful for women of all ages.  Nutritional information is included for every recipe.
————————————————————————————————————————————————–
More of my favorite cookbooks released this year are from fellow food bloggers who have made the successful transition from blog to book.  I'm incredibly proud of my blog friends, and I encourage you to support these talented ladies and buy a book or two for the cookbook collector in your family this holiday season…

Southern Plate:  Classic Comfort Food That Makes Everyone Feel Like Family by Christy Jordan:  Endorsed by Ms. Paula Deen, this book is plump full of all kinds of easy, no-fuss Southern favorites.  It's been getting rave reviews!
Cake Pops:  Tips, Tricks and Recipes for More Than 40 Irresistible Mini-Treats by Bakerella:  Cake Pops have been popping up all over the internet since Angie Dudley debuted them on her popular blog a couple of years ago.  She shares 40 adorable themed pops in her new cookbook.
The Reluctant Entertainer:  Every Woman's Guide to Simple and Gracious Hospitality by Sandy Coughlin:  Designed to help women get past their fear of entertaining, Sandy book provides tools and perspective to make entertaining doable and enjoyable.  Mouthwatering recipes included!


The Bitchin Kitchen Cookbook:  Rock Your Kitchen and Let the Boys Clean Up the Mess by Nadia Giosia:  If you've ever been to the Bitchin Kitchen website (or seen their new TV show on The Cooking Channel), then you'll understand just how wild & crazy & fun this cast of characters is.  This is not your typical cookbook!  Although the recipes look delicious, it' s also a hysterical read.   Here are some sample chapters for themed dinners:  One-Night Stand Breakfasts, Impress the In-Laws, Break-up Bonanza, Halloween Hootenanny, Sex-Life Savers, Broke-Ass Dishes… you get the idea.  It's a fun cookbook to have in your collection (if you have a sense of humor, that is).
Recipes Every Man Should Know by Susan Russo and Brett Cohen:  Otherwise known as The Little Black Book, this tiny stocking-stuffer of a book is for the man in your life.  Chapters include Hearty Breakfast Classics, Sandwiches- Burgers & Snacks, Meat & Potato Dinners, Beer- Bacon & Bar Food, and Chocolate- Cheesecake & More.  This book is for hungry guys who should be cooking… because women think men who cook are sexy!
CopyKat.com's Dining Out at Home Cookbook:  Recipes for the Most Delicious Dishes from America's Most Popular Restaurants by Stephanie Manley:  Stephanie has mastered the art of tasting food in restaurants and then going home and figuring out how to cook up the same dish with ingredients at home.  In her new book, she shares with you 200 unauthorized restaurant re-creations that have been tested and re-tested by people just like you. Each delicious dish is guaranteed to taste like the restaurant original so you can save money while enjoying all your favorite restaurant dishes.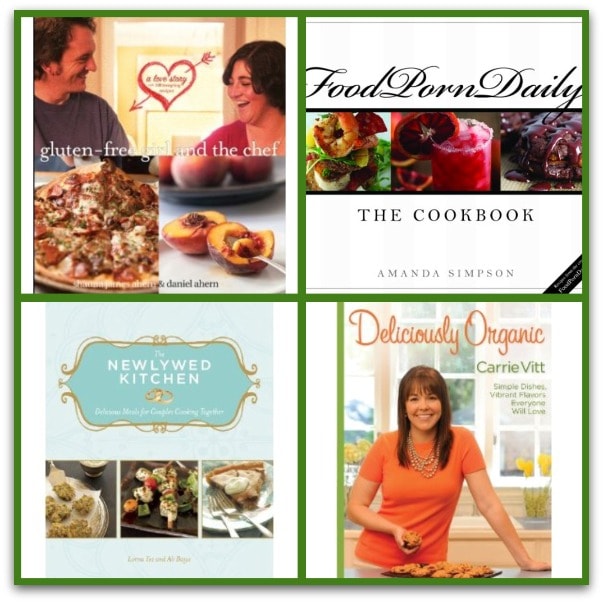 Gluten-Free Girl and the Chef: By Shauna James Ahern and Daniel Ahern:  For the Gluten-Free person in your life who still enjoys cooking… this love-story of a book is beautifully written and photographed, and it's full of delicious recipes.
Food Porn Daily:  The Cookbook by Amanda Simpson:  The creator of the popular food photo website Food Porn Daily stepped out of the role of photographer to compile a collection of mouthwatering recipes in her new book.  Mouthwatering photographs are included for all recipes.  This one is for people who really appreciate the art of food, cooking and photography.
The Newlywed Kitchen:  Delicious Meals for Couples Cooking Together by Lorna Yee:    Lorna took her love for cooking and created 83 recipes for newlyweds– that gradually increase in complexity and ultimately serve as building blocks for beginner cooks. It's a fun gift for a newly married couple!
Deliciously Organic by Carrie Vitt:  I've followed Carrie's blog for a long time and have always admired her recipes.  Her brand spankin' new cookbook will be available for purchase near the end of December.  She features simple dishes and vibrant flavors that everyone will love.  Each recipe features only organic, unprocessed, whole ingredients.
—————————————————————————————————————————————————
Ok, so here's the scoop on… THE GIVEAWAY…!!
I'm giving away FOUR $50.00 USD Amazon.com gift cards.   How to enter:
You may enter up to FOUR times- but you must leave a separate comment for each entry.
1st comment: Tell me which of these cookbooks you might like to add to your cookbook collection.
2nd comment: IF YOU ARE A SUBSCRIBED READER via email or other method, you may leave me a comment telling me so.
3rd comment: FOLLOW ME ON TWITTER & TWEET THIS "Win a $50 Amazon.com gift card on @RecipeGirl's blog http://su.pr/2v9Jeu Comment for a chance to win!" , then come back & leave a comment telling me that you tweeted.
4th comment: IF YOU "LIKE" RECIPEGIRL ON FACEBOOK, you may leave me a comment telling me so.
This giveaway is open to everyone- anywhere- as long as I can email an Amazon.com gift card to you (make sure you include a valid email address). I'll be choosing four winners via random.org on Sunday evening, Dec. 5th, and will post the randomly-selected winners by Monday morning.  Good luck to everyone, and happy holidays to you!! 🙂
This giveaway is now closed… the randomly selected winners are:



Commenter #155: Anne, who picked Perfect One Dish Dinners.
Commenter #158: Julie, who picked The Newlywed Cookbook.
Commenter #670: Natalie, who picked Ready for Dessert.
Commenter #738: Angel, who picked The NYT Cookbook
Congrats to the winners- I'll be contacting you via email, you'll have until Friday to respond, & then I'll send along your Amazon.com gift card!
Happy Holidays to All!    Stick around…. I'll be hosting another fantastic giveaway toward the end of this week!
925 Responses to "$200 Amazon.com Holiday Giveaway + My Favorite Cookbooks of 2010"