Calphalon Roaster Giveaway & Peanut Butter Christmas Cookie Recipe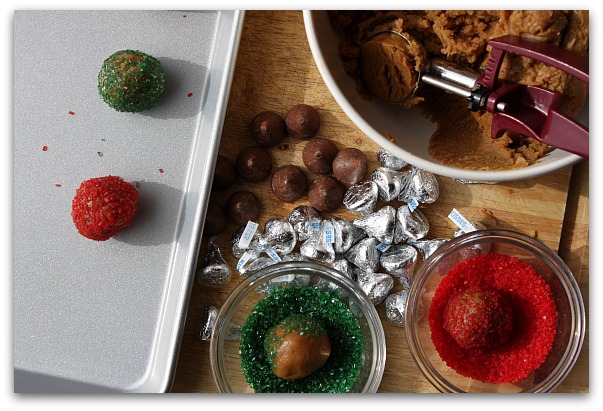 One of our family's favorite Christmas cookie recipes has always been the Peanut Butter Kiss Cookies. Since my Mom has gone gluten free this last year, I'm tasked with trying to find some good gluten free cookie recipes for her to enjoy. I'm sure she thinks that she's going to have to steer clear of all cookie platters this year. Not the case… I'll plan on creating a gluten-free cookie platter especially for Mom. Here's one I'll be including on that platter:   Flourless Peanut Butter Kiss Cookies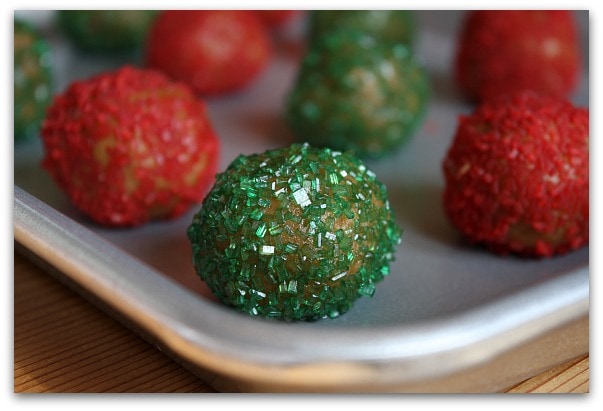 It's a simple peanut butter cookie… only 5 ingredients in the cookie dough.  They're formed into balls, and I like to roll them in chunky, sparkling red and green sugar.  They crackle while they bake.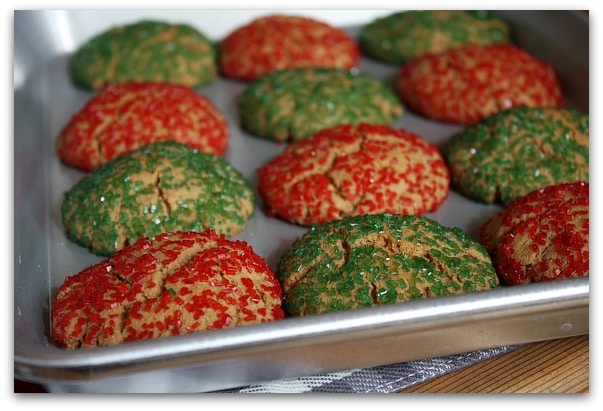 Although these cookies don't contain any flour, they're quite similar to the classic Peanut Butter Kiss Cookie recipe. The only difference is that they are perhaps a little softer and more flaky than their sturdy counterpart.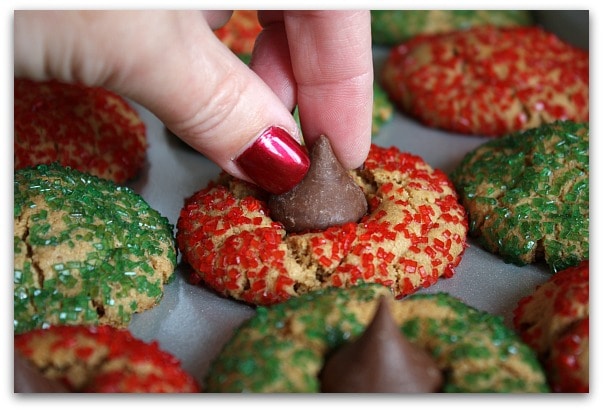 They freeze well. Just separate layers with waxed paper, and be gentle in handling them. Don't plan to ship them anywhere- they're not a good cookie for that.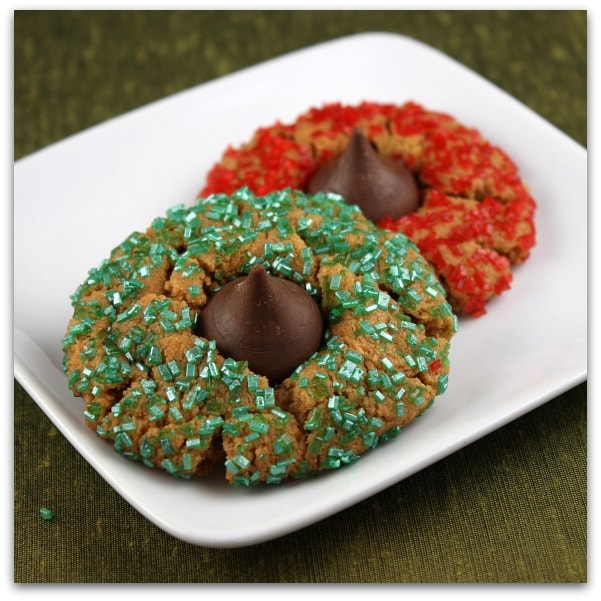 If you don't have to eat Gluten Free…. you'll still like these cookies. In fact, you might be surprised how many things you'd still be able to eat and enjoy if you did have to avoid gluten. My family does not eat gluten free, but we happily gobbled these cookies. I managed to to sneak a few of them into the freezer to save for Mom's special Christmas cookie platter.
This recipe can be found here: Flourless Peanut Butter Kiss Cookies
————————————————————————————————–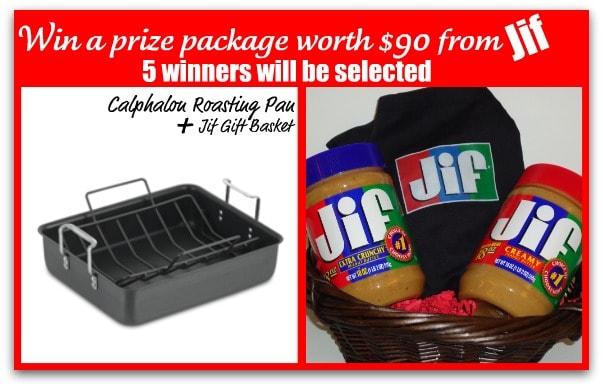 GIVEAWAY DETAILS! Open to those with a USA mailing address only please.
Five lucky RecipeGirl readers will win a $60 Calphalon Roaster + a $30 Jif gift basket– containing Jif Creamy Peanut Butter, Jif Extra Crunchy Peanut Butter, Jif Apron and Jif Recipe Cards
Please leave just one comment below to enter:
Tell me if you have a special way (or recipe) where you utilize peanut butter in your cooking or baking.

I'll be choosing five winners via random.org on Sunday evening, Dec. 12th, and will post the randomly-selected winners by Monday morning. Good luck to everyone! This giveaway is now closed.  Comments on this post are closed- winners below!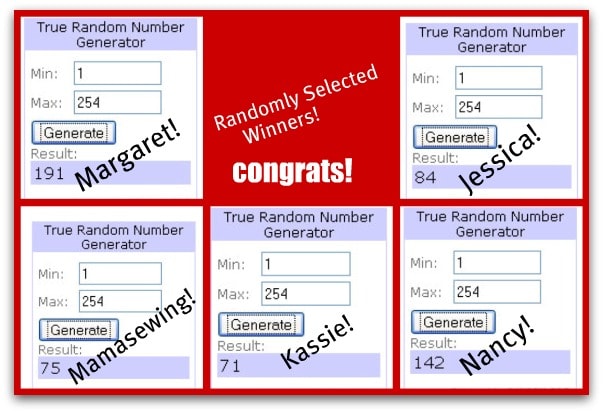 This holiday season, Jif wants to know how you will be incorporating peanut butter into your special dishes. Share your savory and sweet recipes in the Jif Holiday Spread Contest at www.jif.com for the chance to win a $10,000 kitchen makeover.

Disclaimer: The folks at Jif generously offered up this giveaway to RecipeGirl readers. I was not compensated for this post and I did not receive any free product in exchange for posting. I just thought my readers might like a chance to win a prize, nab a new cookie recipe and hear about Jif's Kitchen Makeover contest.
257 Responses to "Calphalon Roaster Giveaway & Peanut Butter Christmas Cookie Recipe"