Healthy Start to the Year & Healthy Recipes to Share
As usual, I've started the year on a healthy journey… eating right and exercising. My facebook fans have asked for more healthy recipes this year, so I'll be taking Saturdays on the blog to share my thoughts on getting healthy and always sharing a few new recipes.
Though you certainly can't tell from my postings, I've been on the Weight Watchers program since early October. It's been a successful decision so far… losing just about 20 pounds and still at it. Christmas holidays provided a bit of a stumbling block with vacation and traveling and endless sweet treats and comfort food lying around, but I managed to survive and gained less than 2 pounds. Those pounds are already gone again as I quickly got back into my healthy routine last week.  I'm happy with slow loss as I enjoy food and wine (& desserts!) and I have to let myself have balance or I'll go nuts.
If you're concerned with getting healthy this year too, you may wish to join in on a Facebook page started by Sarah's Cucina Bella and Sweetnicks: Eat.Live.Be. For a Better 2011.  There you will find a bunch of wonderful people supporting each other on their healthy goals for 2011.  Otherwise, you'll find me chatting up healthy things- on Saturdays only- right here on the blog.  You might see a few healthy recipes pop up during the week once in a while too.
My Goals:
*lose some more weight via Weight Watchers- maybe 15 to 20 pounds… slowly
*run a half-marathon in April and possibly June as well
*feed my family healthy meals
As promised, here are a couple of recipes I tried this week that I deem worthy of sharing!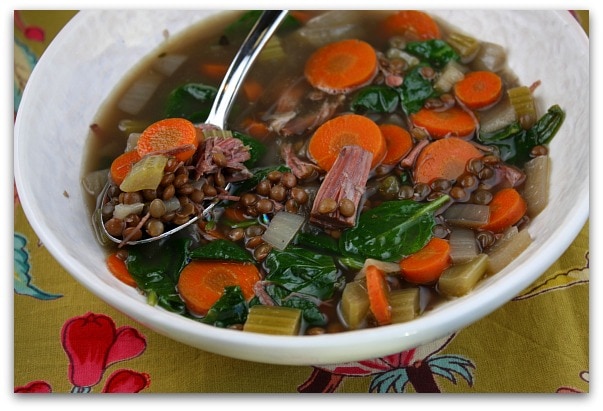 A slow-cooker recipe, this soup was a nice surprise:  Ham and Lentil Soup.  I haven't really done much with lentils before, so I was really delighted that I enjoyed this soup so much.  I was out shopping one day and came home so hungry that I was ready to open a bag of Cheetos and go at it.  Instead I warmed up a cup of this soup and was glad I did… in 10 minutes I actually didn't feel hungry anymore.  Imagine if I had eaten handfuls of cheetos instead?  Relief.  I guess the bigger question is… why do I have cheetos in my pantry??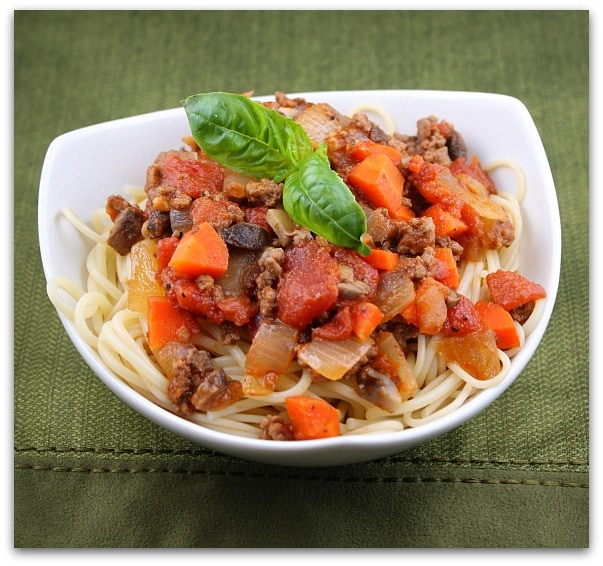 If you're in the food business, you'll begin to recognize USA national holidays such as National Popcorn Day and Nutella Day. Last week there was a National Spaghetti Day, so I went with this Weight Watchers Spaghetti Bolognese. It was delicious- but see my tips in the recipe for how to make it even better. Having pasta for dinner when you're trying to eat light is a pretty big treat, I think. It's filling and satisfying and there are ways to serve it up so it's not such an evil dinner.   And just for the record, today happens to be National English Toffee Day

So, will you be joining me on a healthy journey this year? What's your plan?
Recipes can be found here:
Ham and Lentil Soup
Weight Watchers Spaghetti Bolognese
Other links you might find useful:
Healthy Chocolate Chip Oatmeal Cookies
Top 100 Exercise Songs for Your iPod
Weight Watchers Recipes (most still have old points system listed, but there is nutritional information so you can use your points calculator to figure out the new points- I'll be revising everything… all in due time!)
Low Fat Recipes
Hal Higdon's Half Marathon Training Program
Couch to 5K Running Plan
18 Responses to "Healthy Start to the Year & Healthy Recipes to Share"
Leave a Comment