Deliciously Organic Banana Bread
Author Carrie Vitt has an interesting story behind her newly published cookbook, Deliciously Organic. Years ago, she had been experiencing daily, debilitating migraines and was taking several medications to try and manage them, when she decided to begin modifying her diet to see if she could find another way to rid the pain. She began by replacing regular produce with organic and noticed a significant difference within just one week. Slowly, she converted her family's diet to whole, unprocessed, organic ingredients. Today, she has a migraine maybe once a month and no longer needs any medications.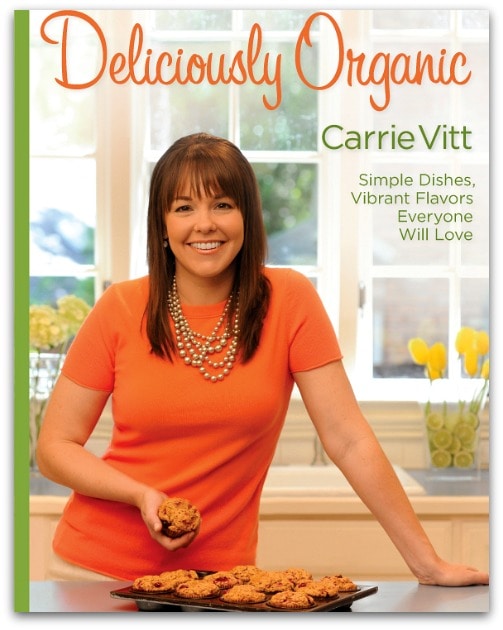 Vitt explains that this book isn't about giving up good tasting food for tree bark! Over time, she experimented with ingredients and kept tweaking things in her family recipes until she learned which combinations created the best flavors. This cookbook is a collection of her delicious successes- recipes such as Tuscan Lemon Chicken, Loaded Baked Potato Soup, Louisiana Chicken Gumbo, Roasted Vegetable & Orzo Salad, Jimmie's Cheesy Jalapeno Cornbread, Hot Chocolate with Maple Marshmallows, Gingerbread Pancakes, Raspberry Velvet Tart, Bananas Foster and Chocolate Chip Cookies.
I chose to bake Deliciously Organic's Banana- Zucchini Bread. Admittedly, I don't typically cook with all organic foods… but since banana bread is something that I bake often, I thought it would be interesting to try baking one with completely organic ingredients.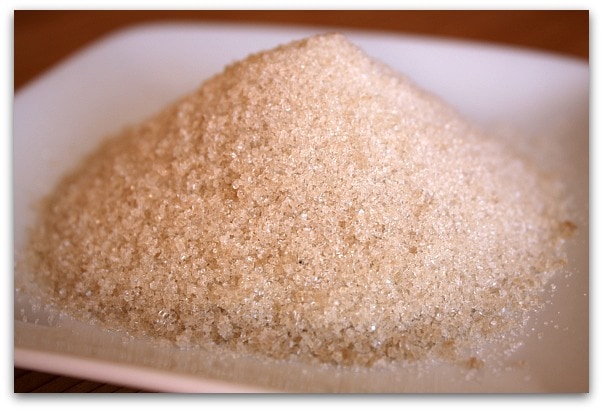 The recipe called for whole cane sugar, so I went on the hunt and found some. Vitt describes whole cane sugar as "sugar before it hits the factory." It's dehydrated cane sugar juice, it contains many minerals, and it has a rich molasses flavor that does well in baking.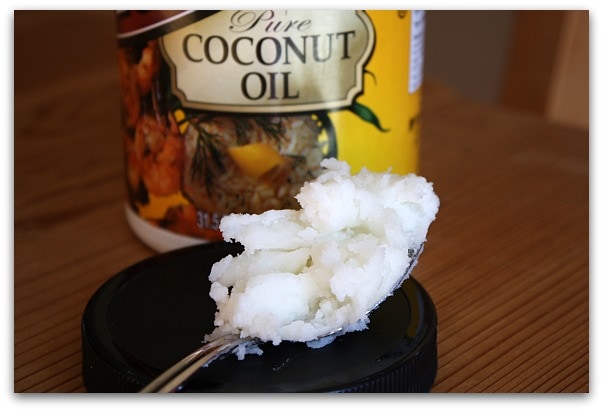 I've seen coconut oil in recipes before, but I had no idea that it looked like this. Think shortening… that isn't soft. The benefit is this: Virgin coconut oil, processed without chemicals or high heat, is rich in medium-chain fatty acids that are quickly absorbed into the body for energy. In other words, it's a 'good' fat.

Not anything too out of the ordinary, but Vitt sneaks zucchini shreds into her banana bread to get extra vegetables into her family's diets. I like this idea too, and it's pretty tough for the kids to notice the green specks.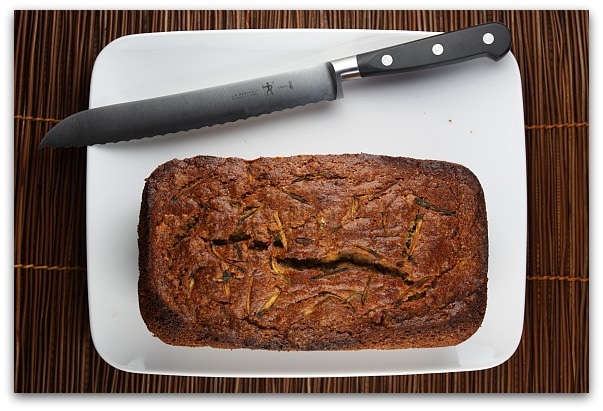 Here's my freshly baked loaf of Organic Banana- Zucchini Bread.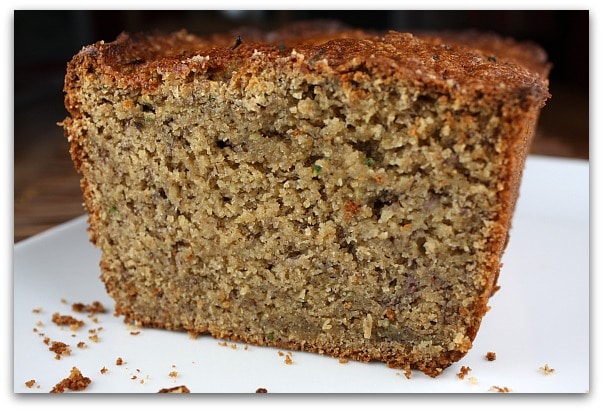 If you look really hard, you might be able to spot some tiny specks of green (the zucchini), so you can see how simple it is to hide it from those zucchini nay-sayers.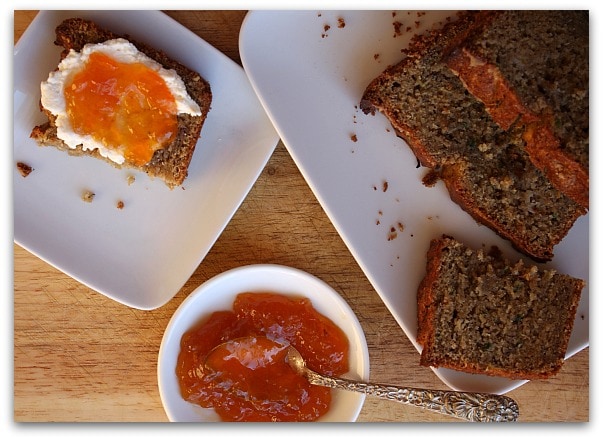 In Vitt's book, she suggests serving up banana bread as bruschetta… topped with ricotta cheese and apricot jam.  When I was trying this out one morning, my son looked at me strangely and said, "Mom… you're such a foodie."  I loved that.  But then guess what?  He ate it too.  My foodie kid!  The recipe also calls for Whole Wheat Pastry Flour.  I've baked with it before, and I've enjoyed the results.  We loved this bread.

Yield: One loaf (8 to 10 servings)
Prep Time: 15 min
Cook Time: 60 min
Deliciously Organic Banana Bread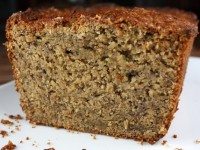 Ingredients:
3 Tablespoons unsalted butter
3 Tablespoons coconut oil
2 1/2 cups whole wheat pastry flour, preferably freshly ground
1 cup whole cane sugar or Sucanat
1/2 teaspoon sea salt
1 teaspoon baking soda
3 very ripe bananas, mashed
1/2 cup grated zucchini
1/4 cup buttermilk
2 large eggs, at room temperature
1 teaspoon vanilla extract
Directions:
1. Preheat oven to 350 degrees F. and adjust rack to middle position. Butter a loaf pan.
2. Melt butter and coconut oil in a small saucepan. Cool slightly. Whisk flour, sugar, salt and baking soda in a large mixing bowl. Stir together mashed bananas, zucchini, buttermilk, eggs, melted oils and vanilla in a medium bowl. Pour wet ingredients into dry ingredients and gently stir until just blended.
3. Pour batter into the loaf pan and bake for 50 to 60 minutes or until golden brown and a toothpick pressed into the center comes out with a few moist crumbs attached. Cool for 10 minutes and then run a knife around the outside to loosen the edges. Turn loaf out onto a cooling rack and cool before serving.
Carrie Vitt has offered a signed copy of her beautiful Deliciously Organic cookbook to one lucky RecipeGirl reader! To enter the giveaway, leave a comment below letting me know what you think of organic ingredients… do you cook with organic ingredients? Are you interested in making the switch? Do you buy anything organic?
This giveaway is now closed! The winner is (random.org selected)…
Commenter #40: Becky, who said that she makes her banana bread using freshly milled wheat! Becky- you have 48 hours to contact me to claim your prize! I'll email you… Congrats!

Of course, you can also order you own copy of Deliciously Organic here.
And you can find more of Vitt's recipes on her website:  Deliciously Organic.