The Most Adorable Little (Healthy) Chocolate Chip Cookies Ever
Yes, adorable means what you're thinking it means… teeny tiny. I was so excited to spot a chocolate chip cookie recipe in the current issue of Weight Watchers Magazine. They were noted as low in calories, gluten free and if you're a WW points counter- they claimed to be 1 point per cookie. So I did some recipe testing…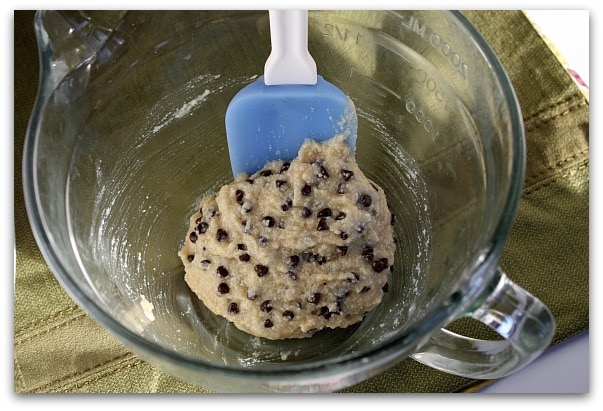 These cookies are made with two special ingredients that you may not have in your pantry: Almond Flour (which is basically ground-up almonds) and agave nectar (which claims to be a healthier, more neutral flavored alternative to honey). Both of these can be found at health food markets and well-stocked grocery stores. I was pretty shocked when I mixed the batter together- because I ended up with just about a cup of batter. How on earth was I going to get the suggested THIRTY COOKIES out of just one cup of batter?? In the old days, I'd have eaten half of that cookie dough you see there. Not any more though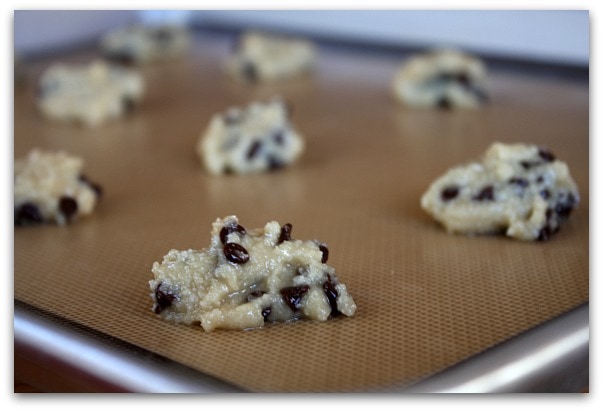 The original recipe included sliced almonds too. I left those out since I wanted my cookies to be a little more kid-friendly. Using a teaspoon measuring spoon- and no more!- I carefully scooped out 24 little cookie dough blobs onto my baking sheets. I couldn't have gotten any more cookies out of that dough if I tried.


They turned out to be delicious little cookies (about 1 1/2-inches in diameter). They're soft-ish but not cakey.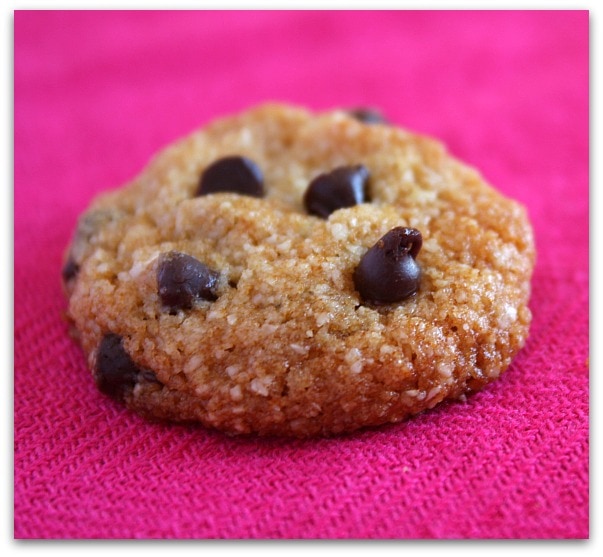 My son took a nibble and asked about the texture… whether it was cornmeal or oatmeal he was tasting. What kind of 9 year old asks about the texture of a cookie? Only a food blogger's kid, that's who. My kid complains about almonds all the time. He doesn't like them, yet he keeps finding them in recipes that I make… and complains. But he loved these little cookies. I'd say the flavor of the almond flour does not come through so much.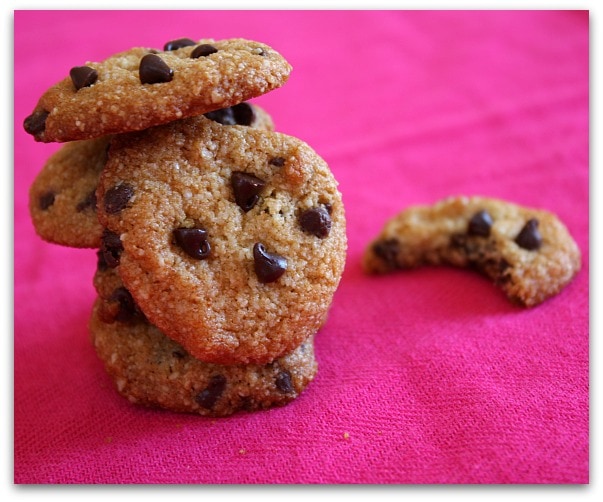 These adorable, little (healthy) chocolate chip cookies turn out to have 58 calories each. If you're counting Weight Watchers Plus Points, you'll have to count 2 per cookie. I placed two cookies per zip baggie and tossed them in the freezer for lunches and snacks.
P.S. This recipe will not work using regular flour. The almond flour isn't cheap, but it will make you many batches of these cookies so it's worth investing in some.
Yield: 24 cookies
Prep Time: 10 min
Cook Time: 8 min
Almond- Chocolate Chip Cookies
Made with almond flour, these little cookies are a delicious and healthy treat...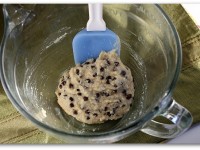 Ingredients:
1 cup almond flour (also sold as almond meal or ground almonds)
1/4 teaspoon baking soda
1/8 teaspoon salt
2 Tablespoons canola oil
2 Tablespoons agave nectar
1/2 teaspoon vanilla extract
1/4 cup semisweet mini- chocolate chips
Directions:
1. Preheat oven to 350 degrees F. Line 2 baking sheets with parchment paper or silpat mats
2. In a medium bowl, whisk together almond flour, baking soda and salt. In a small bowl, whisk together oil, agave and vanilla. Pour wet mixture into dry and stir until blended. Stir in chocolate chips.
3. Drop dough by level teaspoonfuls (literally- a measured teaspoon!) onto baking sheet, 2 inches apart. Bake 7 to 8 minutes. Let cool 5 minutes before removing to a rack to cool completely.
Nutritional Information per serving:
Serving size: 1 cookie
Calories per serving: 58
Fat per serving: 4.3g
Saturated Fat per serving: .7g
Fiber per serving: .5g
Protein per serving: 1.2g
Cholesterol per serving: 0mg
Carbohydrates per serving: 3.8g
WW POINTS per serving:
Points Plus Program: 2 Old Points Program: 1
Other healthy cookie recipes your might like on the blogs:
Healthy Chocolate Chip- Oatmeal Cookies by RecipeGirl
Healthy Oatmeal Cookies by Whole Grain Gourmet
Nikki's Healthy Cookies Recipe by 101 Cookbooks
Cranberry- Oatmeal Cookies by Family Fresh Cooking
Gluten-Free Coffee Almond Cookies by Healthy Green Kitchen