Motivation… and Ugly Recipes Need Love Too.
In my next Healthy Saturday's series, I wanted to ask readers about motivation.
What do you have in mind as motivators for eating healthy and exercising?
Here are my top 5 motivators:
*Me, and how I Feel: When I feel good about myself and my body and my well-being, everyone benefits. I'm more productive (energizer bunny-like), I'm happy and I'm easier to get along with

*My Family…My Health: I cook healthy meals that we sit down and eat together. We don't eat out much, which is better on the waistline and saves cash too. My family, in turn, has a healthy mindset too. They make good food choices and they choose to exercise along with me. Hopefully, we'll all be well and live longer because of our healthy choices!
*Clothes: This actually might be #1!  I love when my clothes fit, and I love it even more when my SKINNY clothes fit! Shopping is a whole lot more fun when you're down a couple of sizes.
*Living in Southern California: It's sunny here and the people are- in general- fit and thin. I don't think I have a single close friend that is really ever overweight. That's a tough pill to swallow when you struggle with weight yourself. I think it's safe to say that I'll never truly be "skinny," but it's easier to feel like you fit-in when you're fit and thin(ner) too.
*Other people's compliments: Yeah, I love compliments. They have been few and far-between with my current weight loss, but one nice compliment about how I look can last me a long time. Would you believe that after my 20+ pound loss, none of my friends has said a word? Did they not notice, or is it weird to say something? 20+ pounds?? I find it very strange.
In any case, that's a little bit of my motivation. What's yours??
Because ugly recipes need love too, here are a couple of (delicious) but not very photogenic healthy dinner recipes to share with you: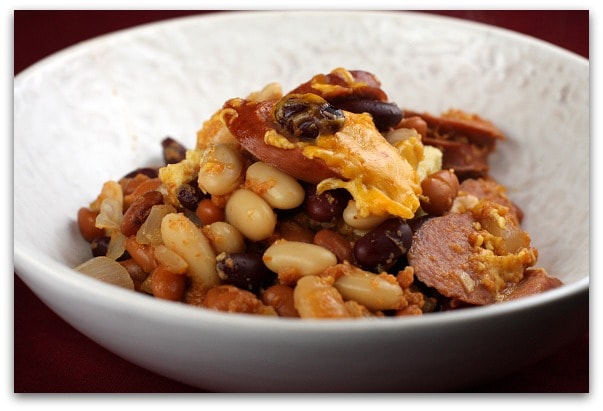 This Three Bean and Sausage Bake (a quick & easy casserole recipe) is a big hit with my family. It's ugly, but it's really great served over a little bit of cornbread. I'm a fan of three bean salad, which- for whatever reason- is what this casserole reminds me of. The recipe calls for it to be topped with low fat cheese. Low fat cheese melts and then quickly congeals… creating ugly. It's good though… I promise! Weight Watchers points and nutritional information can both be found in the recipe.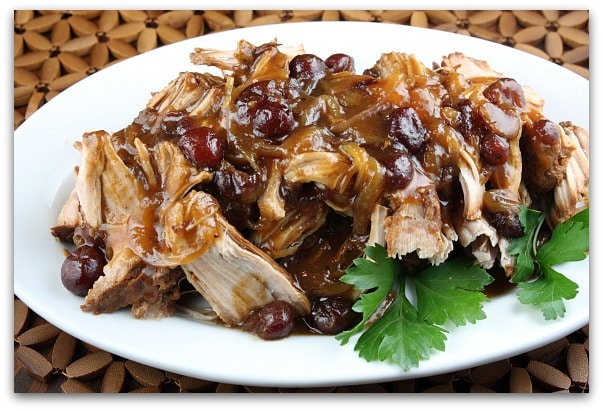 This super simple Cranberry Pork Roast recipe is done in the crockpot. I was pretty excited to find another crockpot recipe worth sharing. It's basically kind of like a pulled pork with a cranberry sauce. Ugly, but good

These recipes can be found here:
Three-Bean and Sausage Bake
Cranberry Pork Roast
More healthy/ Weight Watchers recipes you might enjoy on the blogs:
Weight Watchers Asian Zero Points Soup by A Veggie Venture
Crockpot Barbecue Beef Sandwiches by Culinary Covers
Baked Turkey Taquitos by The Creative Mama
Weight Watchers Cinnamon Rolls by Culinary Covers
Top 20 Skinny Recipes from 2010 by Skinny Taste
22 Responses to "Motivation… and Ugly Recipes Need Love Too."
Leave a Comment