Spinach & Cheese Stuffed Manicotti
Manicotti is a dish of great comfort. It makes plenty, it's filling, it's completely family-friendly, and the leftovers are even better than the freshly made batch. We make this when we have a handful of friends or family around. It's a nice, no-fuss recipe that everyone seems to love. Make it ahead, keep it in the fridge and toss it in the oven when everybody is ready to eat.
How to Make Manicotti: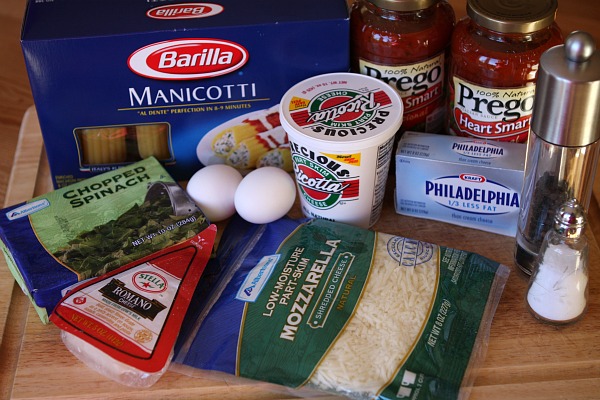 You need all of this stuff.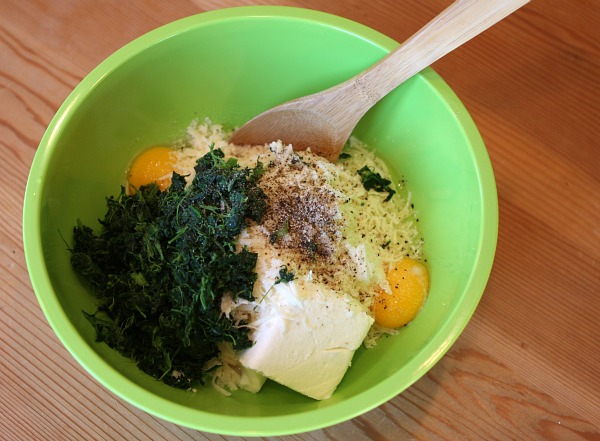 The filling is very simple to make. Just mix it all up in a bowl until it's well-blended. If you (or your kids) don't like spinach, you can always leave it out… though I've found that you don't really detect it all that much with all of the other wonderful things and sauce in the recipe. You might consider it a good way to "sneak" some good stuff into dinner.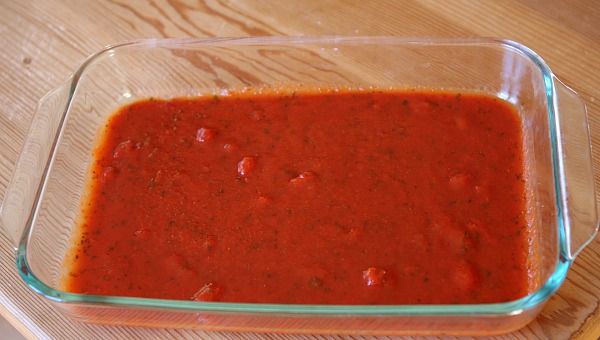 A layer of sauce goes into the bottom of a 13×9-inch pan.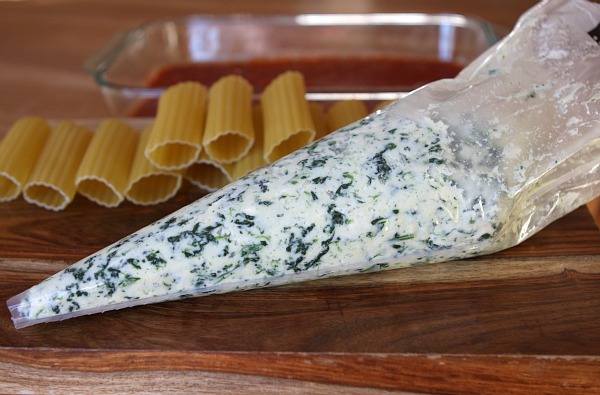 The easiest way to stuff manicotti shells is the put the mixed filling into a plastic bag. You can use either a frosting piping bag or a gallon zip bag. Snip the corner, gather the top and squeeze the filling into the corner.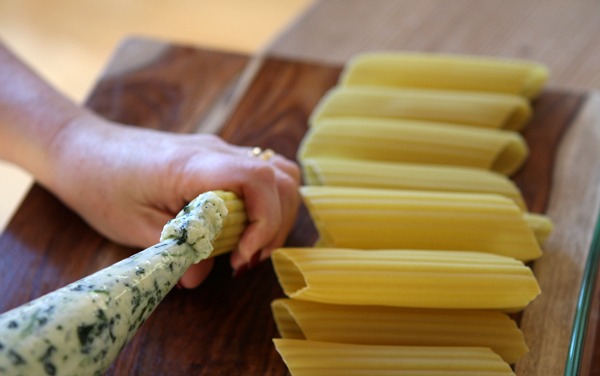 Hold an uncooked manicotti shell in your hand and squeeze the filling inside the shell. Let it overflow on both sides.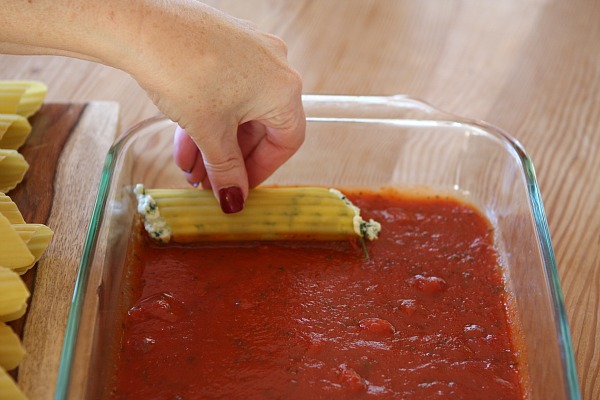 Place the filled shell into the sauce-lined pan.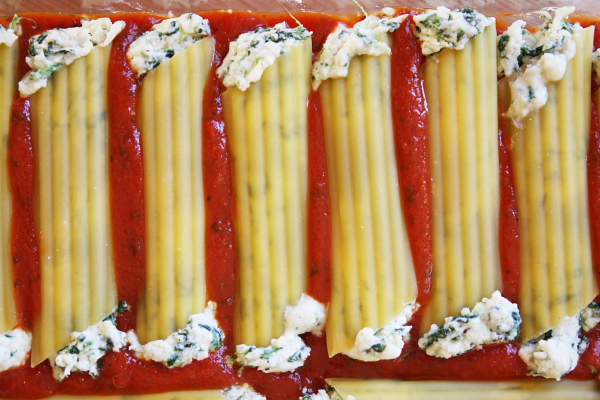 Repeat with remaining manicotti and fill the pan with the stuffed shells, until you run out of shells and filling.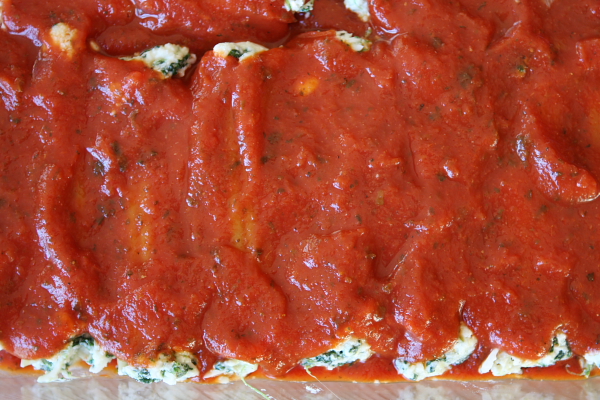 Cover with a generous layer of marinara sauce.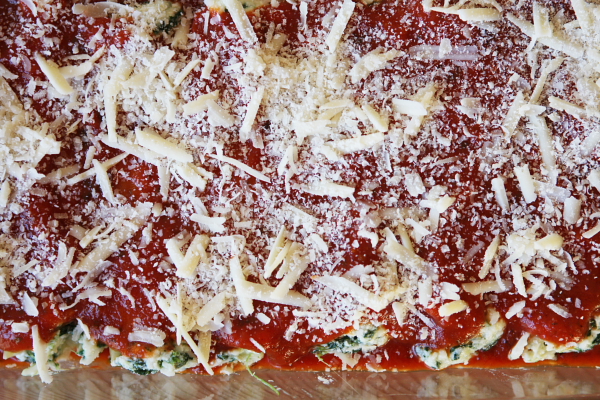 Sprinkle cheese on top. At this point, you can cover with foil, refrigerate and then bake when you're ready. It's ok to leave it in the refrigerator overnight.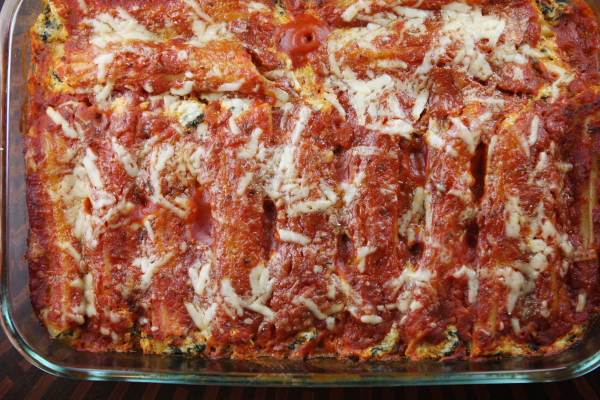 Cover and bake for about an hour.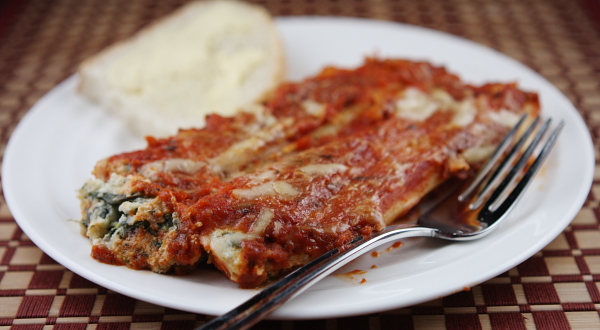 Pop open a bottle of red wine and eat! This recipe will feed 6 or 7 hungry people- 2 stuffed shells each is plenty when served with salad and garlic bread.
Spinach & Cheese Stuffed Manicotti

Yield: 6 servings (2 manicotti per serving)

Prep Time: 45 min

Cook Time: 60 min

This recipe for Spinach & Cheese Stuffed Manicotti was inspired by my Mom, who used to make this for all special family occasions before she had to say goodbye to manicotti noodles and go gluten-free.

Ingredients:

1 (10 ounce) package frozen spinach, thawed completely & squeezed dry
8 ounces shredded mozzarella cheese
15 ounces ricotta cheese
4 ounces cream cheese
1/2 cup shredded Romano or Parmesan cheese
2 large eggs
1/2 teaspoon salt
1/2 teaspoon freshly ground black pepper
1 box (12 to 14 shells) manicotti noodles
3 to 4 cups marinara sauce (1 jar + a little more)
1/2 cup shredded Romano or Parmesan cheese, for topping

Directions:

1. Preheat oven to 350 degrees F.

2. In a large bowl, mix spinach, cheeses, eggs, salt and pepper. Stir together until well blended.

3. Place about 1 1/2 cups of marinara sauce in a 9x13-inch pan. Spread it around to cover the bottom.

4. Place the mixed filling into a plastic bag. You can use either a frosting piping bag or a gallon zip bag. Snip the corner, gather the top and squeeze the filling into the corner. Hold an uncooked manicotti shell in your hand and squeeze the filling inside the shell. Let it overflow on both sides. Place the filled shell into the sauce-lined pan. Repeat with remaining manicotti and fill the pan with the stuffed shells, until you run out of shells and filling. You should be able to fill 12 to 14 shells- if you run out of room in your pan, use a separate smaller pan to accommodate the extra.

5. Cover the pasta with marinara sauce, using about 2 1/2 cups of sauce. Sprinkle 1/2 cup Romano/Parmesan on top. At this point, you can cover with foil and refrigerate until you're ready to bake, or you can cover with foil and place it in the oven immediately.

6. Bake, covered with foil, 50 minutes. Remove foil and bake an additional 10 minutes.

Tips: