Angel Hair Pasta with Shrimp, Asparagus & Basil
When I was first married (16 years ago), I worked full-time as an elementary school teacher. I was up and out the door by 7am, and I didn't get home until about 6. A pretty normal work schedule, I guess you could say. So I completely understand the stress of getting dinner ready quickly and/or the desire to order takeout over cooking it yourself for the busy, working population. As a new bride, I made pasta often. My go-to dish was garlic, basil and pine nuts sauteed in olive oil, then tossed with sundried tomatoes and angel hair pasta- topped with freshly grated Parmesan. It was quick and easy, it's all I really knew how to make, and my husband thought it was great. I haven't made that pasta dish in YEARS… because now I make things like this instead: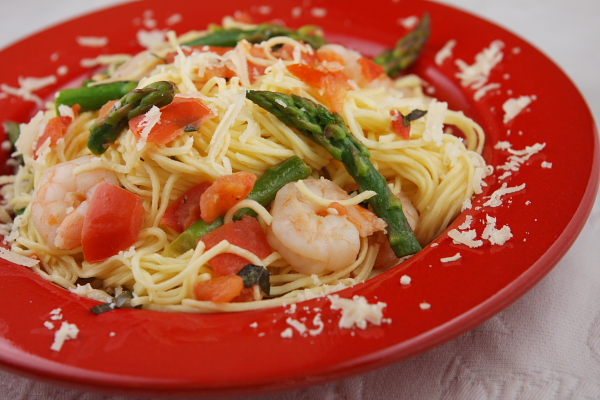 Here's the how-to for making Angel Hair Pasta with Shrimp, Asparagus & Basil: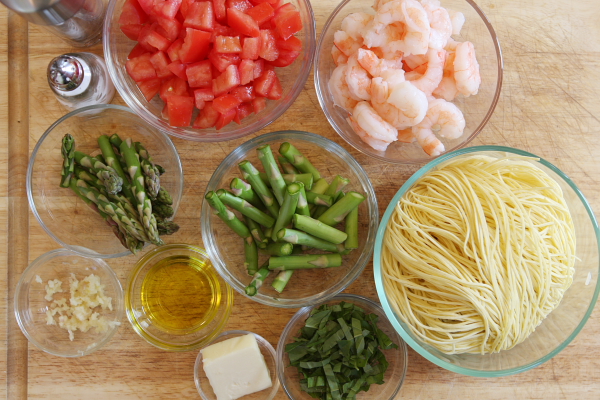 Here are all the ingredients you need- plus a little white wine & Parmesan.   It's easy to do, especially if you prep everything ahead of time.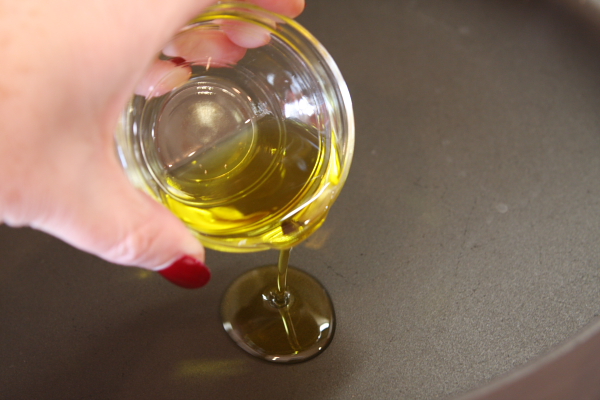 Heat up a little bit of olive oil in a large saute pan.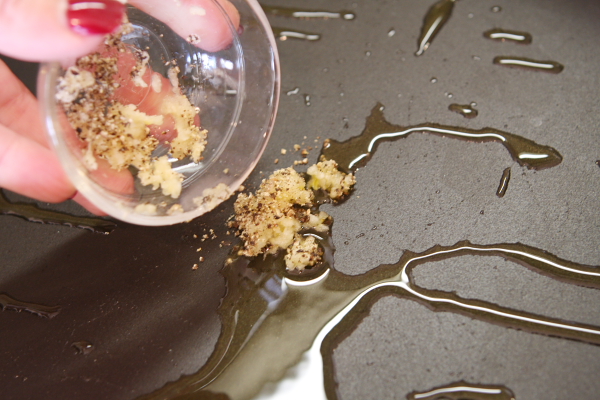 Add in the minced garlic that I love so much. Let it sizzle away and get fragrant & browned.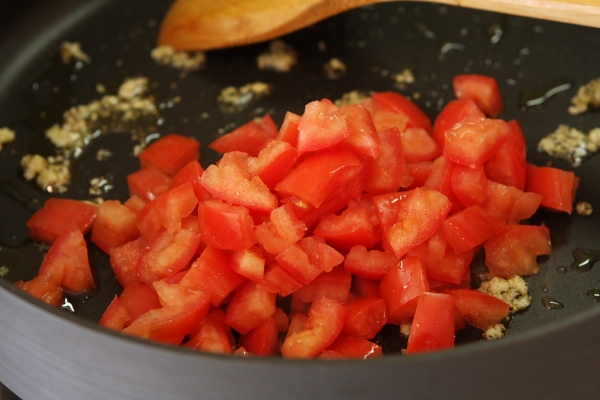 Chopped, fresh tomatoes will add some great color to this dish.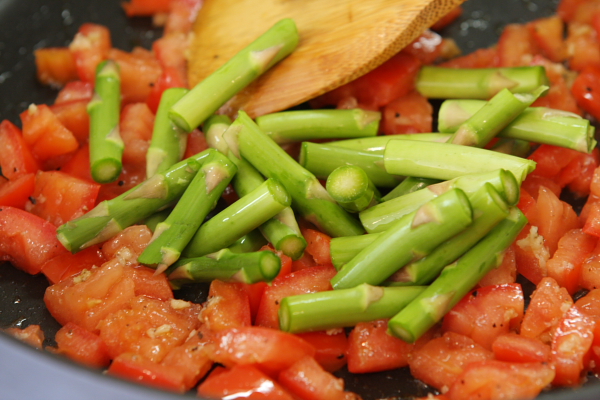 Asparagus ends are added next.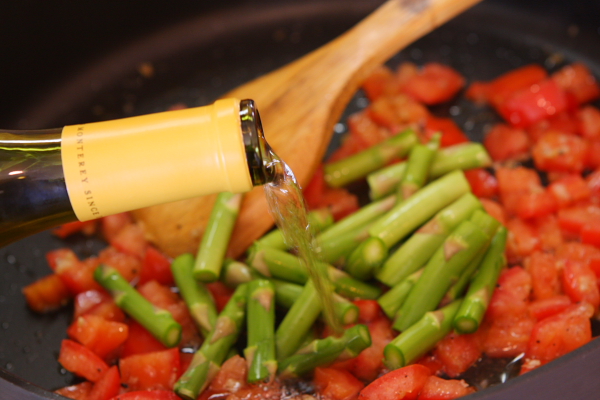 Add a few glugs of white wine.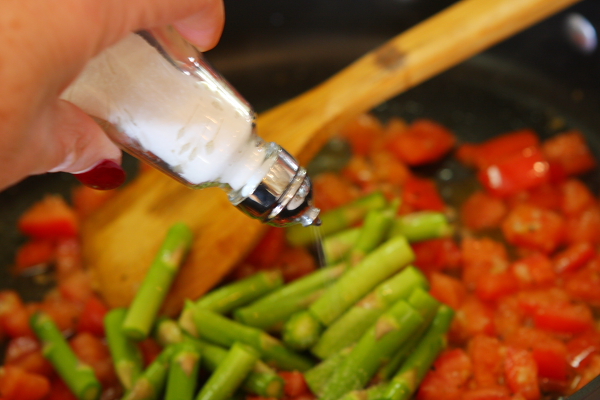 A little salt too.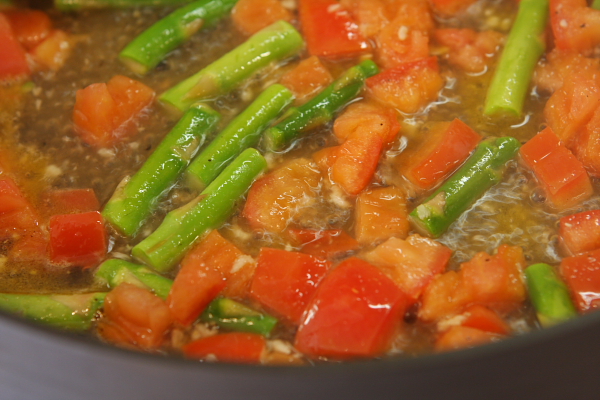 The vegetables are sauteed in the white wine to help soften then up and bring all of the flavors together.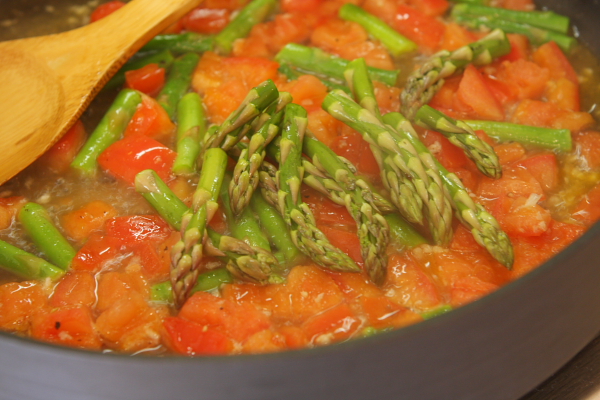 The (softer) asparagus tips are then added in.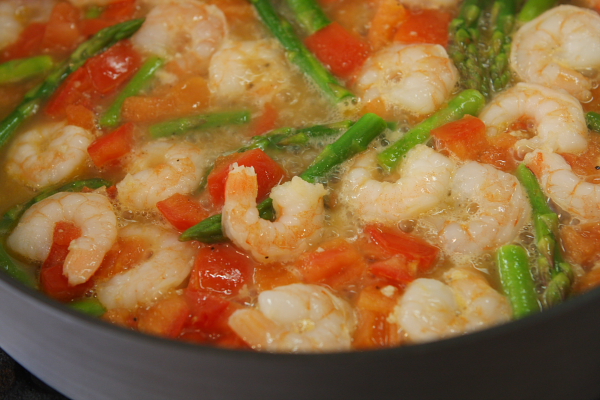 Shrimp! Use the already-cooked stuff (no need to buy fresh and de-vein and spend all that time messing with it).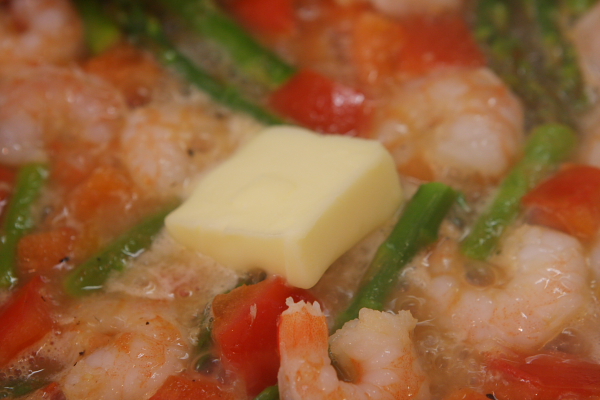 Add a chunk of butter to the sauce. This will make it a little creamier & ready for your pasta.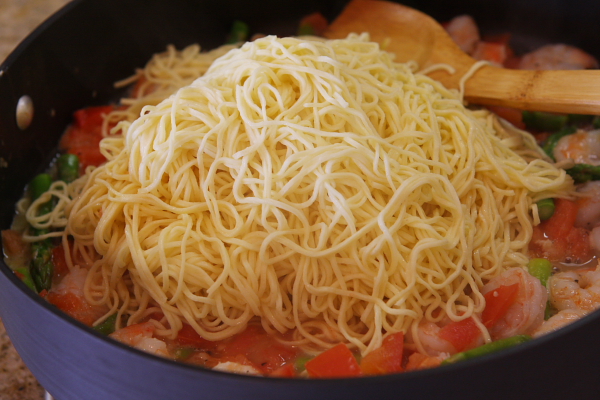 You certainly can add any pasta you'd like, but I prefer to use the fresh angel hair type (find it near the fresh tortellini at your market). Toss it gently with the sauce.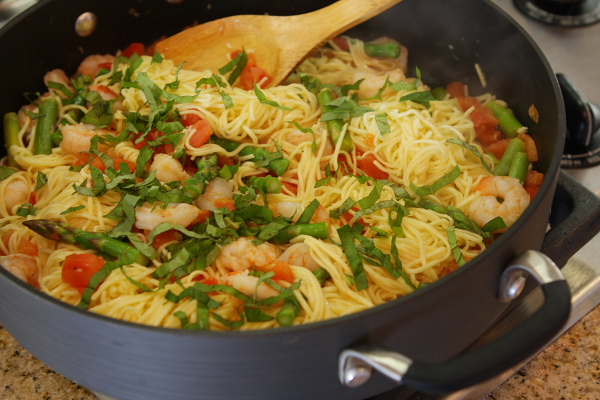 Fresh basil is added just before serving.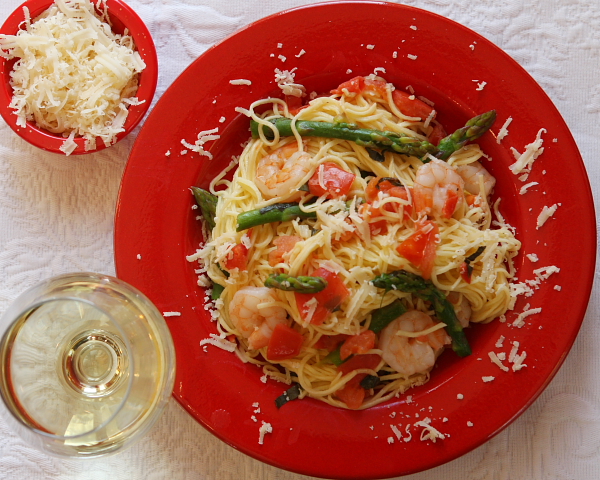 A little freshly grated Parmesan is sprinkled on top, and you've got yourself a great, fresh pasta dish that is fairly easy to prepare.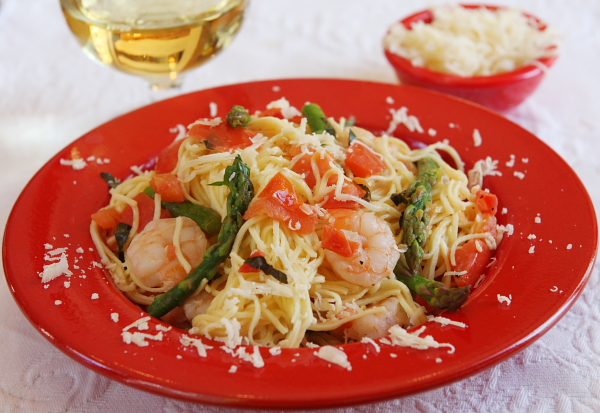 I enjoyed this simplistic, fresh pasta dish. It's a family friendly dinner too, though my little one picked around the "green stringy things" (basil). The husband loved it, as usual. It's not all that far off from my pasta dish specialty of yesteryear, but the added vegetables and shrimp make it feel more like dinner and healthier for you too.  I really should make that old first-married-pasta-dish just for old times sake. I'd love to see if my husband remembers it from our days as newlyweds.  How could he possibly forget, right?  Something tells me he could forget.  I'll have to let you know…
Angel Hair Pasta w/ Shrimp, Asparagus and Basil

Yield: Serves 3 hungry people (or 4 smaller servings)

Prep Time: 30 min

Cook Time: 12 min

Simple, fresh meal that is easy enough for tonight's dinner...

Ingredients:

15 stalks thin fresh asparagus
1 Tablespoon olive oil
2 cloves garlic, crushed
1/4 teaspoon ground black pepper
6 medium plum (Roma) tomatoes, seeded & chopped
1/2 cup dry white wine
1/4 teaspoon salt
12 ounces peeled & cooked shrimp
1 Tablespoon butter
9 ounces refrigerated fresh angel hair pasta, cooked & drained
1/4 cup shredded fresh basil
freshly shredded Parmesan cheese, for topping

Directions:

1. Trim asparagus. Rinse in cold water; drain. Remove tips and set aside. Cut remaining stalks diagonally into 1-inch pieces.

2. Heat olive oil in a large skillet over medium- heat. Add garlic and pepper and mix well. Cook for 1 minute, stirring constantly. Stir in tomatoes. Cook for 2 minutes, stirring frequently. Add the asparagus stalks, white wine and salt and mix well. Cook for 3 more minutes, stirring frequently. Stir in asparagus tips and shrimp. Cook for 1 minute, stirring constantly. Add the butter. Cook until butter melts, stirring constantly. Add the cooked pasta, tossing to mix. Stir in basil.

3. Divide into 3 to 4 bowls for serving; top with Parmesan cheese.

Tips: