Easy Beef Enchiladas
I have a wonderful, family-friendly dinner for you:  Easy Beef Enchiladas Recipe
I learned all about avocados yesterday.  I learned that there are thousands of varieties- Hass being the main one.  I learned that an avocado is the only fruit that will not ripen on the tree (it will ripen on your kitchen counter instead).   I learned that- to determine ripeness- you should gently squeeze an avocado in the palm of your hand (don't squeeze with your fingers).  Ripe fruit will be firm, yet yield to gentle pressure.  And I learned that the Cinco de Mayo holiday is a very, very busy time for avocado sales.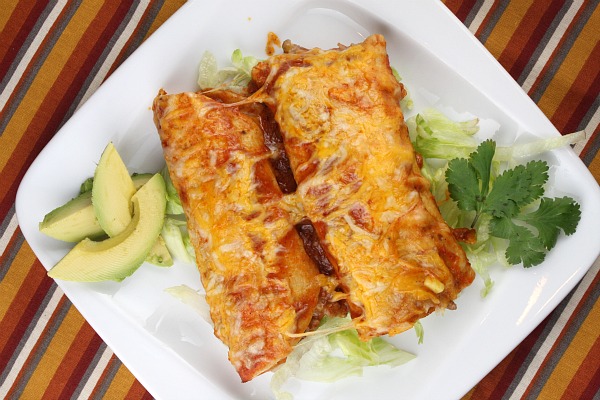 Cinco de Mayo is a big holiday here in Southern California.  Truthfully, most people don't know the origin of what this Mexican holiday really represents, but rather they use it as an opportunity to consume Margaritas, overdose on guacamole and eat things like tacos, burritos and enchiladas.  Here's a quick and easy dinner recipe for you… so that you can celebrate Cinco de Mayo this week along with me.
Here's how to make this Easy Beef Enchiladas recipe: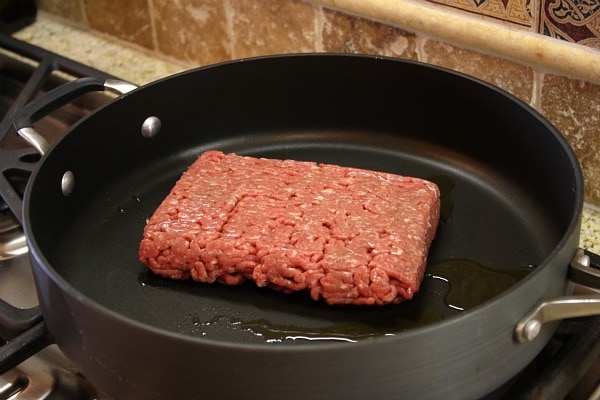 Heat oil in a large skillet, and add a pound of ground beef.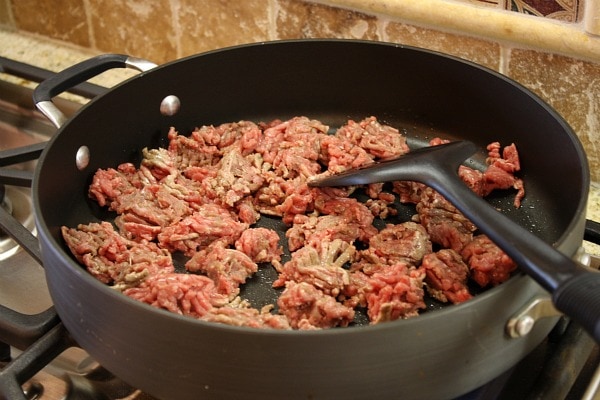 Break the meat apart and let it brown.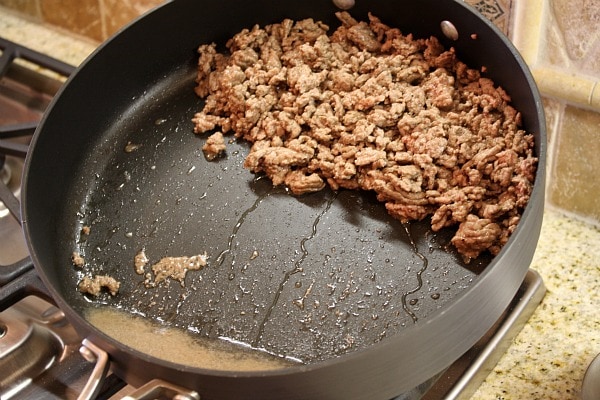 Tilt the pan to let the oil pool along the edge of the pan. Use a spoon to scoop out the oil and get rid of it. You don't need any of that extra fat in there. Remove the meat to a bowl.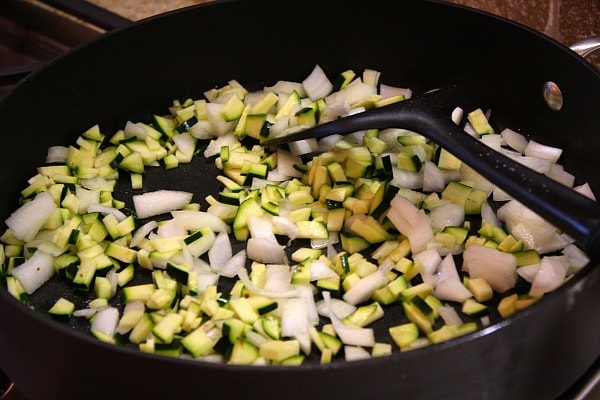 Add chopped onion and finely chopped zucchini to the hot skillet, and cook until the vegetables are slightly softened. Trust me on the zucchini. No one in your family will even notice it, and it's really good in this recipe! If you hate it, I suppose you could leave it out… but I hope you'll choose to trust me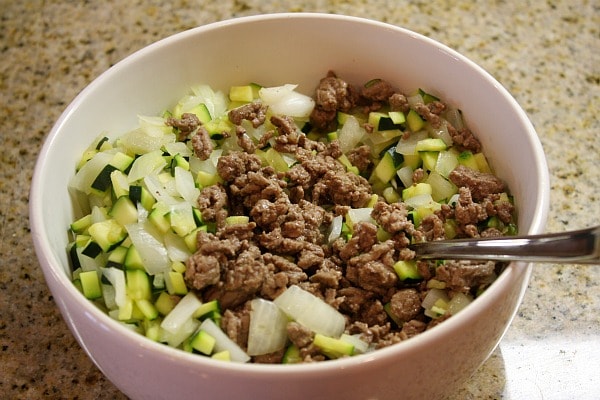 Add the vegetables to the bowl with the beef and stir them together.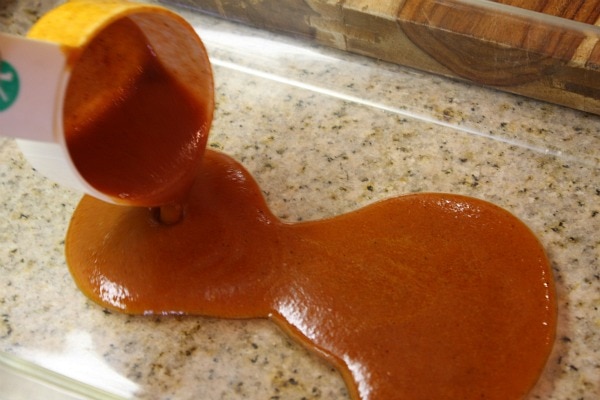 Add 1/2 cup enchilada sauce to a 13×9-inch pan. I make homemade enchilada sauce… SO good… and SO much better than the metallic-can tasting stuff. It's simple to make.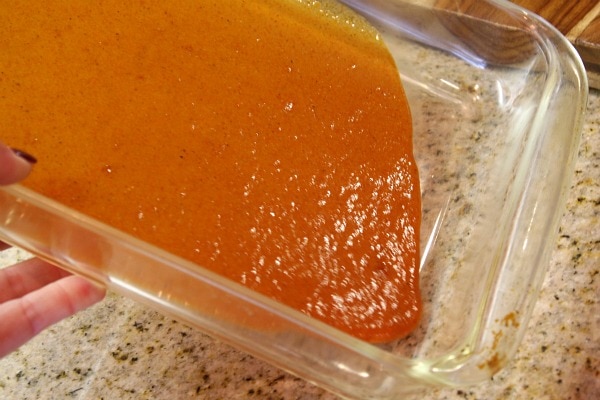 Tilt the pan to swirl the sauce around and make sure it coats the entire bottom of the pan.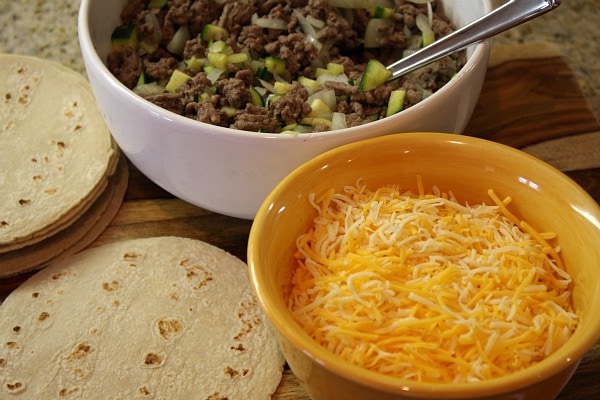 Assembly time! You'll need corn tortillas, the meat/veggie mixture, cheddar-jack cheese and enchilada sauce. Note that in the photos, I am using a corn-flour blend tortilla.  You can use any tortillas you want!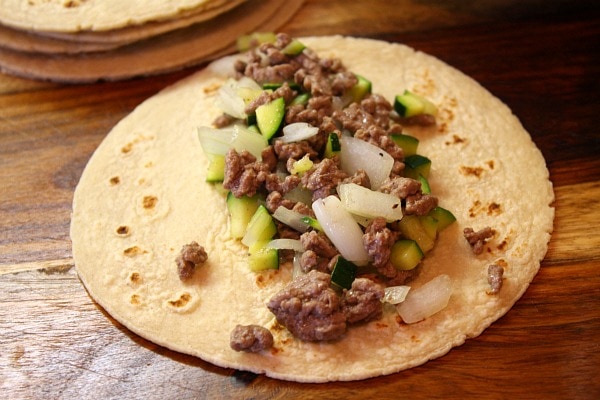 Spoon beef mixture down the middle of a tortilla.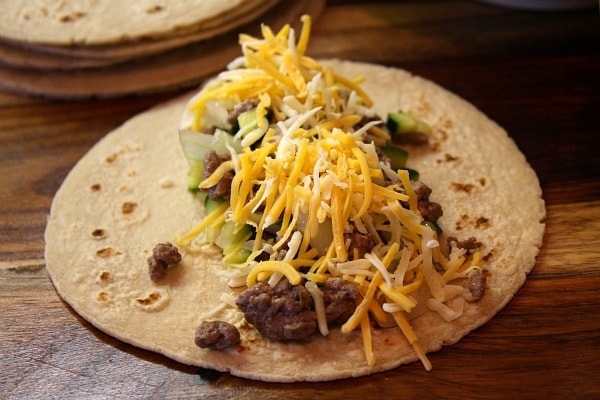 Sprinkle cheese on top.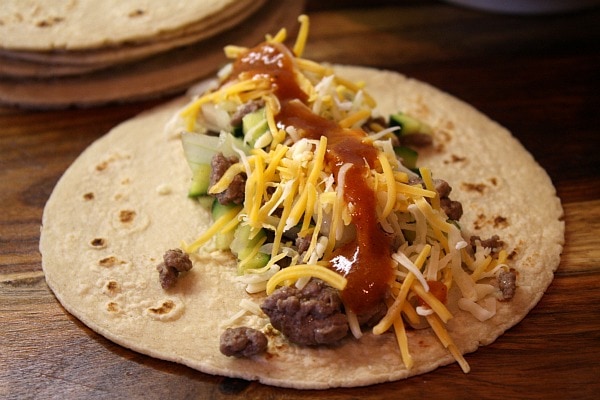 And drizzle about a Tablespoon of the enchilada sauce.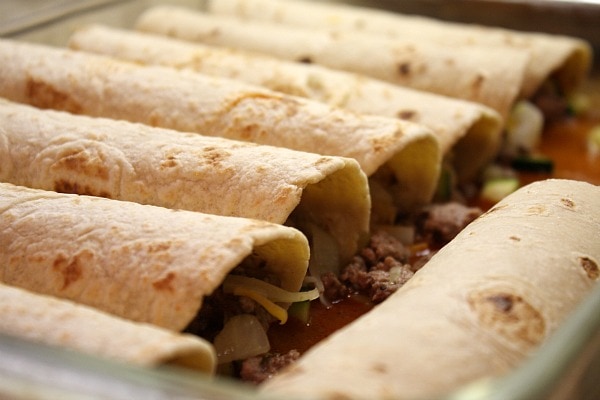 Roll up the stuffed tortilla tightly and place seam-side-down in the sauce-coated pan. Continue with all of the tortillas until you have created 12 enchiladas.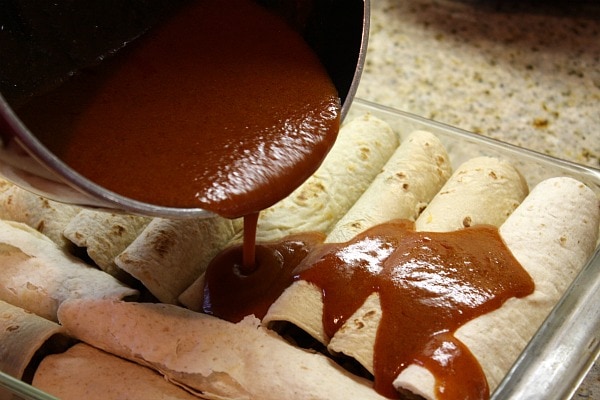 Drizzle the remaining sauce on top of the rolled-up enchiladas.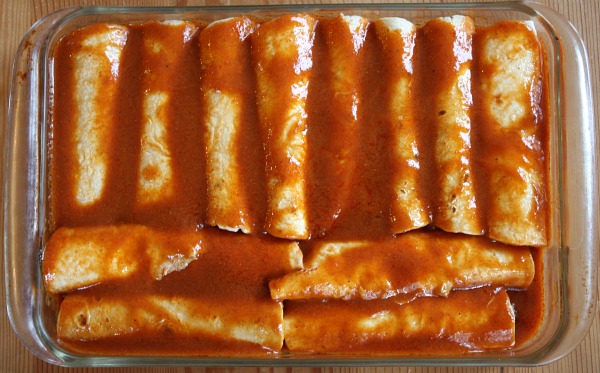 Spread the sauce around so you get a nice coating all along the top. At this point, you're going to cover the dish with foil and bake for 30 minutes.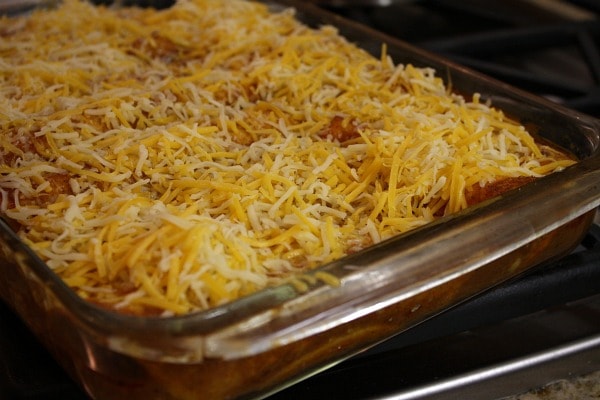 Take the enchiladas out of the oven, remove the foil cover and sprinkle cheese on top. Put it back in the oven to melt all that cheese.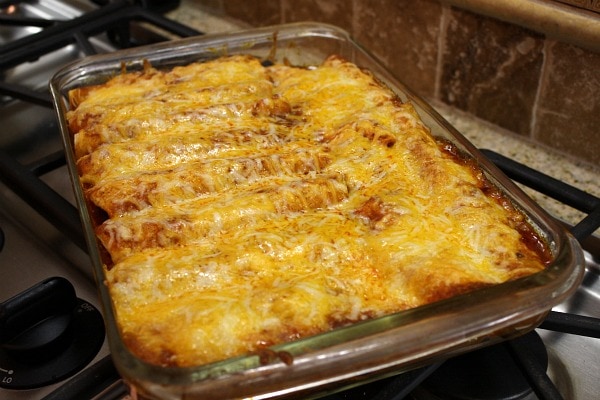 Just like that.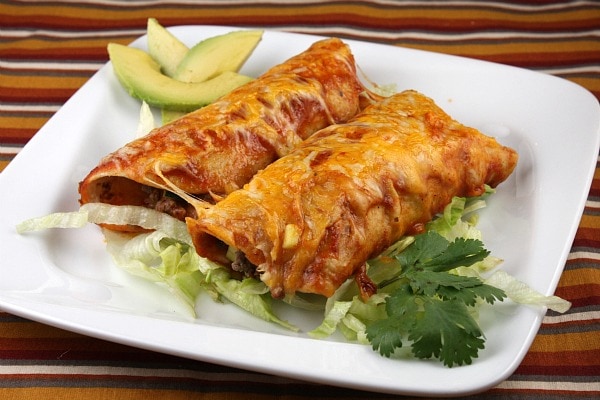 Serve these Easy Beef Enchiladas with whatever you'd like. I served them on a simple bed of shredded iceberg lettuce with some freshly sliced avocado. My husband added a generous spoonful of sour cream. And my kiddo– one who would never, ever willingly eat zucchini if it were placed in front of him– ate this meal as-is and with great enthusiasm. Apparently he didn't spy the zucchini in the midst of all of that wonderful sauce and cheese.
Have a great, Cinco de Mayo, avocado-consuming week!
Easy Beef Enchiladas

Yield: 6 servings (2 enchiladas per serving)

Prep Time: 30 min

Cook Time: 35 min

This simple recipe for beef enchiladas is a delicious, family-friendly meal. This recipe is gluten-free adaptable... see tips below.

Ingredients:

1 pound lean ground beef
1 1/2 cups diced onion
1 1/2 cups (about 2 medium) finely diced zucchini
12 corn tortillas, heated or fried in oil to soften
2 1/2 cups enchilada sauce, canned or homemade
3 cups cheddar- jack shredded cheese
Serve as desired with: shredded lettuce, avocado, cilantro, sour cream

Directions:

1. Preheat oven to 350 degrees F. Spray a 9x13-inch pan with nonstick spray.

2. Heat oil in a large skillet. Add ground beef; break apart with a spoon or spatula to crumble the meat. Saute the meat on medium heat until browned (about 5 minutes). Tilt the pan and spoon the fat out of the pan; discard. Remove cooked meat to a bowl.

3. Return pan to medium heat and add onion and zucchini. Saute until just softened, 3 to 4 minutes. Remove the vegetables from the pan and add to the meat mixture; set aside.

4. Add 1/2 cup of sauce to the prepared pan. Spread it around so it coats the entire bottom of the pan.

5. Assemble the enchiladas: Place tortilla on a work surface. Spoon 1/4 to 1/3 cup of the meat mixture down the middle. Sprinkle 2 Tablespoons of cheese on top of the meat. Drizzle 1 Tablespoon of sauce on top. Wrap the tortilla around the filling tightly and place it seam-side-down in the pan. Repeat with remaining tortillas and filling until you have finished filling 12 tortillas. Place the tortillas side-by-side in the pan- it's okay if they are all snuggled in there tightly.

6. Pour remaining enchilada sauce over the top of the stuffed enchiladas. Cover the dish with foil and bake for 30 minutes.

7. Remove pan from the oven and take off the foil. Sprinkle remaining cheese on top; return to the oven and let the cheese melt (about 5 minutes).

8. Serve immediately with desired condiments.

Tips:
More enchilada recipes you may enjoy:
Skinny Chicken Enchiladas by SkinnyTaste
Turkey Enchiladas by Simply Recipes
Vegetable Enchiladas by RecipeGirl
Buffalo Chicken Enchiladas by How Sweet It Is
Avocado Cream and Chicken Suiza Enchiladas by FoodieCrush