Triple Berry Salad with Sugared Almonds
If you've never had fresh berries in a green salad before, now's the time to try it.  My sister S is here in San Diego visiting us, and she shared her secret for losing an entire dress-size these past few months:  she eats a salad with berries and sugared nuts for dinner almost every night!  Ok, so she's a fanatic on the elliptical machine too… but in any case, this is a darn good salad and it's healthy too.  Sister S helped me create this Triple Berry Salad with Sugared Almonds.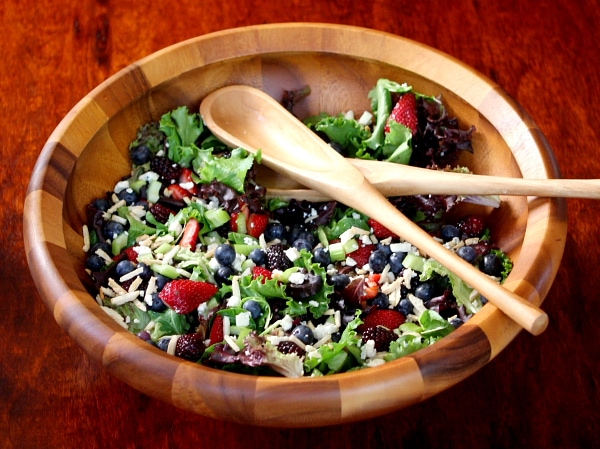 Triple berries are featured in this salad.  I used blueberries, strawberries and blackberries.  Feel free to use your favorite berries though.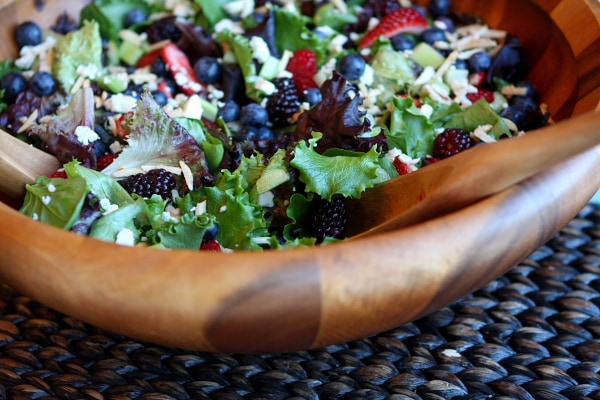 The sugared almonds are super simple.  Just melt the sugar in a hot skillet and add the almonds to let the melted sugar coat them.  That's all you do.  We also added avocado and gorgonzola crumbles.  If you're not a blue cheese fan, add goat or feta instead (or leave it out entirely).  We tossed it all in a strawberry-balsamic dressing.  SO GOOD.  If I can eat this every night for dinner and lose a dress size, I'm all over that.  My family can just fend for themselves for a while, lol!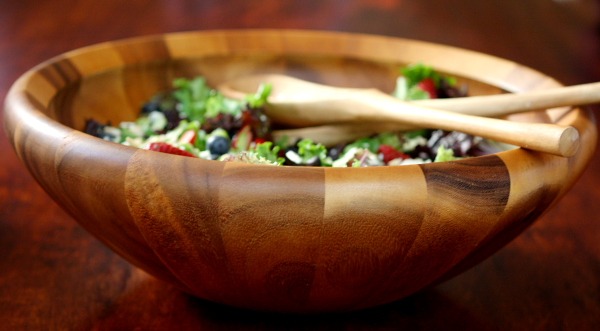 See how beautiful this salad bowl is?  Lenox offered to host a giveaway on my site, and I picked out what I thought my readers would love most- this Dansk Salad Bowl.  They sent me one so I'd have the opportunity to check it out.  I'm in love with it.  The wood (acacia) is smooth and flawless and gorgeous.  My sis took one look at it and decided that she was going to order one for herself.  I personally thought it might be a great wedding gift idea.  It retails for $143, but it's currently on sale for $99.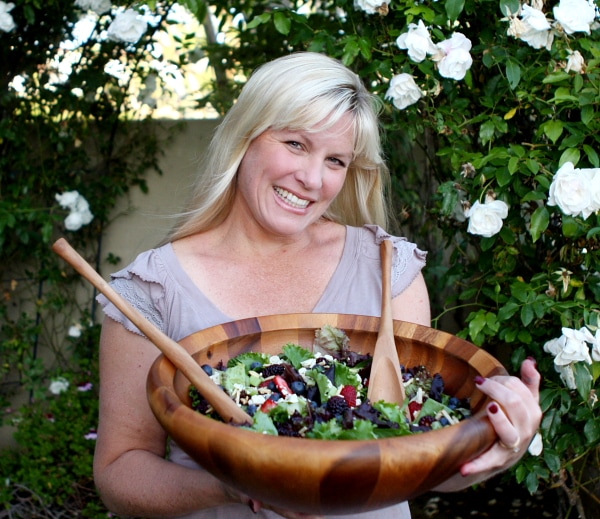 The only reason I'm sharing this dorky picture of myself is to show you just how big this salad bowl is.  It's HUGE!  I hope you win one

  Our salad looked pretty in it, and the bowl was very easy to clean too.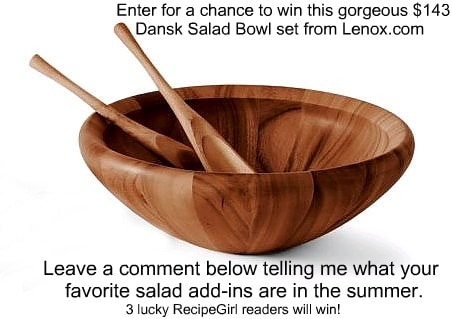 GIVEAWAY DETAILS: This giveaway is now closed.  The randomly selected winners are #205, 285, 295.  Congrats & thanks to all for entering!

Giveaway Rules:
*This giveaway is open to anyone with a USA mailing address (PO boxes too). You can enter through midnight on Wednesday, July 6th. The winner will be announced here on this post on Thursday, July 7th.
*Three winners will be generated via random.org. Winners will be notified via email. Please make sure you leave a valid email address so I can contact you if you are one of the winners.
*The winners will each receive one Dansk Wood Classics Round Salad Bowl with Servers (Retail value $143). This item will be shipped by Lenox.com
Disclosure: This giveaway is being sponsored by Lenox.com. I was not compensated to write this post. All opinions of this product are my own.
Triple Berry Salad with Sugared Almonds

Yield: 8 servings

Prep Time: 25 min

Cook Time: 5 min

Fantastic summer salad recipe!

Ingredients:

ALMONDS:
3 Tablespoons granulated white sugar
1/2 cup slivered almonds

DRESSING:
3 Tablespoons strawberry jam
1 Tablespoon chopped Italian parsley
2 Tablespoons white balsamic vinegar
1/2 teaspoon sea salt
dash of freshly ground pepper
1/2 teaspoon Dijon mustard
1/4 cup extra-virgin olive oil

SALAD:
1 pound mixed baby greens
1 large avocado, peeled, pitted and chopped
2 whole green onions, finely chopped
1 1/2 cups blackberries
1 1/2 cups sliced strawberries
1 1/2 cups blueberries
3/4 cup gorgonzola cheese crumbles

Directions:

1. Prepare the almonds: In a small skillet, heat the sugar over medium heat until it begins to melt. Add the almonds to the pan and toss rapidly until the sugar coats all of the almonds and the almonds are lightly browned. Pour them out onto a glass dish and separate almonds with a fork. Cool until hardened and break into pieces.

2. In a small bowl (or a shaker jar), combine all of the dressing ingredients except for the olive oil. Add the olive oil in a slow stream, whisking as you add the oil until the dressing thickens.

3. In a large bowl, place the greens, avocado, green onions, blackberries, strawberries and blueberries. Toss them with the dressing. Add almonds and gorgonzola crumbles. Toss lightly and serve.

Tips: