Orange Cake Truffles
This is a Sponsored post written by me on behalf of Sunkist. All opinions are 100% mine.
We seem to go through a lot of oranges around here. It's peak season for Sunkist® Valencia oranges, which means this summer fruit is juicy and delicious. It's one of those fruits that always sits in my counter-top basket, and it always seems to make its way onto our lunch plates, its juice is squeezed into my salad dressings, and its zest is utilized in my baking adventures.
Have you ever seen oranges with a slightly green exterior? That "greening" is actually good. Sunkist® Valencia oranges may occasionally "re-green" in warm weather. When Valencias ripen on the tree, they turn a bright orange color but warm temperatures may make their skin reabsorb chlorophyll as they hang on the tree causing the orange color to look partly green—although the outside is green, the inside remains ripe and delicious! Who knew that green was good?!?
Sunkist Valencia Oranges Re-greening Video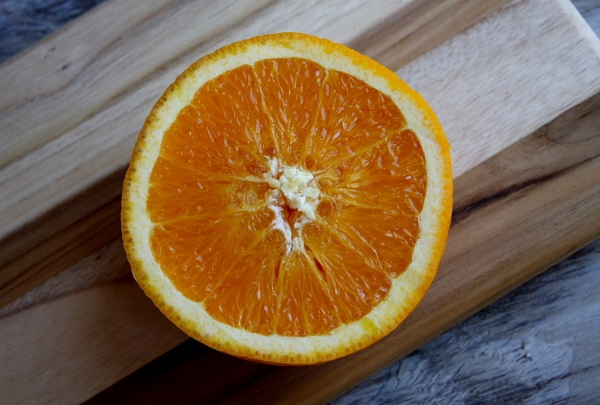 Orange is good too though

I used this gorgeous piece of fruit to make some Orange Cake Truffles.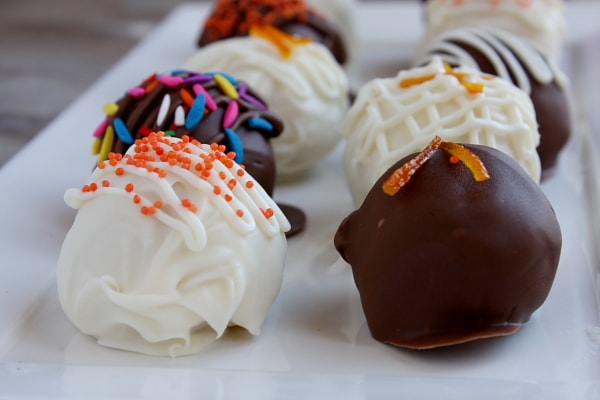 They're a simple and impressive sort of dessert to make. And the recipe uses up plenty of freshly squeezed orange juice…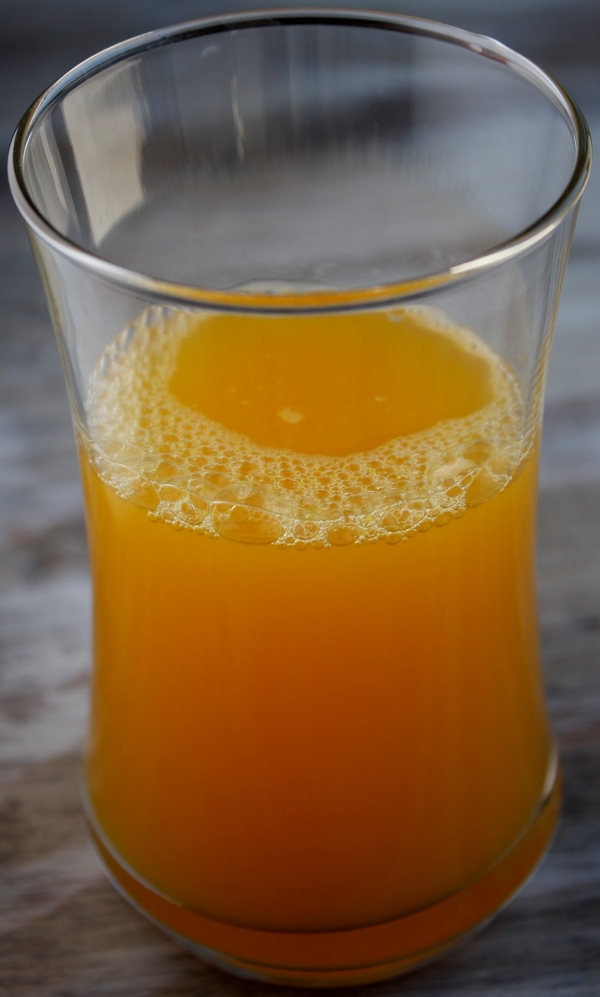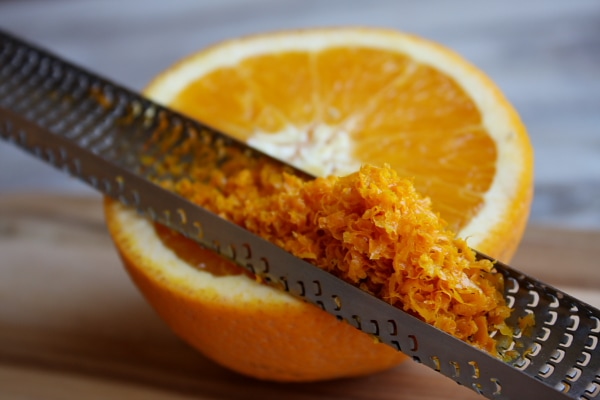 …and grated orange zest too.
Just bake up a simple orange cake recipe. And then pulverize it into crumbs in the food processor. In true "cake ball" fashion, you then mix those crumbs with some cream cheese frosting… and even more of that orange zest!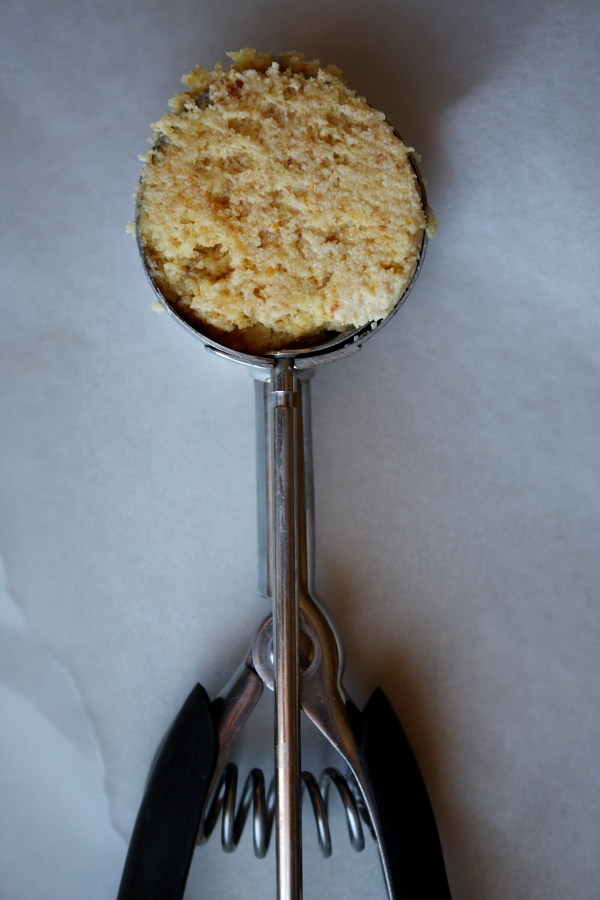 Scoop out some of the crumbs-mixed-with-frosting. I like to use my handy dandy cookie dough spring scoop. This is truly one of my favorite kitchen tools

And it ensures that all of your cake truffles will be the same size.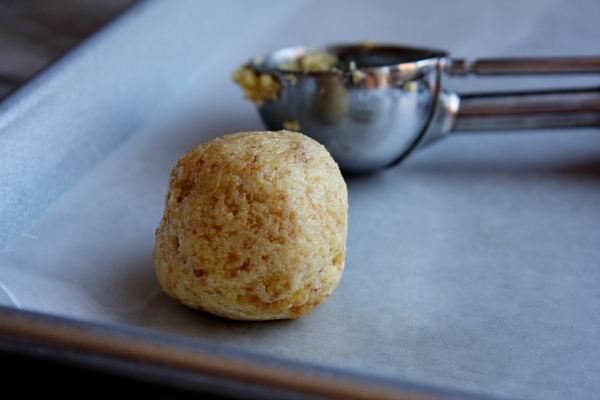 Roll into a ball.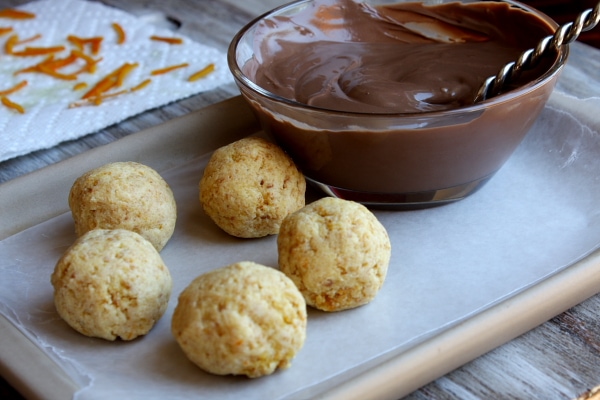 In fact, roll all of them into balls. Then pop them in the freezer for about 15 minutes just to firm them up a little bit. At this point, you can decide what you're going to dip them in (I used Wilton's Candy Melts), and what you're going to sprinkle on top to make them pretty.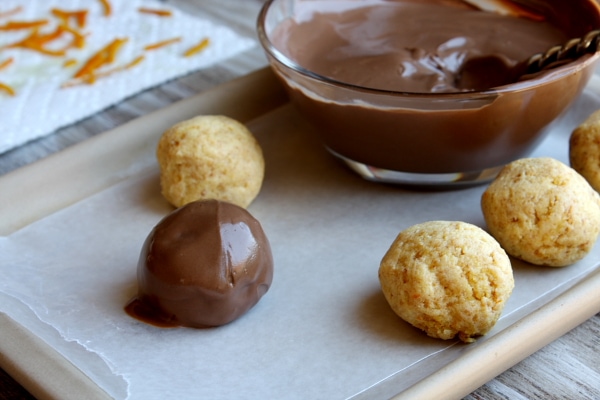 Dip them one by one in the melted chocolate and then set them on waxed paper to dry and set.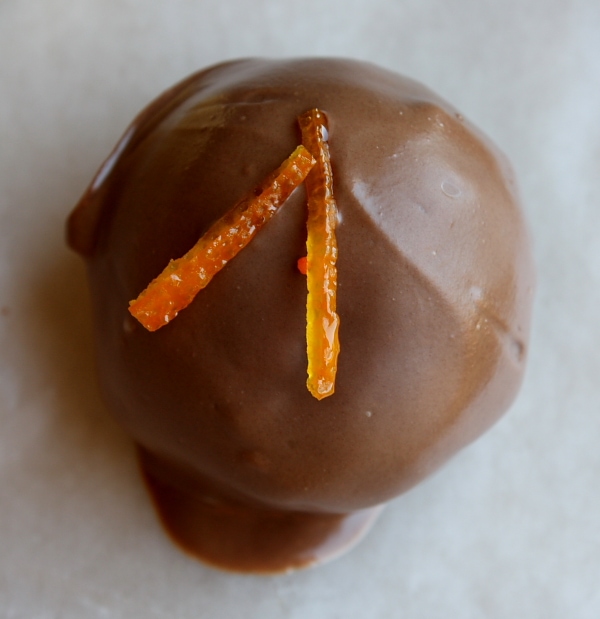 Top each truffle with a little something before the chocolate sets. I like to top truffles with a little "hint" of what's inside. Here I used some thinly sliced orange zest that I candied in a frying pan with a tiny bit of water and sugar.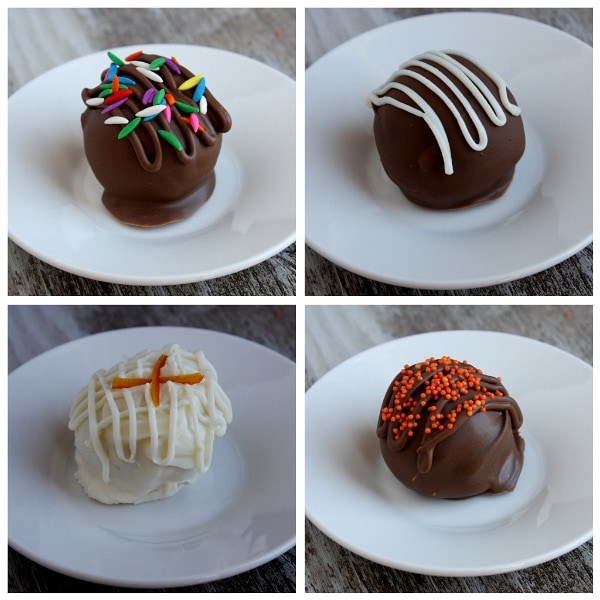 And here are a few more… some I drizzled additional chocolate on top, and then added the decor.
They were kinda sorta a big hit around my place with both the adults and the kids. I kept them in the refrigerator so they were a nice, ice-cold treat on these hot days we've been having.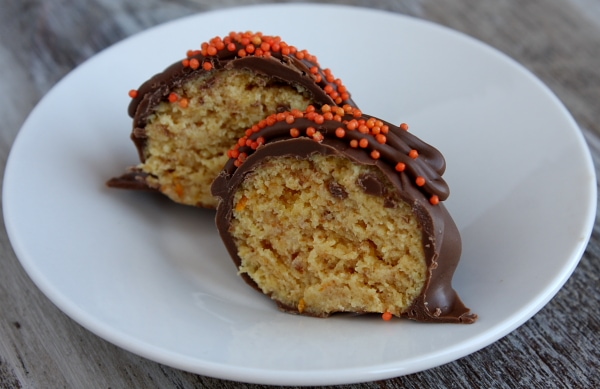 Break open the inside and here's what you'll find. A delicious, Sunkist® Valencia orange- flavored cake truffle!
Yield: About 36 cake ball truffles
Prep Time: 60 min + chill time
Cook Time: 35 min
Orange Cake Truffles
Yep, these are those cake balls... an orange-flavored sort... covered in chocolate!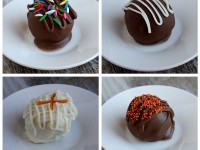 Ingredients:
CAKE:
1 (18.25 ounce) package French Vanilla cake mix
1 (3 ounce) package instant vanilla pudding mix
3/4 cup freshly squeezed Sunkist® Valencia orange juice
1/2 cup canola oil
4 large eggs
1 Tablespoon finely grated Sunkist® Valencia orange zest
1 teaspoon vanilla extract
MIX-INS:
3/4 (16 ounce) tub cream cheese frosting
1 Tablespoon finely grated Sunkist® Valencia orange zest
COATING/TOPPINGS:
Wilton's candy melts (or desired melting chocolate)
sprinkles or candied orange peel (see tips below...)
Directions:
Prepare cake: Spray 9x13-inch pan with nonstick spray. Preheat oven to 325 degrees F. In a large bowl, whisk together cake mix and pudding mix. Add orange juice, oil, eggs, orange zest and vanilla. Use an electric mixer to beat on low speed until well blended, scraping sides as needed. Pour batter into the prepared pan. Bake 35 to 40 minutes, just until cake is set and toothpick inserted in the middle comes out clean. Let cake cool completely, then scoop chunks of the cake into a food processor; process into crumbs.

Prepare the cake balls: Place cake crumbs in a large bowl. Add 3/4 of a tub of frosting + 1 Tablespoon orange zest. Stir with a sturdy spoon until ingredients are well combined. Shape frosting/crumb mixture into 1-inch balls and place them on a waxed paper-lined cookie sheet. Place the cookie sheet in the freezer or refrigerator just until the cake balls have had a chance to get a little bit firm.
Dip the truffles: Melt about a cup of candy melts in a microwave safe bowl (about 2 minutes on high). Stir until smooth. Use a small spoon to lower a cake ball into the melted chocolate and swirl it around until completely covered with the chocolate. Scrape the spoon against the side of the bowl and carefully remove the cake ball from the chocolate and set it on waxed paper. Immediately top with decor and let sit to dry. Continue with remaining cake balls and chocolate. Assembled truffles can be kept at room temperature or in the refrigerator until ready to serve.