Gingerbread Cinnamon Roll Pancakes
It's yet another Cinnamon Roll Pancakes recipe, my dear readers! I've done the original. I've pumpkin'ed the original, and now I've gingerbread'ed the original. These are Gingerbread Cinnamon Roll Pancakes!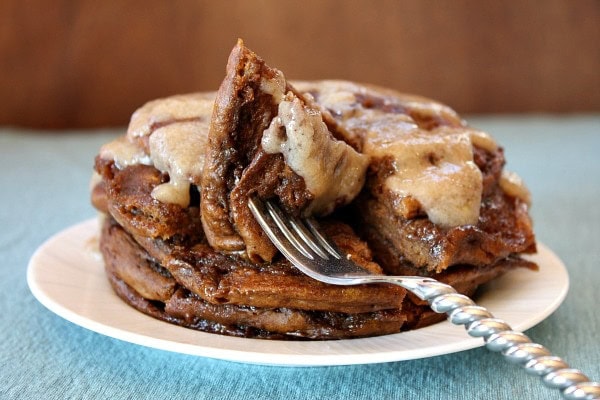 Just in time for the holidays, right?  Some of y'all have had trouble getting these oh-so-worthy pancakes just right, so I'm going to give you some really specific instructions and photos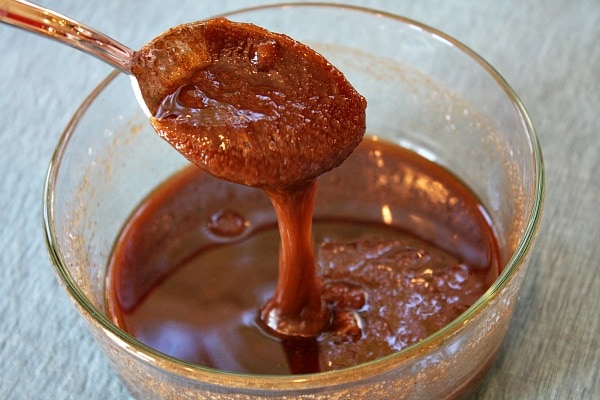 When you mix the cinnamon swirl mixture- it will look just like this… thick, but with a lot of melted butter that is not really mixed in.  Don't worry.  That's how it's supposed to look at this point.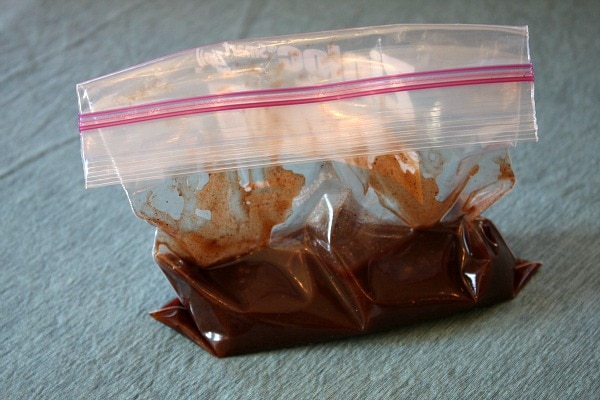 Pour it into a zip baggie and let it sit at room temperature.  You want it to thicken up a bit- which it will likely do just perfectly by the time you get to the pancakes.  Just pick the baggie up every once in a while and squish it around to re-incorporate the butter, which will tend to want to separate from the sugar.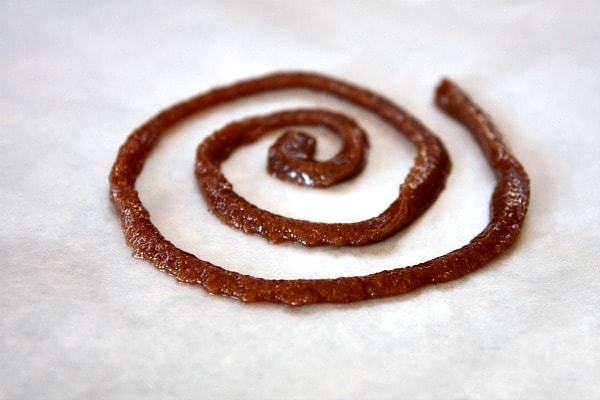 You're going to be cutting a tiny hole in the corner of the zip baggie.  And then you'll be swirling like this.  See that picture above?  That's exactly how you want the swirl to be able to come out of that baggie.  If it's too liquidy, then it's not quite ready yet.  Squish it around some more and let it sit at room temp some more.  Eventually, you'll be able to get a "toothpaste-like" consistency out of it.  That's what you want.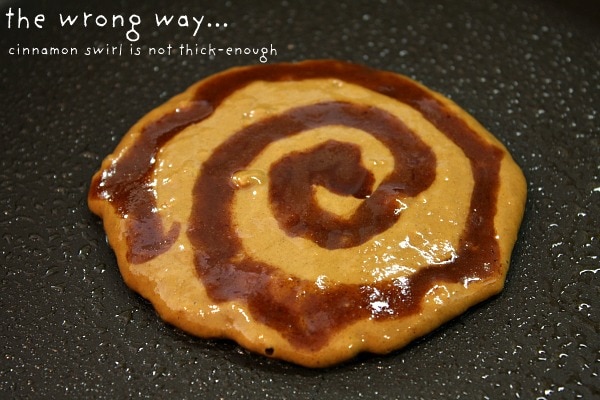 If you swirl it on your pancake and it looks like this, that's not quite right.  It will still taste good, but it's not quite right.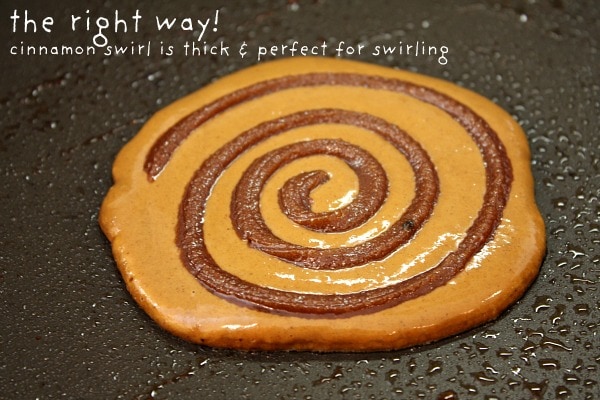 For the perfect pancakes, this is how the cinnamon mixture should swirl onto your pancake.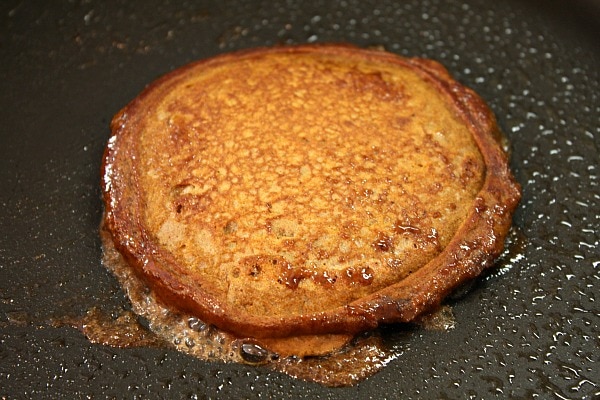 Here's how it looks when you flip it over.  Normal on the other side, but with some cinnamon goo spilling out the sides.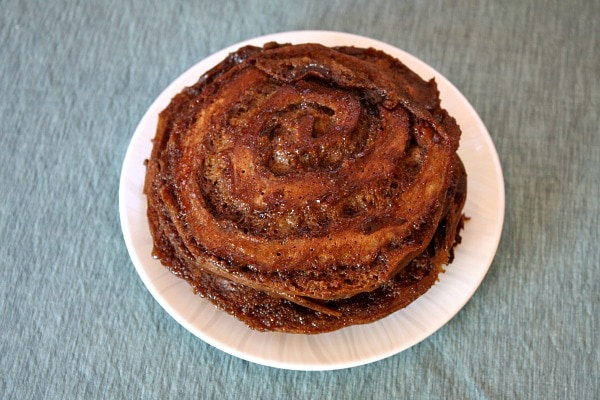 Here's a stack…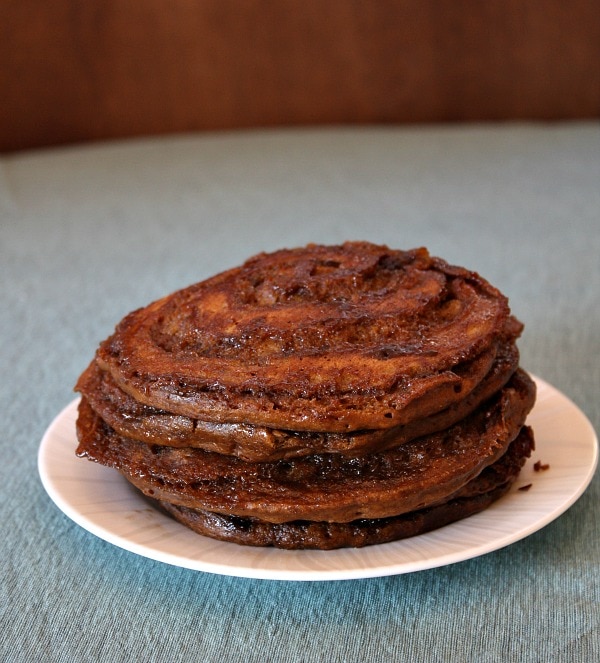 …and it's ready for some cream cheese icing!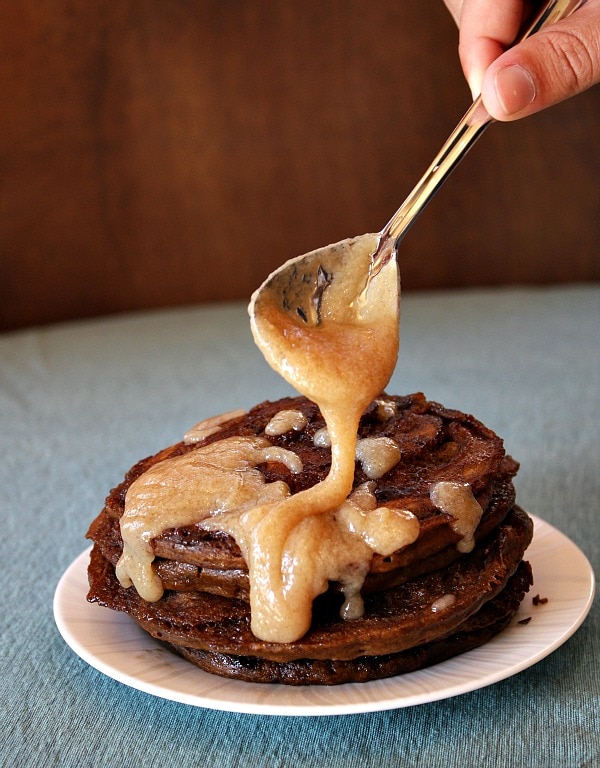 This is a cream cheese icing that has been lightly spiced-up Gingerbread-style.  Just drizzle a bit on top.  No syrup will be needed for these pancakes!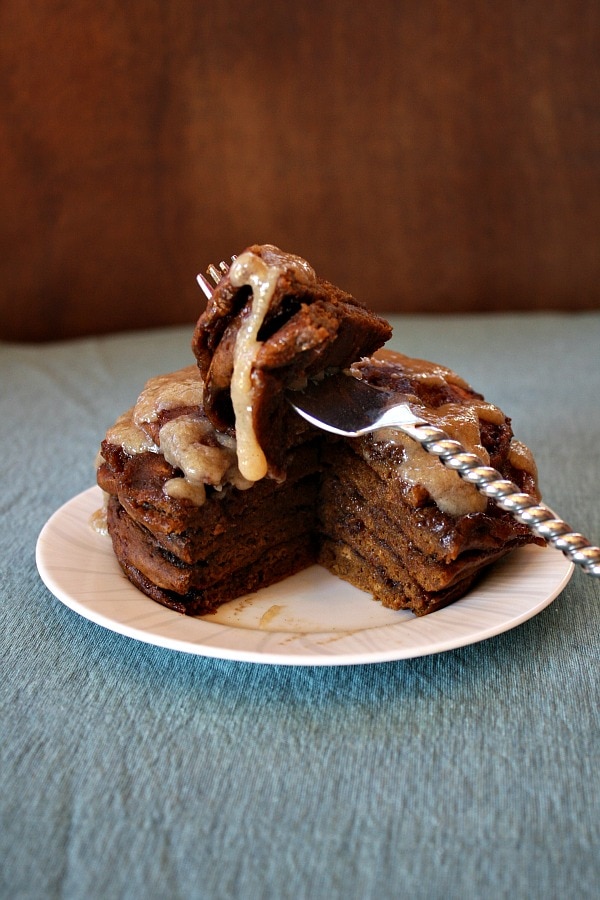 I've stacked 5-high for photo purposes, but please remember that these are Cinnamon Roll Pancakes… which means that they're just like eating a Cinnamon Roll!!  You surely shouldn't eat more than one or two, unless you've spent the entire day on the treadmill.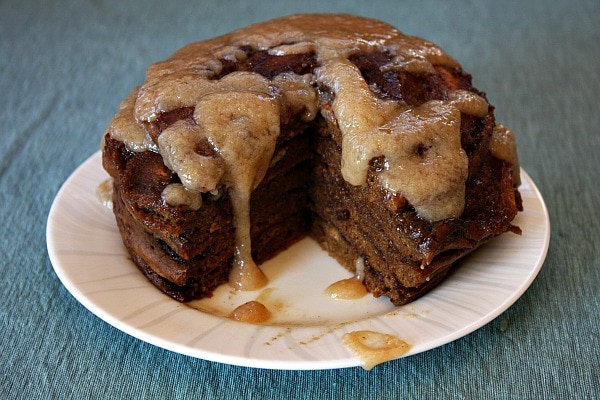 Eating one or two will take some willpower though.  I can attest to that!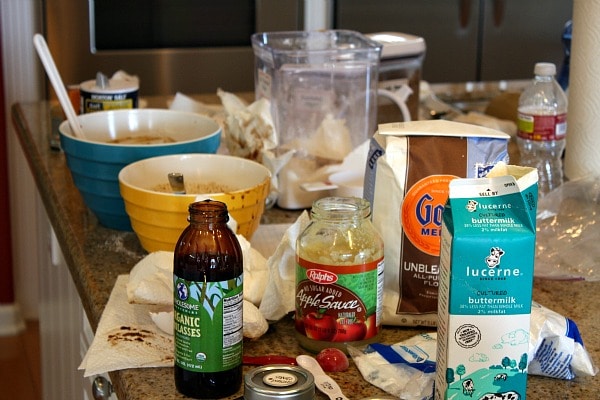 Thought I'd share a little peek at what my kitchen looks like after I create a recipe.  It's a hot mess.  (But it's all worth it in the end).  Wanted:  Dishwasher/Kitchen Cleaner-Upper!
Gingerbread Cinnamon Roll Pancakes

Yield: Six 5-inch pancakes

Prep Time: 15 min

Cook Time: 30 min

Another fun cinnamon-roll pancake recipe, featuring gingerbread pancakes with cinnamon swirl mixed in and topped with a spiced cream cheese icing.

Ingredients:

Cinnamon Swirl:
1/4 cup butter (1/2 stick)
1/2 cup brown sugar
1/2 tablespoon ground cinnamon
1/4 teaspoon ground cloves
1/4 teaspoon ground nutmeg

Cream Cheese Icing:
1/4 cup butter (1/2 stick)
2 ounces cream cheese
3/4 cup powdered sugar, sifted
1/2 teaspoon vanilla extract
1/4 teaspoon ground cinnamon
1/4 teaspoon ground ginger

Pancakes:
3/4 cup buttermilk
1/4 cup applesauce
2 tablespoons brewed coffee
2 tablespoons dark molasses
2 tablespoons water
1 large egg
1 1/4 cups all-purpose flour
1/2 tablespoon baking powder
1/2 tablespoon ground cinnamon
1/2 tablespoon ground ginger
1/4 teaspoon baking soda
1/4 teaspoon salt

Directions:

1. Prepare the cinnamon filling: Before you start, keep in mind that you're looking to get the cinnamon mixture to a thick, "toothpaste-like" consistency. Mix the cinnamon filling ingredients in a small pan over low heat, or heat in the microwave in a microwave-safe bowl. Just melt the butter and mix in the sugar and spices. The mixture will be pretty liquidy at first, but the longer it sits at room temperature- it will begin to turn into that thick texture that you need for swirling. Prepare this first, and then scrape it into a zip baggie and let it sit on the counter. Squish the bag around once in a while to re-incorporate the butter.

2. Prepare the icing: Mix icing ingredients in a small saucepan and heat over medium-low until the butter and cream cheese are melted. Whisk the ingredients together until smooth. Set aside until your pancakes are ready to serve.

3. Prepare the pancake batter: In a large bowl, whisk together buttermilk, applesauce, coffee, molasses, water and egg. In a separate bowl, whisk together the remaining (dry) ingredients. Add the dry ingredients to the wet ingredients and stir just until everything is combined.

4. Check on your cinnamon filling. If it has turned into that nice, thick consistency that you need (see photo above), you're ready to make your pancakes! Preheat a large skillet or griddle to medium heat and spray it with nonstick spray. Scoop a 1/2 cup-full of batter into the skillet and use the bottom of the cup to spread it into a round shape. Reduce the heat to medium-low. Let the pancake cook while you cut a tiny piece off of the corner of your cinnamon swirl baggie, swish it around to combine the ingredients one last time and then squeeze the baggie to make a swirl on the pancake- starting in the center and swirling out. Cook the pancake 3 minutes or so, until the pancake begins to show popping bubbles toward the edges. Using a thin spatula, gently wiggle it under the pancake and carefully, but quickly flip it over. Some of the cinnamon swirl may spill out and mess up your pan a little bit, but don't worry about that. Cook the pancake for a minute or two on the other side and then remove it to a plate, flipping it over so the cinnamon-swirl is on top.

5. Drizzle some of the icing on top of the pancake and serve immediately. Remember, each pancake is as decadent and delicious as eating a cinnamon roll... so one or two is plenty per serving! Wipe out the pan with a paper towel, then repeat making the pancakes with the remaining ingredients.

Tips: