Gluten- Free Pumpkin Cornbread
There seems to be a lot of interest in gluten- free recipes these days. Some may say that it's a "Hollywood Thing"… you know, a health craze- a fad- the thing to do! Others recognize that it's a very real situation that many people need to pay attention to. Eating gluten can make some people feel sick, others have bodies that simply cannot tolerate gluten, and still others have Celiac Disease- a condition that damages the lining of the small intestine and prevents it from absorbing parts of food that are important for staying healthy. The damage is due to a reaction to eating gluten, which is found in wheat, barley, rye, and possibly oats. Believe it or not, there are a lot of people with a need for finding gluten-free food. That's why I include some options on RecipeGirl. I love my gluten-free readers just as much as my gluten-eating readers. Today, I'm featuring Gluten- Free Pumpkin Cornbread.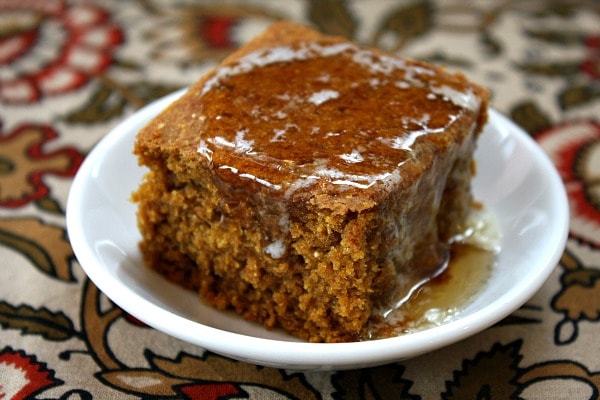 I have a regular 'ol full-o'-gluten Pumpkin Cornbread that I've made for years now. It's great, and I we love to eat it with Pumpkin Chili too. So I took that recipe and messed with it (using Jeanne's recommended blend of GF flours) to create a gluten-free version.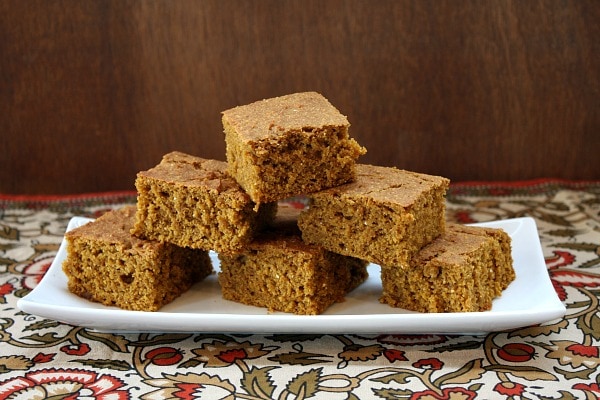 And guess what? It tasted the same!
No kidding, no foolin' and no joshin' ya… absolutely no one that I fed this gluten-free cornbread to (adults and kids alike) could tell that there was anything off-kilter about it. It tasted… like Pumpkin Cornbread! Yahoo!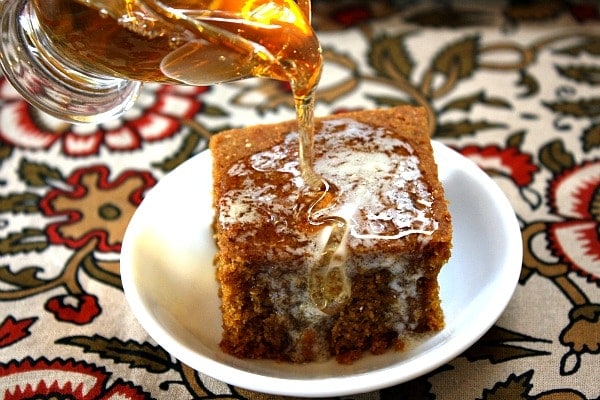 I bake pretty much constantly, but this whole gluten-free baking thing is kinda sorta new to me. The flours have always baffled me. I never know whether to use one of those "blends" that they sell… that are supposed to work in place of regular flour (those never turn out so great for me, by the way), but with the advice of a wonderful online gluten-free friend- I've found a blend of flours that is working out great for all of my gluten-free baking. So if you're gluten-free, or if you know someone who is gluten-free, or if you're spending Thanksgiving w/ someone who is gluten-free, or if you just want to check out this whole gluten-free thing… this would be a great recipe to try. I think you'll be as pleased with the results as we were. Of course, a little butter and honey drizzled on top never hurts

P.S.  My Pumpkin Chili recipe is gluten-free too!
Gluten- Free Pumpkin Cornbread

Prep Time: 15 min

Cook Time: 25 min

I had my doubts about turning my regular pumpkin cornbread into a gluten-free version... until I made it. It turned out wonderful!

Ingredients:

1/4 cup + 1 tablespoon brown rice flour
1/4 cup + 1 tablespoon white rice flour
3 tablespoons tapioca (starch) flour
3 tablespoons sweet rice flour
1 tablespoon baking powder
1 teaspoon salt
1/2 teaspoon ground cinnamon
1/4 teaspoon ground nutmeg
1 cup cornmeal (gluten free)
2 large eggs
1 cup pure (unsweetened) pumpkin puree
2/3 cup packed light brown sugar
1/4 cup canola oil
1 tablespoon molasses

Directions:

1. Preheat oven to 400 degrees F. Spray an 8 or 9-inch square pan with nonstick spray.

2. Sift flours, baking powder, salt and spices into a large mixing bowl. Whisk in the cornmeal.

3. In a separate bowl, beat eggs lightly. Whisk in pumpkin, brown sugar, oil and molasses.

4. Make a well in the dry mixture. Add pumpkin mixture and stir the batter with a few quick strokes to incorporate the dry into the wet. Stir just until blended (don't over-mix, or it could result in a tougher bread).

5. Pour the batter into the prepared pan. Bake for 25 to 30 minutes, or until the cornbread is browned and the surface has a slightly springy feel. A toothpick inserted in the center should come out clean. (Check at 25 minutes, and add additional minutes, as necessary).

Tips: