Roasted Butternut Squash Bruschetta
This is a Sponsored post written by me on behalf of Carapelli for SocialSpark. All opinions are 100% mine.
Today, I'm sharing what I think is the perfect appetizer for Thanksgiving: Butternut Squash Bruschetta.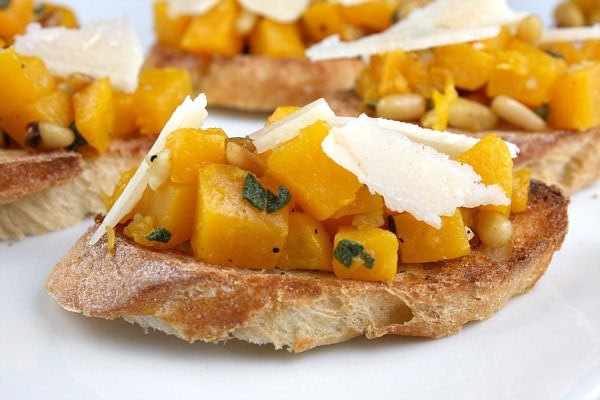 But first, I'm going to share a little bit about olive oil and olive oil tasting. Olive Oil Tasting???  You may be thinking, "Why on earth would I want to taste olive oil?" Well, it turns out that olive oil has a good deal of flavor, and what brand/type you choose to use can have a dramatic effect on how your dish tastes. So you should be choosing your olive oil wisely.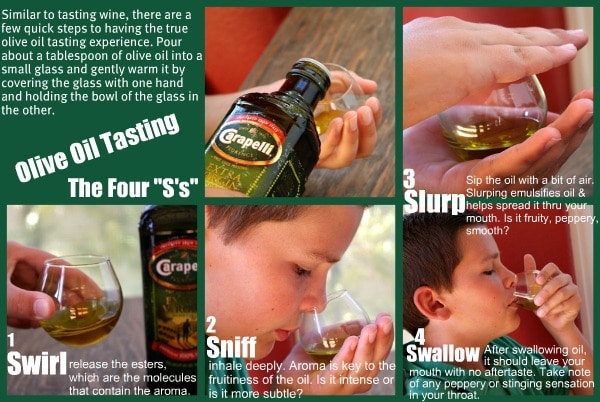 My son and I both conducted the taste test using Carapelli Olive Oil.  The process was fun for both of us, and it really got us thinking about what kinds of tastes and sensations you become aware of when you're paying attention.  We tested their Premium 100% Italian variety using the Four "S's" method.  The olive flavor and aroma was intense.  My son noted that the aroma was that of an olive orchard.  The taste was fruity and smooth.
Carapelli Olive Oil has been making olive oil since 1893 and now reigns as Italy's No. 1 Extra Virgin Olive Oil. As a leader in olive oil, Carapelli was the first producer to promote bottled extra virgin olive oil in Italy. The company also instituted a quality certification program that meets and exceeds the extensive, strict quality specifications required in Europe and the United States, that it adheres to today. The reason is simple: provide consumers with reassurance about the consistent, premium quality of Carapelli Olive Oils.
So now that you know how to sample olive oil, you should be using olive oil in your cooking that can pass the four "S" test.  Good flavored olive oil will help result in good-flavored food.  Here's a $1.00 OFF coupon at www.CarapelliUSA.com so you can taste the Carapelli brand for yourself.
Here's how you make Roasted Butternut Squash Bruschetta, using good-flavored olive oil (in this case, I used the Carapelli brand):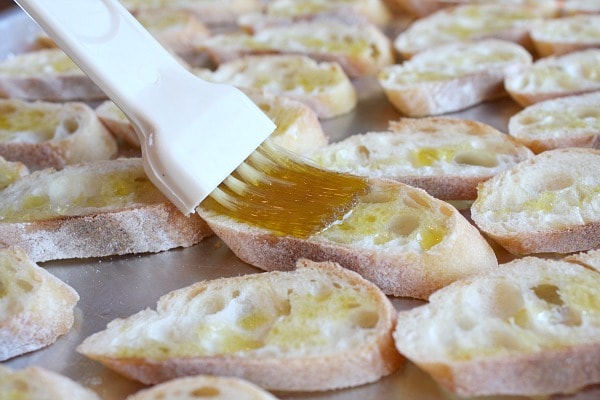 Brush (good tasting) olive oil onto some thinly sliced baguette.  Then toast it in the oven.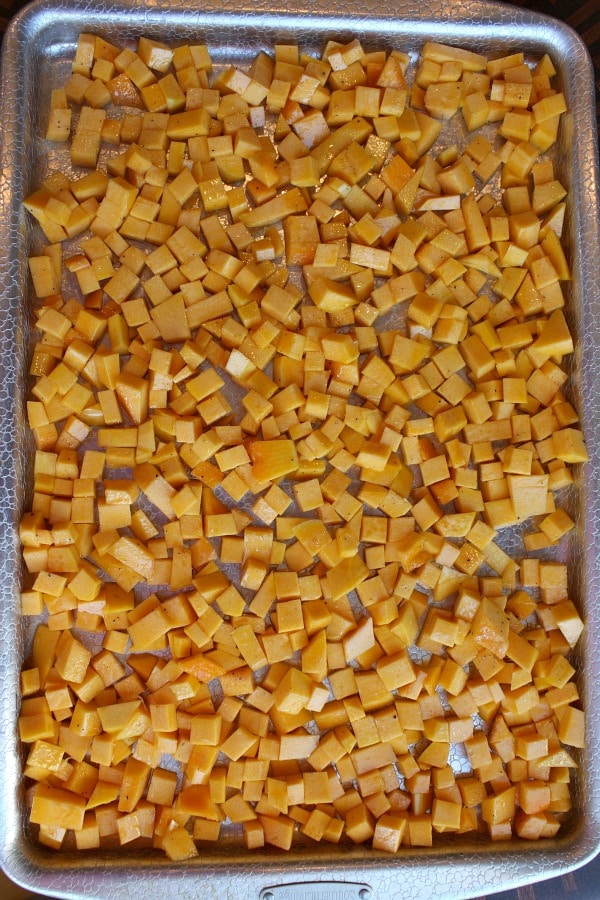 Cut butternut squash into small, diced pieces.  Then toss it in some (good tasting) olive oil and a little salt and pepper, and roast it in the oven.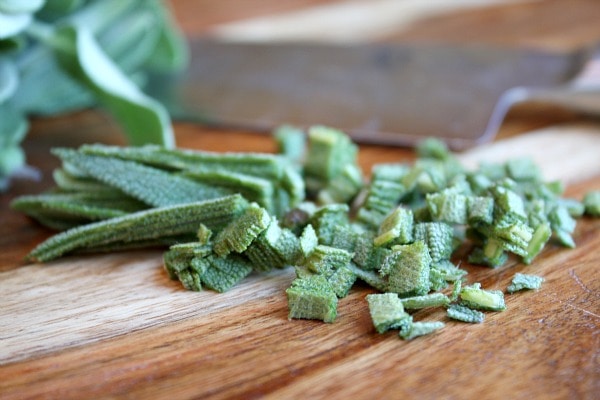 Finely chop some sage.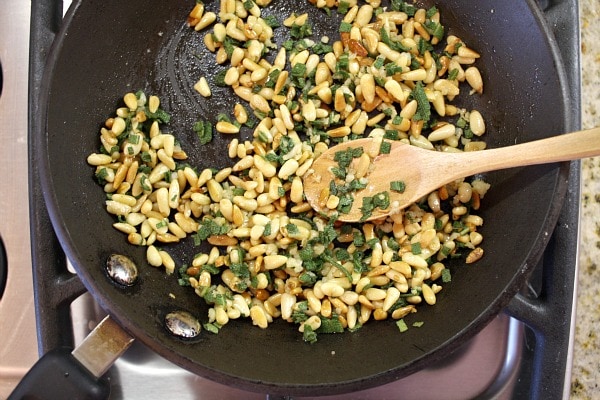 Saute pine nuts, garlic and sage in some (good tasting) olive oil.
Shave Parmigiano Reggiano cheese.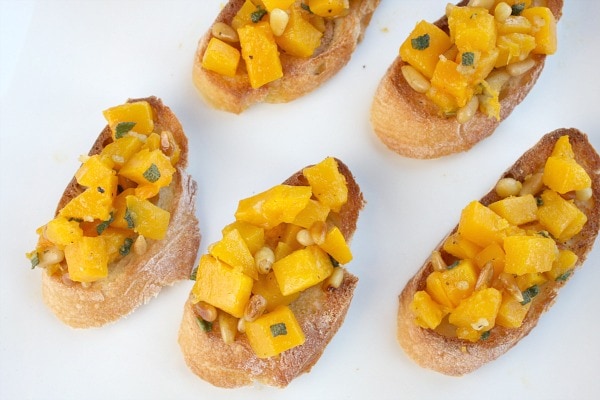 Mix the roasted butternut squash with the sautéed pine nuts/sage/garlic.  Scoop a spoonful of it on top of the toasted baguette slices.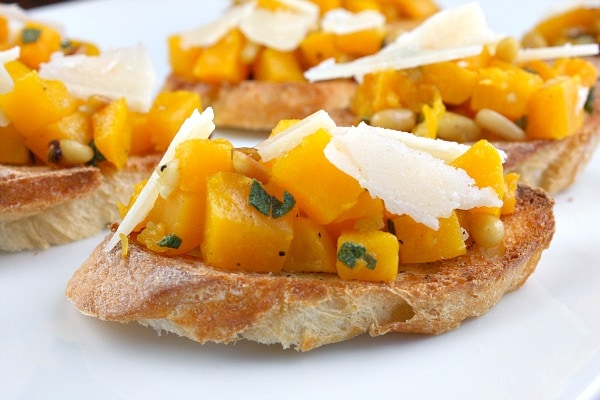 And add some shaved Parm.  Yum.  It's a nice and light appetizer for Thanksgiving, or fall, or just because.  And it happens to taste really good, even when the butternut squash has cooled off. 
Roasted Butternut Squash Bruschetta

Yield: 30 appetizers

Prep Time: 30 min

Cook Time: 30 min

Ingredients:

Bread:
1 baguette, sliced into 1/2-inch slices (about 30)
1 1/2 tablespoons olive oil
salt and pepper

Topping:
4 cups finely diced (1/2-inch cubes) butternut squash
1 1/2 tablespoons olive oil, divided
salt and pepper
1/4 cup finely chopped fresh sage
1/4 cup pine nuts
1/2 tablespoon minced garlic
1/2 cup shaved or shredded Parmigiano Reggiano cheese

Directions:

1. Prepare bread: Preheat oven to 400 degrees F. Place bread slices on baking sheet. Brush the bread slices with olive oil and sprinkle with salt and pepper. Bake for 3 to 5 minutes, just until the edges begin to turn golden brown and the bread becomes slightly crisp. Remove from the oven and set aside. Keep the oven pre-heated.

2. Prepare topping: In a medium bowl, toss the butternut squash with 1 tablespoon olive oil. Spray a baking sheet with nonstick spray and spread the squash on the baking sheet. Sprinkle with salt and pepper. Bake for 10 minutes, stir and then bake for an additional 10 minutes, or until the squash becomes tender. Remove from the oven and let cool while you prepare the rest.

3. In a small sauté pan over medium heat, add 1/2 tablespoon olive oil, garlic, sage and pine nuts. Saute until the garlic and sage are sizzling and aromatic, and the pine nuts begin to brown. Remove from heat. Scoop the cooled squash into a medium bowl. Add the pine nut mixture and toss gently.

4. Assemble the bruschetta: Scoop a couple of tablespoons of the squash mixture onto each toasted bread slice. Sprinkle cheese on top. Serve immediately.

Tips: