Almond Roca
I've been a busy little candy maker lately, anticipating the desire for holiday gifting. So far, I've made truffles, peanut brittle, fudge and this Almond Roca.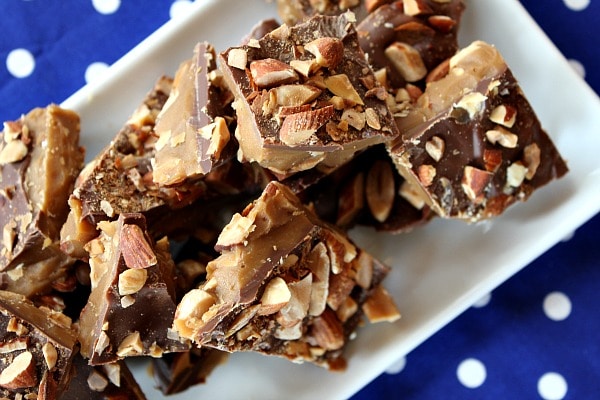 The almond roca is my favorite. My TOTAL favorite. My CRAZY-ADDICTING favorite! The best part is- you will NOT need a candy thermometer for this recipe! yahoo-easy!
Here's how you make it…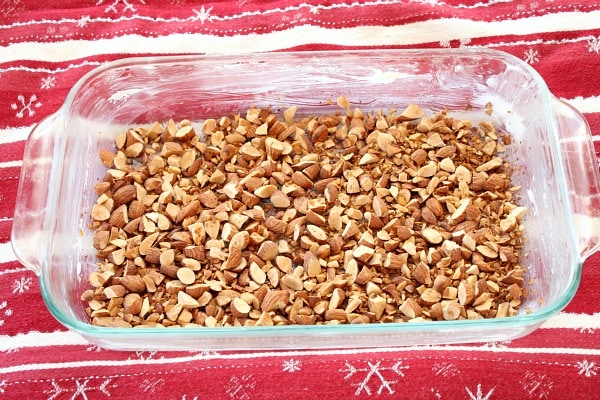 Sprinkle 3/4 cup chopped and toasted almonds into the bottom of a buttered 7×11-inch glass pan.  I realize everyone doesn't have a 7×11-inch pan, so you can certainly use a 9×12-inch if you need to… it will just be more spread out and thinner.  I used salted, roasted almonds (and then toasted them in a dry frying pan after chopping).  You can use unsalted natural almonds if you don't care for the salty-sweet combination in dessert.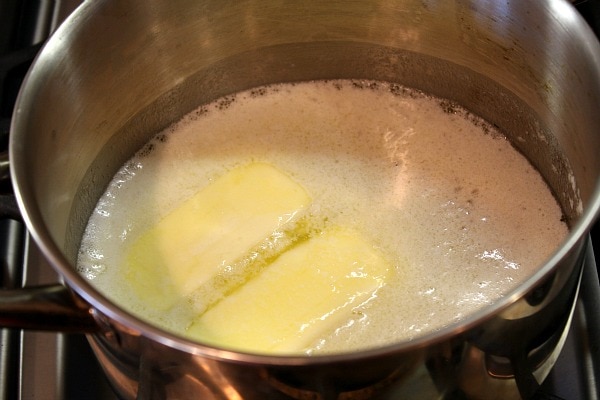 Melt some butter in a medium saucepan.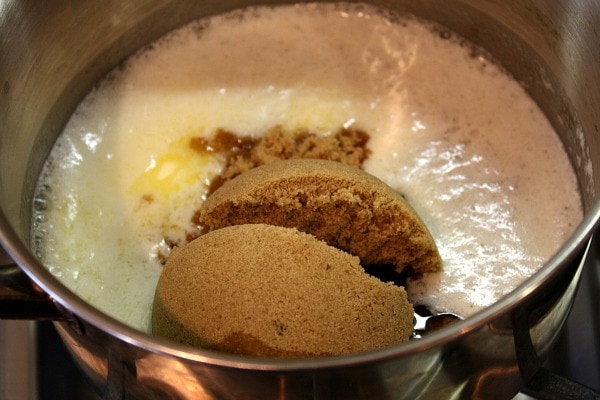 Add brown sugar, and stir it up.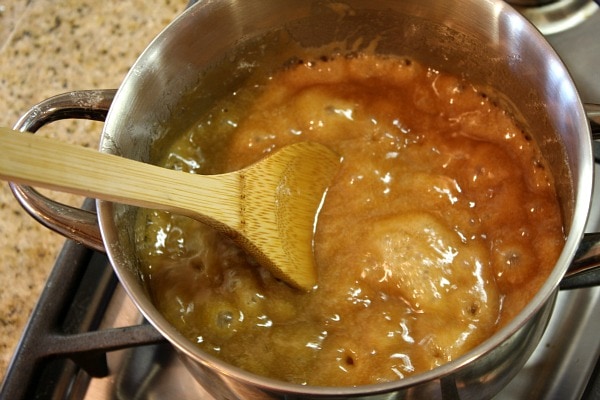 Bring the mixture to a boil. Not a wild, rolling boil… just enough of a boil where you see bubbles popping frequently.
Boil the butter/sugar mixture for 12 minutes exactly (stirring constantly).  It should look all cool and golden and toffee-like when it's done.  I made mine without a candy thermometer with success, but since some readers have noted having trouble with this recipe- you might wish to stick and instant read thermometer in there just to make sure it's about the right temperature.  Pull it off the heat when it has reached the hard-crack stage (300 degrees F)  or when the mixture starts to separate (the oil starts to separate from the sugar).   If it gets higher than 320, the mixture will not remain solid.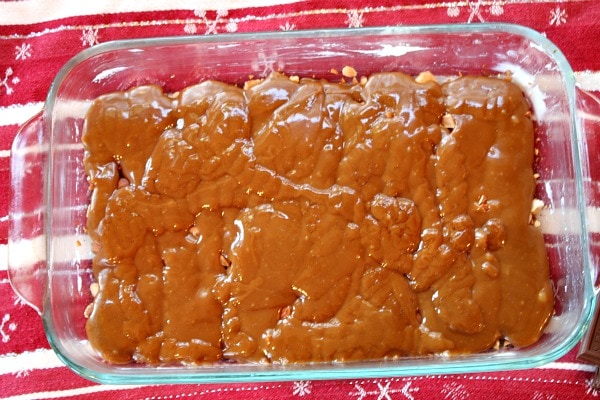 Pour it on top of the almonds in the pan– drizzling it all over and and filling in all of the spaces with the toffee.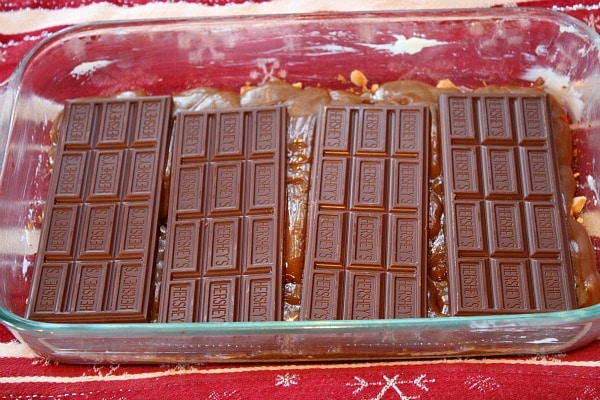 Place four chocolate bars on top of the hot toffee.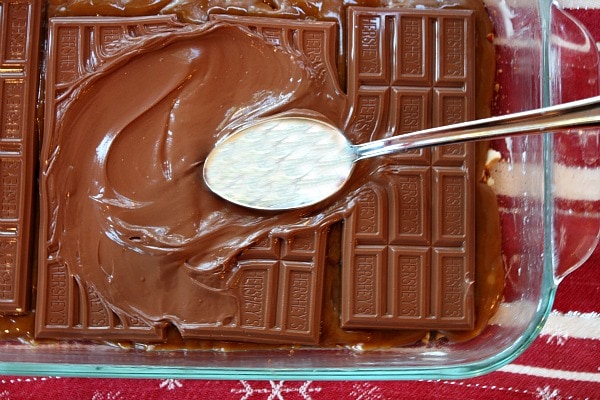 Let them sit there for a minute or so and get all gooey and melted, then use the bottom of a spoon to spread the chocolate around.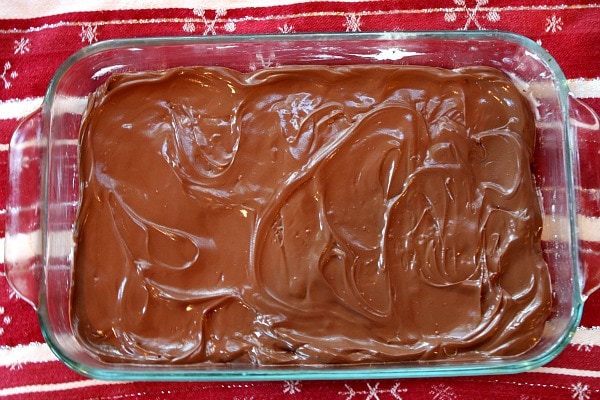 Spread all the way to the edges.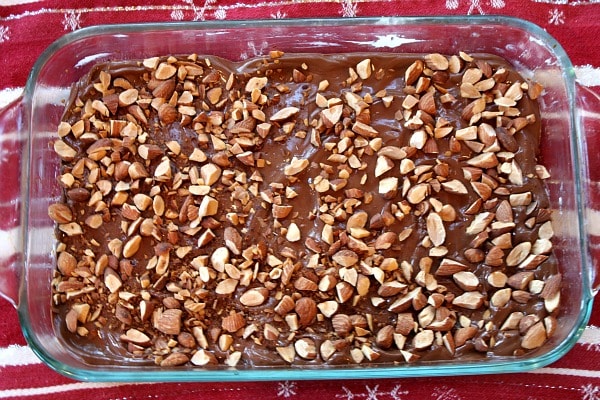 Sprinkle more almonds on top.  Press them in gently.  Now's the hard part.  You can either let this sit at room temperature overnight to set that chocolate completely, or you can refrigerate it until firm, or you can freeze it for about 20 minutes (until firm).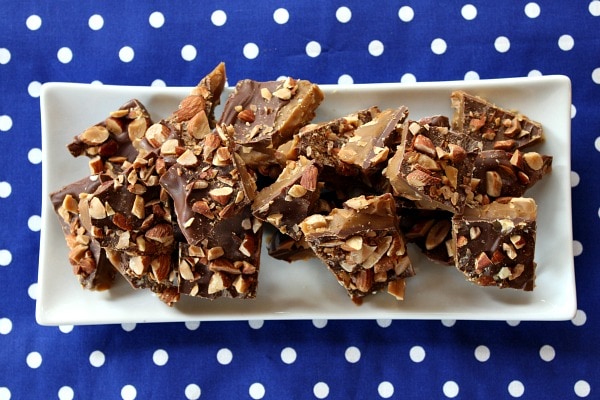 Once the mixture is firm and set, loosen the sides of the pan with a knife and the toffee should pop right out of the pan in one, big hunk.  Break it apart gently with your hands, or set it on a cutting board and use a large knife to cut across the slab of candy–wedges will break off and appear in all sorts of shapes and sizes.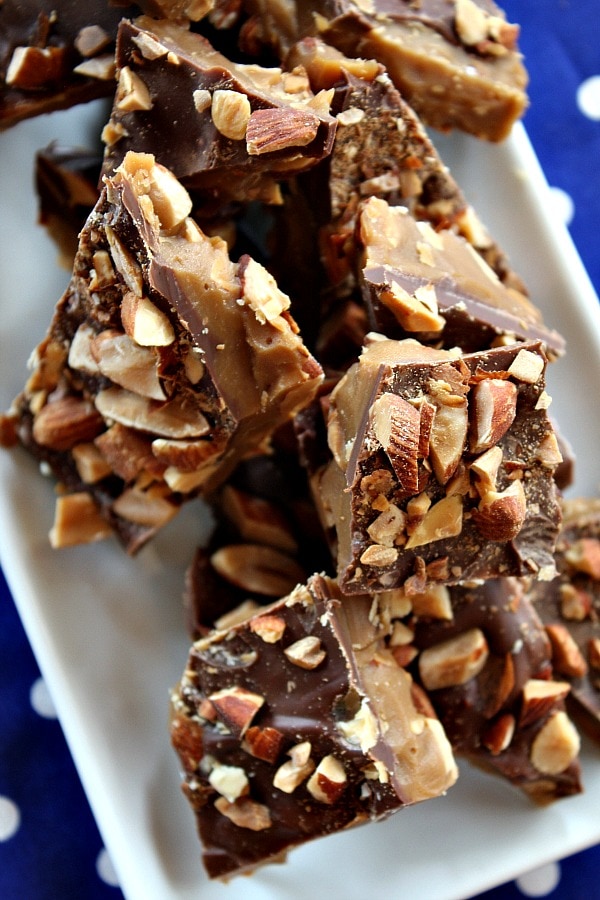 Sample!  Just to make sure everything is tasting okay and everything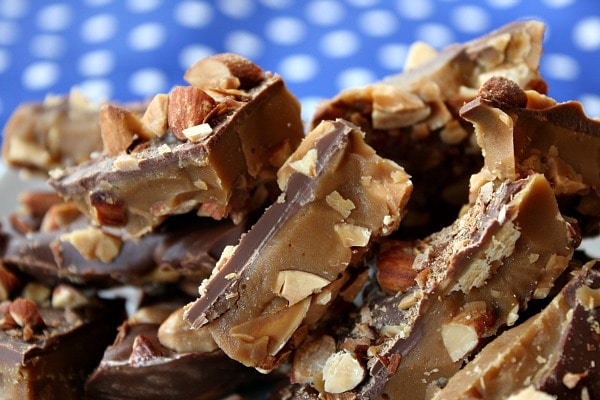 It's best to get this out of your house as quickly as possible.  On candy-making day at my house, this was the favorite of all of my taste testers… by far.  SO good.  And SO addicting and buttery and almondy and salty-sweet and delicious.
This should keep just fine in a sealed container kept at room temperature for a couple of weeks.  Happy holiday gifting!
Almond Roca

Yield: 3 cups

Prep Time: 18 min

Cook Time: 15 min

So simple and delicious, but it can be a little tricky. Please read all of the comments and tips before attempting your first batch! We've been making this recipes for years for the holidays and we love it!

Ingredients:

1 1/2 cups chopped toasted almonds, divided
1 cup packed light brown sugar
1 cup (2 sticks) salted butter
4 bars of chocolate (such as Hershey's Bars)

Directions:

1. Butter a 7x11-inch pan (or 9x12 for slightly thinner roca). Sprinkle 1 cup of toasted almonds on bottom of the pan.

2. In heavy saucepan at medium-high heat melt butter and add brown sugar. Stir until gently boiling. Reduce heat to medium or medium-low and boil 12 minutes exactly, stirring constantly. *Edited to add* I made mine without a candy thermometer with success, but since some readers have noted having trouble with this recipe- you might wish to stick and instant read thermometer in there just to make sure it's about the right temperature. Pull it off the heat when it has reached the hard-crack stage (300 degrees F)- or when the mixture starts to separate (the oil starts to separate from the sugar). If it gets higher than 320, it will not remain solid.

3. Remove the mixture from heat, give it a good stir to mix up that butter and sugar one more time, and immediately pour hot mixture into pan over almonds. (see *Tips below) Place chocolate bars on top. Let them sit a minute or so until melted, then spread chocolate around carefully. Sprinkle with remaining toasted almonds and gently press them into the chocolate..

4. Cool completely, and then break apart into chunks with a sharp knife. Store in a covered container.

Tips: