Butterfinger Truffles
Do you have a vision for the perfect sort of chocolate dessert?  Is it a velvety chocolate pudding or a chocolate- chocolate chip cheesecake?  Is it rich chocolate ice cream topped with thick hot fudge and chocolate sprinkles?  Or is it something as simple as a piece of chocolate cake with a thick layer of chocolate frosting?  I'm not much of a chocolate-girl myself, but if I were to envision the most perfect bite of chocolate ever, it would be what is found in these Butterfinger Truffles.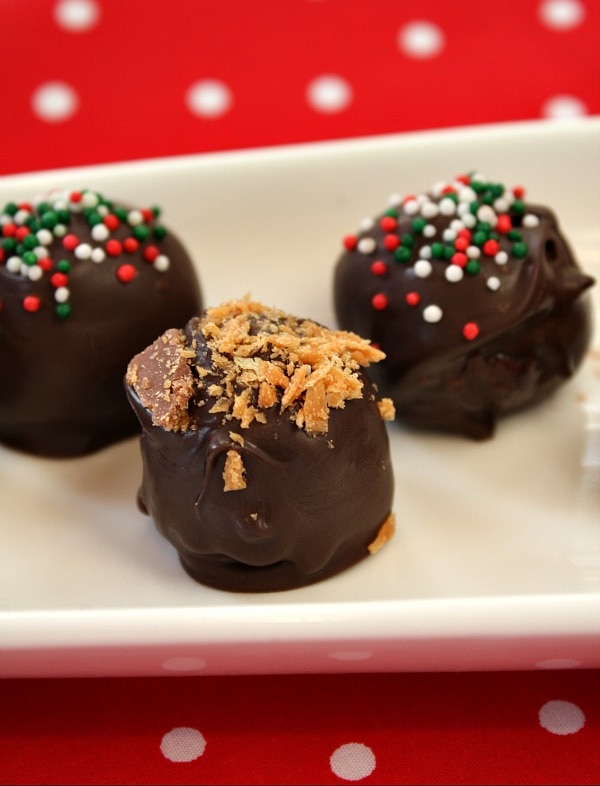 I can't wait to show you what's inside of them.  These are for chocolate lovers only.  There is a hard shell of chocolate surrounding the outside, and the interior is a soft bite of chocolate heaven.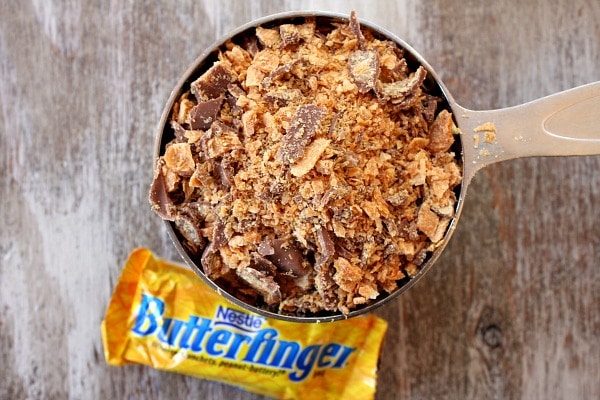 Can anything go wrong with dessert when butterfingers are involved?  I think not.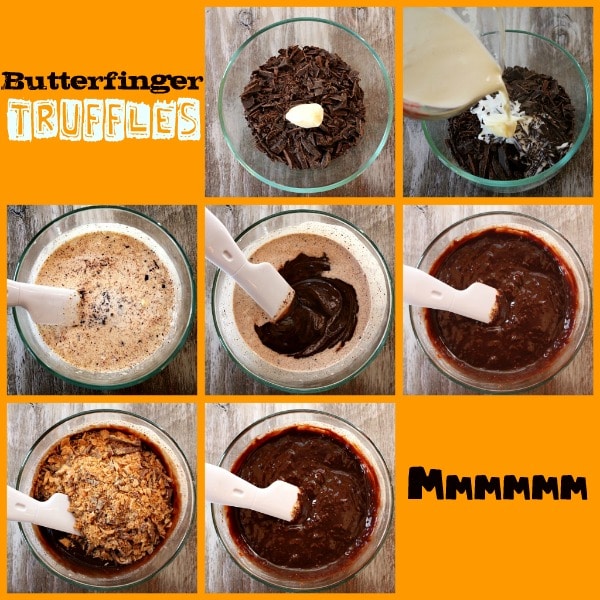 This is the interior truffle part… that soft bite of chocolate heaven that I mentioned before.  Chocolate- Butterfinger Heaven.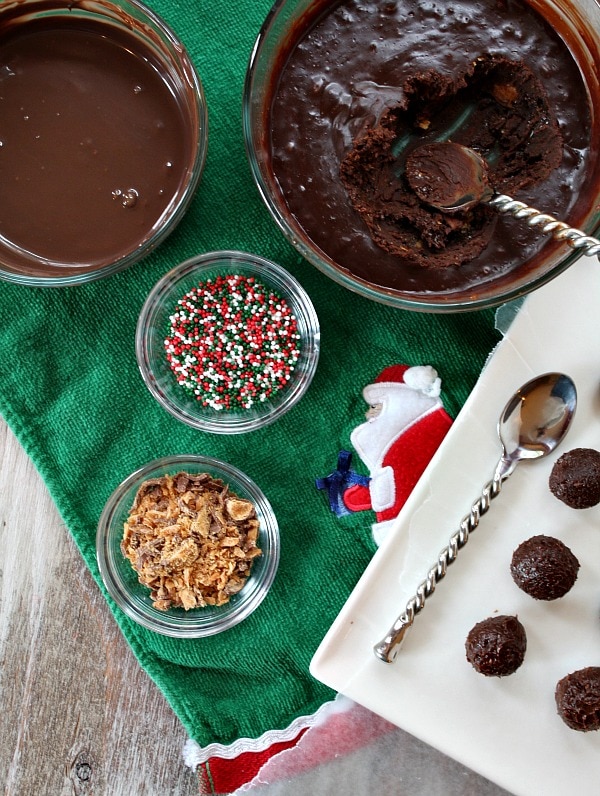 Firmed up chocolate truffle is rolled into balls…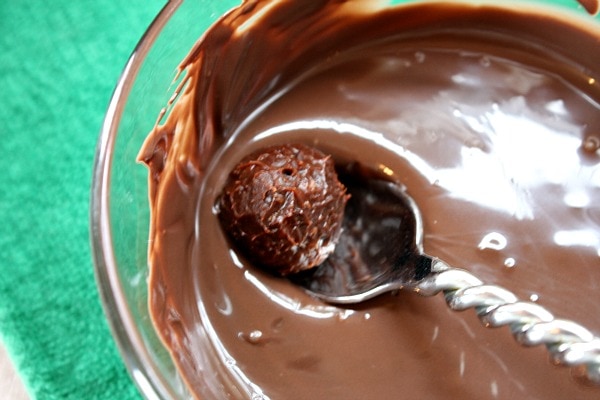 …and then quickly dipped in chocolate.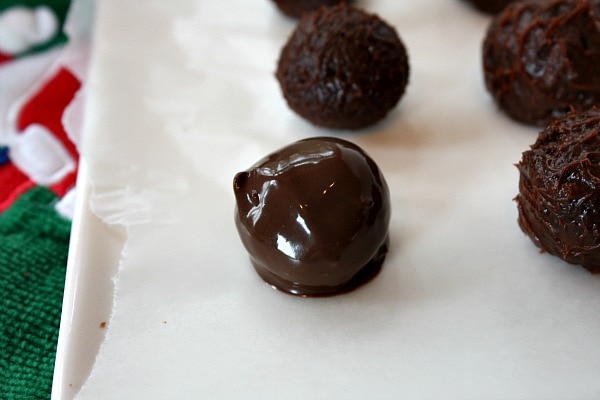 They're placed on waxed paper…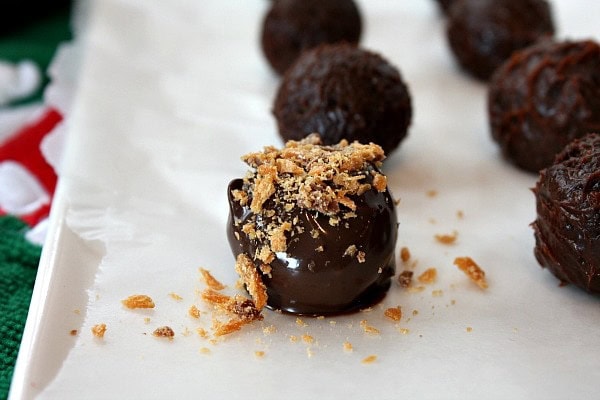 …and then topped immediately with more chopped butterfingers (or sprinkles, or whatever).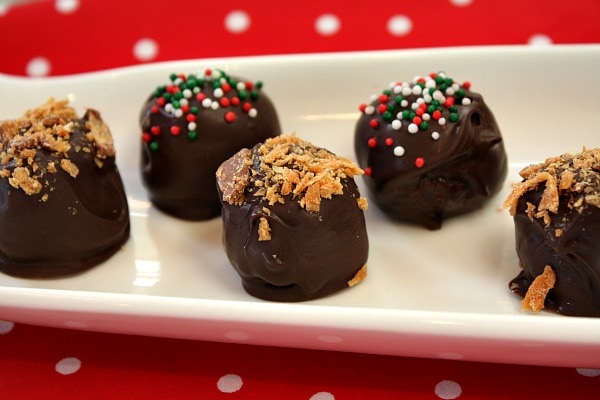 It's a great little dessert for a holiday eve, where your guests can nibble them at random.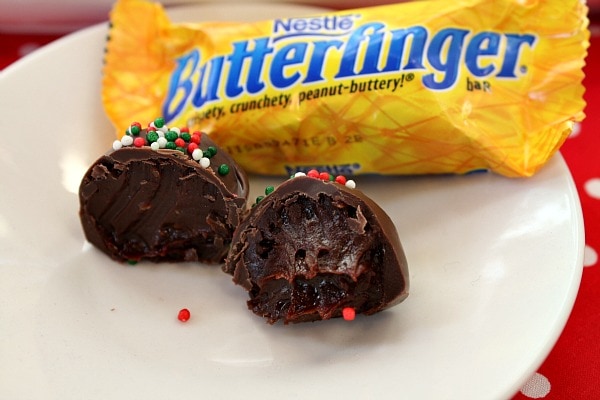 And here is what they will find inside!  There's the soft bite of butterfinger- truffle heaven I was talking about.  It literally melts in your mouth when you bite into it.
These will keep for several days when refrigerated.  Make them small- because a little bit of this rich chocolate bite goes a long, long way!
So what do you think?  Does this qualify as the perfect sort of chocolate dessert? 
Butterfinger Truffles

Yield: About 40 small truffles

Prep Time: 45 min + chill time

Cook Time: 4 min

Chocolate covered, rich little bites of chocolate.

Ingredients:

5 ounces semisweet chocolate (not exceeding 61% cacao), chopped
1/2 tablespoon unsalted butter
1/2 cup heavy whipping cream
3/4 cup chopped Butterfinger candy bars (about 4 ounces)
additional chocolate for dipping/coating
additional chopped butterfingers and/or sprinkles for decor

Directions:

1. Place chocolate and butter in a medium bowl. Bring cream to a boil by using a glass measuring cup in the microwave. Heat 1 to 1 1/2 minutes, or just until the cream begins to bubble. Pour the hot cream over the chocolate mixture. Let it stand for 1 minute, then stir until the chocolate is melted and the mixture is smooth. Stir in chopped butterfingers. Cover and chill until this mixture is firm (at least 2 hours- and up to 24 hours).

2. Line a rimmed baking sheet with waxed paper. Using a small spoon or melon baller, scoop 3/4-inch balls from the firmed-up chocolate mixture. Roll the chocolate gently between your hands to form a ball. It will be sticky and messy. Place it on the prepared sheet. Continue rolling until you have used up all of the chocolate. Place the rolled balls back into the refrigerator to firm them up again (about an hour).

3. Melt some additional chocolate in a small bowl. I just used more of the semisweet chocolate that I used for the truffles. If you melt 1 1/2 cups at a time, that should work out fine. Melting in the microwave works great- just melt in bursts of 45 seconds, stopping after each burst to stir until all is melted and smooth.

4. Remove the chilled chocolate balls from the refrigerator. Use a small spoon to dip the chocolate ball into the melted chocolate. Use another spoon to help cover the ball entirely in a layer of chocolate, and then gently place the chocolate dipped ball onto the waxed paper. Immediately sprinkle chopped butterfingers or decorative sprinkles on top. Continue with remaining chocolate balls and decor.

5. These truffles are best if kept refrigerated until they are ready to serve. They're not a great truffle for gifting in a box. When you bite into them, you will notice how delicate they are. They have a hard chocolate exterior, but when you bite into them the interior will melt right in your mouth. These are heavenly.

Tips: